Good morning!  I am afraid to admit this, but I tried another recipe that was recommended by our friend who is a Boy Scout leader: Scrambled Breakfast Pie Irons.  This is the same friend who recommended the Spaghetti Pie Iron sandwich.
I love cooking over the fire, especially with pie irons, but the Spaghetti Pie Iron sandwich almost caused a revolt in my family.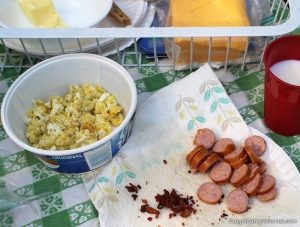 They took one bite and said 'No.'
I thought the Spaghetti Pie Iron sandwich looked cute and Halloween-y, with funny worms coming out of the sandwich.
I wanted to remake them with more sauce, but they still said 'No.' Even today, as I am writing this, the youngest made a huge grimace at the mention of the spaghetti sandwich.
Thankfully, that food flop was at the end of last camping season.  There has been almost enough time for the family to forget about them, and let me try campfire cooking experiments again.
I'm glad that my 1st campfire experiments, this season, were a success!  The Coney Dog Pie Irons, Spaghetti Sauce Pie Iron and Mock Lasagna Pie Irons were all very easy, frugal and delicious!  Of course, I was a chicken and tried the new recipes when the husband was working, just in case they didn't turn out sooo delicious.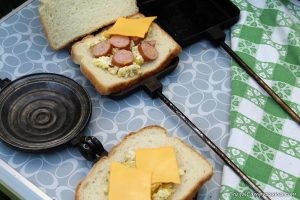 Since the other recipes were such a success, I decided to make the Scrambled Breakfast Pie Irons for breakfast.  Not just a snack to experiment with. Of course, I also had granola for a backup breakfast- I love options when camping.
But I didn't need the options; the Scrambled Breakfast Pie Irons were amazing!  Even though there are a few extra steps, they are a great new camping breakfast for us.  The husband might even like them better than the Bacon Pie Irons!
With such few ingredients there really isn't a recipe.  I used bread, but I think Bucket O'Bread dough or crescent rolls would also be good.
Our scout leader friend recommended this breakfast as a great way to use leftover scrambled eggs.  With the kids, I never have leftover scrambled eggs.  But if you are cooking for a large crowd, I could see having leftovers.  I would definitely rather make too many eggs and have leftovers, than run out of food when feeding a hungry church youth group or scout group.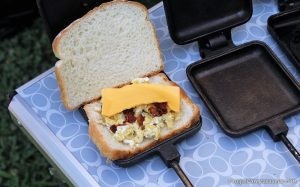 Since I did not have leftover scrambled eggs, I made a few eggs in the camper.  It was an extra step, but not hard to do (and totally worth it!!)
I had cooked extra bacon the day before.  Unfortunately, I didn't hide it.  By the time we made Scrambled Breakfast Pie Irons, I only had leftover bacon crumbs!  At least it was enough for 1 pie iron!
I also used cheese slices and a cut up leftover cheddarwurst for another pie iron sandwich.  I think ham or even mushroom with onion would be really good.
Scrambled Breakfast Pie Iron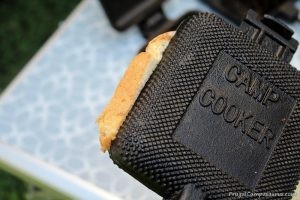 Cooked scrambled eggs, 2-3 Tablespoons per sandwich
Leftover cooked bacon, crumbled or Ham, sliced or cubed, or Cooked leftover sausage pieces…or Leftover Cheddarwurst…….
Cheese slices
Bread slices
Butter
For each pie iron sandwich, butter 2 slices of bread, then place buttered side out in pan.  Put 2-3 Tablespoons of leftover scrambled egg on bread.  Top with meat and ½ of a cheese slice.
You want the sandwich full, so the bread has good contact with the pie irons and gets golden brown. But not so full that it won't shut easily. After closing the pie irons, trim the extra bread from the edges of the pie iron, so it doesn't burn.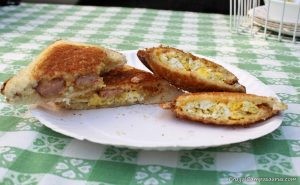 Cook the pie irons over the fire, on both sides, until golden brown and toasty. Cooking time is about 5-10 minutes, depending on heat of the fire.  Sometimes, I set them over the coals and other times, when I am really hungry, I will set them right in the flames.
This is why we have mostly cast iron pie irons, I am usually impatient and set them right in the flames.  I have wrecked all our Teflon ones with the high heat. The cast iron ones are heavier but more durable. The weight is ok, because we usually rest them on the fire grate or the edge of the fire ring when cooking.
I check the sandwiches after a few minutes, and then flip and cook the other side when the first side is golden brown.  If the edges stick, a knife or fork can be used to loosen them when you peak inside to see how they are cooking.   When they are done and flipped onto a plate, they are always super-hot, so wait to try them!  Even with a new recipe that smells really good- waiting is important!
Scrambled Breakfast Pie Iron Variations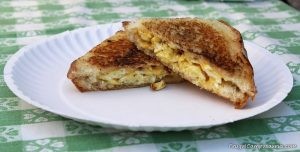 We tried 3 variations of the Scrambled Breakfast Pie Irons: bacon, cheddarwurst and just cheese.  Just cheese and egg was fine, cheddarwurst was ok, but bacon was our favorite (of course).
Since it is sooo hard to keep leftover bacon, they even eat it cold; I hope to try ham or sausage next time we go camping.  It would be very easy to shred some ham that we use for sandwiches, or cook sausage with pancakes during the week, and then take the leftover sausage with us camping.
Just like the spaghetti pie iron, our friend kept telling me to try a leftover scrambled egg pie iron.  I'm glad he kept encouraging me to try them, because now we have another easy, yummy breakfast pie iron recipe for camping!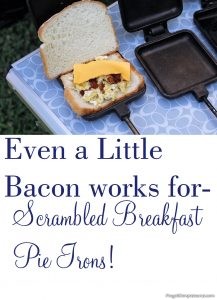 Even though the spaghetti pie iron was a food flop for my family, the Scrambled Breakfast Pie Iron is definitely a success.  I can't wait to try it again, maybe with ham and mushroom!  I hope you are able to try a few new recipes at home or camping, just don't give up if the first one is a flop- you don't want to miss out on a new favorite!
Happy Camping (or having leftover scrambled eggs!)
Frugal Campasaurus