Good morning!  Actually, it's afternoon and I am stuffed!  My new campfire recipe- Mock Lasagna Pie Irons turned out to be toooo delicious!
Unfortunately for my tummy, I was actually just playing with leftovers over the campfire:  I had already eaten lunch.  But the new recipe was so surprisingly good, that I ate it also.  2 lunches are ok once in a while, right?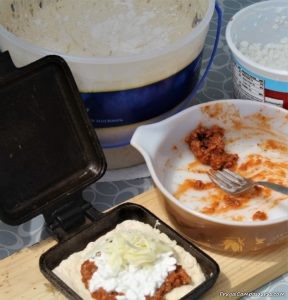 Fortunately for me, the new recipe did turn out great- now I have a new easy camping meal!
I enjoy the Leftover Coney Dog Pie Iron and Leftover Spaghetti Sauce Pie Iron recipes, now I also have a Mock Lasagna Pie Iron recipe!  I'm so glad that leftovers make easy camping meals.
I'm happy to not prep something separate to take camping.  I cook the original meal close to a camping weekend and then take the leftovers with us.  They make a whole different meal thanks to a pie iron cooker.
The Mock Lasagna Pie Irons are a variation of the spaghetti sauce pie irons, not my spaghetti pie iron food flop.  In fact, I tried the mock lasagna recipe when the husband was at work.  He still remembers the spaghetti food flop.  I do need to make the Mock Lasagna recipe again soon though; I think he'd really like it.
I didn't have much spaghetti sauce left when I tried the new recipe, so I only used Bucket O'Bread for the crust.  Bread would be a good option though; it worked great for the spaghetti sauce pie irons.
In fact for the Mock Lasagna Pie Irons, I added only one new ingredient to the spaghetti sauce pie iron recipe:  cottage cheese.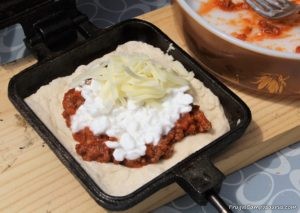 I never imagined that 1-1 ½ Tablespoons of cottage cheese could make such a difference in flavors!  It tasted totally different than the spaghetti sauce pie irons, tangier and more like lasagna (of course).
I also did one other change to the pie irons:  I didn't press and seal the edges.  I just laid the top crust over the filling, shut the pie iron and cooked it.  While rising and cooking, I thought they might seal themselves together, especially since they were all enclosed in a pie iron cooker.
I was wrong; they do not just magically seal and make a pocket.
They were still very good eaten with a fork, though.
Mock Lasagna Pie Iron Recipe
Cottage Cheese, 1- 1 1/2 Tablespoons for each sandwich
Spaghetti sauce, 2-3 Tablespoons for each sandwich- cold sauce is fine, I didn't warm mine up before cooking. My sauce is thick and has hamburger in it.
Mozzarella cheese, shredded
Bread slices or Bucket O'Bread dough
Butter or Oil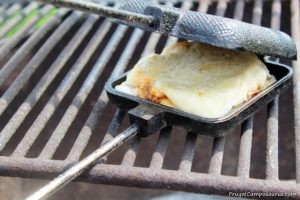 For each pie iron sandwich, oil the top and bottom of the pie irons so the dough doesn't stick.  Pat out walnut size pieces of dough for a top and bottom crust, and place in pan. For a bread version, butter 2 slices of bread, and then place buttered side out in pan.
Put 2-3 Tablespoons of cold leftover spaghetti sauce on dough/bread.  Top with cottage cheese, then shredded mozzarella cheese.  For the dough version, lay the top crust over the filling, and then press edges with your fingers or a fork to seal.  They will not magically seal by themselves as they rise.  (Though they are good eaten with a fork!)
You want the sandwich full, so the dough/bread has good contact with the pie irons and gets golden brown. But not so full that it won't shut easily.  The dough sandwiches will 'rise and grow' some, so they don't have to be as full.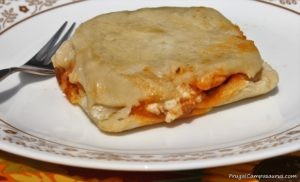 After closing the pie irons, if you use bread, trim the extra from the edges of the pie iron, so it doesn't burn.  If you used dough, it should be all enclosed in the pie iron cooker- none of it should be sticking out.
Cook the pie iron over the fire, on both sides, until the sandwich is golden brown and toasty.  The cooking time depends on the heat of the fire. Sometimes, I set them over the coals and other times, I will set them right in the flames.  It depends on how hungry everyone is, and if I actually made a fire early enough to have coals.
I am usually cooking right in the flames.  This is quicker, but I check the sandwiches more often so they don't burn.  Since I do cook in the flames, I also prefer cast iron pie irons.  They are heavier, but hold up to the heat better than the Teflon pie irons we used to have.
Both are easy to clean.  I wash the inside of the pie iron cooker, and then dry it over the coals.  After they are dry and cool, I lightly oil it and store it in our Pie Iron Storage Bag.  I don't worry about washing the sooty outside of the pie irons; the bag contains them all and keeps the soot away from anything else.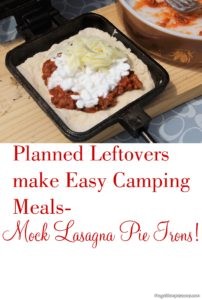 When the Mock Lasagna Pie Irons are finished cooking, sometimes they stick- that's ok, just use a knife or fork to loosen the edges.   Now, it's time to wait- the fillings for pie iron sandwiches get amazingly hot!  I love the melted cheese, but try to wait so you don't get burnt eating them.
I'm so happy to have another easy camping meal!  The Mock Lasagna Pie Irons are a great variation of the Spaghetti Sauce Pie Irons.  I love that leftovers can make easy, frugal camping meals and it's great to not prep something separate for camping.  Now, maybe I should hike around the campground, because my tummy is still full from having 2 lunches!
Happy Camping ( or experimenting over the campfire!)
Frugal Campasaurus