Good morning!  I love a campfire:  the glow, the warmth, the flickering flames, the smoky smell, the sizzling bacon.  The sizzling bacon??
One of the things I love about camping is cooking and experimenting with recipes over the campfire.  There are so many different ways to cook over a campfire- cast iron pans, dutch ovens, on a stick, on a tripod, in foil and with a pie iron.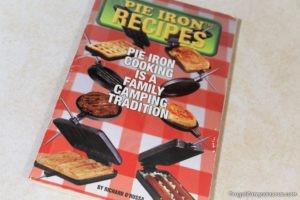 Growing up, I did not use a pie iron.  My family camped in a pop-up camper and my mother cooked with an electric skillet or the grill.  I had never heard of a pie iron until the husband bought one for us to use.  He had used it mainly for fruit pies, and since I really don't like many fruit pies, we needed a cookbook!
Pie Iron Recipes by Richard O'Russa is a good camping cookbook and I would recommend getting it for your camping cookbook library. 
The cookbook starts with a page of helpful hints and general directions, and then there are 7 fun chapters of recipes.  They are all devoted to the different types of pie irons.
I didn't know there were so many different types.  We now have a few square, a few round and a double pie iron.   The round pie iron is our middle one's favorite, because the round shape cuts the crust off the bread.  I think the waffle and panini press irons look fun.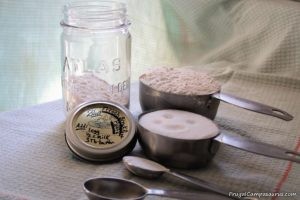 The Pie Iron Recipes cookbook has a large variety of recipes:  breakfast, vegetables, main meals and my favorite- deserts.  Even though the recipes are for different types of pie irons, many could be changed to fit your specific pie iron, of course I like an excuse to collect different pie irons. I also enjoy the recipes from camp chefs in different states; they are spread throughout the chapters with more included at the end of the cookbook.
The recipes vary from simple, Pie Iron S'mores, to more creative, like Pesto Calzone, and while some were not new-to-me recipes, others were recipes I had not thought of before.  In fact, the middle one's favorite camping breakfast is from Pie Iron Recipes: French Breakfast Puffs.  It is very easy to mix up the dry ingredients and keep in a pint mason jar.  I write the few additional ingredients needed on the lid and keep a few jars in the camper for easy breakfasts.
Recipe: French Breakfast Puffs
3 tablespoons butter                                          ½ cup milk
½ cup sugar                                                          1 ½ cups flour
1 egg                                                                      pinch of nutmeg(optional)
2 ¼ teaspoons baking powder                           butter/ cinnamon sugar for sprinkling on top before eating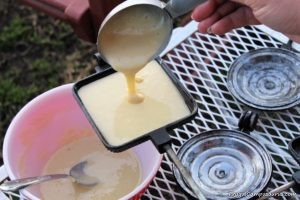 Mix all ingredients to form a batter.  Pour enough batter to fill bottom cavity of a well-greased pie iron.  Close cooker, latch handles and bake over medium heat about 3 or 4 minutes on first side and 2 or 3 minutes on second side.  Spread with butter while still warm and sprinkle with cinnamon sugar .
Some of the recipes are simple, but like this one, can still become a family favorite.
The cookbook does not have glossy pictures of the recipes, but I don't really need or miss them for the easy camping recipes.  I do like the photos in Pie Iron Recipes of their family camping trips through the years.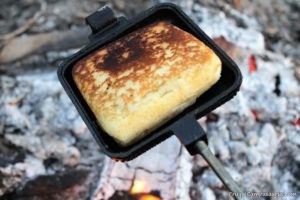 Since some of the recipes are easy, they are perfect for camping.  I like playing and experimenting over the fire with my family instead of prepping and cooking large meals.   So I like the easy recipes for most camping weekends, and I also like the variations when I have the time to try something new.
I enjoy the smaller paperback size.  It fits nicely in the camper and I enjoy looking through it and marking new recipes to try.  I also mark them after we have tried them; making notes about when and where we tried certain recipes, who liked or loved them and changes we would make.  The notes make it fun to read through, almost like a camping journal; in fact I was just reading that the middle kid has liked French Breakfast Puffs since Labor Day 2010.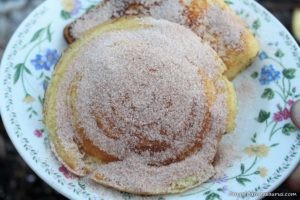 We make every effort to test and review products fairly. The views expressed in this review are my personal opinion and may differ from yours.  This cookbook review was not sponsored or paid for in any way; in fact we have had and enjoyed the cookbook for many years.   
I hope you try Pie Iron Recipes by Richard O'Russa.  Cooking over the campfire is great fun with the family and I hope you can find a favorite family recipe to enjoy.
Happy Camping (and pie iron cooking!)
The Frugal Campasaurus