The Frugal Campasaurus, frugal fun for the older (but not yet extinct) camper.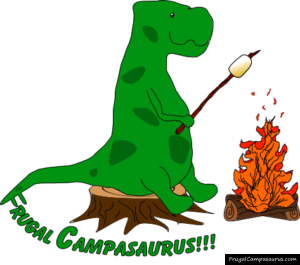 Good Morning!  Welcome to the first post at the Frugal Campasaurus!  Actually, this is my first post ever.  Like really, ever- I have never 'liked' anything on Facebook, publicly pinned on Pinterest or made a comment on any of the many fun frugal blogs and websites I visit.
After many years of lurking, thinking-"Oh, what a great idea!" or "Oh, I could try this!"; my oldest techy son has convinced me to try my hand at a blog.  He promises to help me with the technical stuff and he had better keep his promise, because MY idea of fixing a computer problem usually involves a hammer.  Thankfully, no one lets me solve computer problems. It would be an expensive solution, very rewarding, but still expensive and this is a frugal site.
My husband and I love camping and I love being frugal.  After thinking things over for quite a while about which we should choose, we decided not to choose and do both instead.  I thought it would be fun to do the blog with my husband, because we do most everything together and I am frugal at home so we can camp more.  Camping can be expensive.  And while I know frugal stuff, he's the one who knows camping stuff.   Like lots of camping stuff.  We usually camp close to home (and close to the grandbaby) only taking a longer trip every year or so, but we have been camping for quite a while.
At least 27 years sounds like quite a while, actually it sounds like a long time.  But in my mind, the boys are still toddlers running from the tent to the lake with me frantically chasing behind them.  One boy should definitely NOT be married with a son of his own, one should NOT be in driver's education and the other should NOT be measuring me weekly to see if he is taller than me now.  But it is true, and so we are definitely older (but not yet extinct) campers.
Just as we have evolved as parents (for a while the quick toddlers had cute blue harnesses to keep them from the lake, then we just camped a bit farther away from the lake), we also have evolved as campers.  Two tents and five campers will help you learn a lot of things.  Tenting was fun in our twenties, I enjoyed cooking over the fire and cots were ok, though electricity and a fan was always nice.  Then we moved up (?) to a cute late 1960's travel trailer, with a pump sink and ice box.  Unfortunately, my husband's back missed having a real bed.
Since then, we have progressed through an older motor home, a travel trailer, a travel trailer with bunks and a slide-out and finally to the fifth wheel with three slide-outs.   I still enjoy cooking over the fire, but a regular bed is very nice.  My husband says air conditioning is very nice also, but I guess we don't always have to agree.
Older campers still have lots of fun, and we have learned a lot over the years.  Hopefully, as we share some of our ideas, projects, mistakes and experiences it will enhance and encourage your own fun frugal camping.   So, I hope you will stop by and join us on this new adventure in blogging.    (By the way, does anyone have a hammer I could borrow-my microwave is on military time. Again.)
Happy Camping!
The Frugal Campasaurus