We have a new game that I'm greatly enjoying:  vacation-follow-the-leader.  The co-worker that I discuss maple syruping with has enjoyed trips to Dubuque/Bellevue and Mount Rushmore, just like we have.  For a few years now, they have enjoyed the North Shore Scenic Drive in Minnesota along Lake Superior and were convinced that we would also enjoy it. The North Shore Scenic Drive runs 150 miles on Highway 61, from Duluth to Grand Portage at the Canadian border.  Finally in 2015, we followed their advice.  We wanted a last minute vacation that was close to home before the end of summer, so off we went to the North Shore.
I can't believe we waited so long to go!  We really enjoyed the mix of state parks, tourist areas, lighthouses, museums, waterfalls and rock hunting along Lake Superior.  I probably enjoyed looking for rocks waay more than my family, but they are sweet and put up with me.
Since it was a last minute vacation, I didn't get to plan like I usually do.  I enjoy spending the winter planning and replanning our vacations.  We send away to get the state books in the mail and I will research online about area attractions, museums, parks and roadside oddities.  I also make sure to research things to do and see as we travel on the way to the vacation area.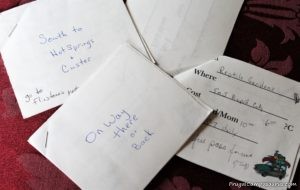 For our first trip to Mount Rushmore, I enjoyed going through the South Dakota book, marking all the places we might go see.  I even called to check prices and hours of operation.
I then stapled together little packets of places to go that were close together, including all the information I had found.  I think I had way too much free time.
I still usually enjoy the research and planning part of vacations, but now I am more apt to just make a list in a notebook or on my phone.  The phone also makes it so easy to look up prices and hours while on vacation, as long as I have a cell signal.
Our North Shore trip was totally different.  It was spur of the moment, so I was able to ask my co-worker for 'must see' suggestions and researched only a little online.  We did have some brochures and pamphlets, which we had previously sent for, to look at, but not many.
We didn't even have reservations until mid-summer.  For both Mount Rushmore trips, I reserved in February!
Getting last minute reservations is easier when you are flexible
Since we could be flexible with the dates and days of the week, I asked what they had available to reserve at the campgrounds – if even anything on such short notice.  Going during the week, and avoiding the weekend, made it much easier to get camping spots.  We choose 2 cities to stay at: a Two Harbors campground for Sunday and Monday nights and a campground a bit north, in Schroeder, for Tuesday, Wednesday and Thursday nights.  This helped break up the driving and it wasn't hard setting up the camper twice.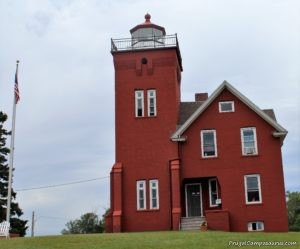 The drive to Two Harbors went by fast.  We left Sunday morning as the sun was rising and got there by 1:30.  A few quick stops at rest areas and a gas station let us stretch our legs.  Driving through Minneapolis wasn't too bad, of course I wasn't driving.
Thankfully the traffic was light, especially when the road ended near downtown.  It was actually gone-under construction, with workers busy on Sunday.
We had planned on going through St. Paul, but one of the signs said 'No Truck traffic'.  I was worried about the height of the camper and at the last minute we decided to go through Minneapolis, trusting the GPS voice.  Sometimes, I think she doesn't like me.  We had even updated the GPS the previous night, but unfortunately the construction wasn't in the update.  Oh-well.  We were able to follow the detour signs and the paper map to get through town, and I didn't ask once for a hammer to 'fix' the GPS voice.
Access to the camper kitchen is helpful
Our drive north of the cities was fun, on part of Minnesota's interstates the opposing traffics are separated by trees.  I don't know why this fascinated me, but I thought it was fun driving along through the tall trees without seeing the oncoming traffic.  Lunch was also fun: a picnic at the rest area.  I grew up picnicking and enjoy them, but we usually only have picnics on long vacations (something I am trying to change).  I am so glad we can open the camper refrigerator and most of the kitchen cupboards without putting the slides out.  This makes it easier to get lunch ready and it's definitely something we watch for when looking at different campers.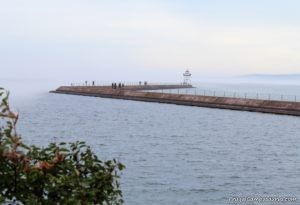 Penmarallter Campground at Two Harbors was a nice, clean campground. The owner was very pleasant to visit with when I called for reservations. It wasn't right on Lake Superior, but it was just a short drive to Two Harbors.
It is also just 20 miles from Duluth, so it's close enough for returning and exploring town.  We didn't get a chance to visit Duluth on the 2015 trip, but I would like to visit several of the museums and the Aerial Lift Bridge next time.
After setting up the camper, we had time to visit Two Harbors and take the Lighthouse museum tour and walk out on the breakwater.  It was a hot day and I was surprised to see small children in winter coats.  By the time we got out to the end of the breakwater-I was jealous and wanted one.  The temperature change near the lake was amazing.  In fact our whole trip was cooler than I expected, a nice surprise in August.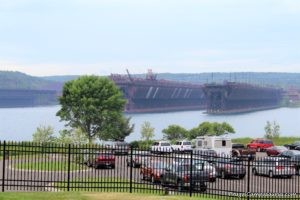 I do wish we had stayed at the breakwater longer.  We had a great view of the iron ore docks as they were loading a ship.  We figured we could watch at a different (warmer) time during our stay in Two Harbors, but unfortunately there were no other boats scheduled while we were there.
Now we know that online at DuluthBoats, they have an arrival and departure schedule along with information about the boats.  Next trip, we will be prepared.
Grilling for supper at the camper and an early bedtime (8:30!) meant we could get up early and head out again by 8 am.
Have extra money for small emergencies (like hairdryers!)
It is always a good idea on vacations to have extra money for small emergencies and unplanned expenses.  On one trip to Mt. Rushmore, I forgot children's pajamas and spatulas, on a trip to the Mississippi River the air mattress sprang a leak.  This trip my hairdryer died and the lamp and lightbulb broke (see how we frugally fixed the lamp problem).  Since my wavy hair needs a blow dryer, Monday included a quick trip to the store.
We also visited the Duluth and Iron Range Train Depot in Two Harbors.  It is on the National Register of Historic Places and has a few steam locomotives on display outside along with a museum and gift shop.
Watch for Presents/Ornaments early during vacation-don't wait for the last day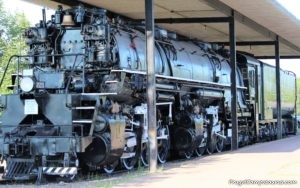 At the train gift shop, I found the perfect Lake Superior Christmas ornaments and actually bought them!
Every vacation, I buy a Christmas ornament for the kids.  Sometimes, I don't buy them when I see them and have to search on the last day of vacation for something suitable.  I might actually be learning.
I am learning about planning easier food, this vacation I tried to bring at least a few heat and eat menu items for busy days.  When planning, I always think I will grill or cook over the fire every meal, but sometimes when we return to the camper after a busy day of sightseeing, cold sub sandwiches or pizza rolls are just fine.  This day, it was pizza rolls.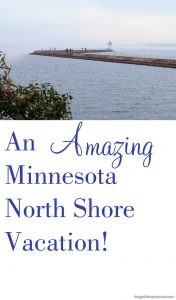 The rest of Monday was spent hiking at Gooseberry Falls State Park and Split Rock State Park, but that will have to be an upcoming post because I have sooo many fun pictures!
Happy Camping (or rest area picnicking among the trees!)  
The Frugal Campasaurus