Good morning!  I still can't believe we waited so long to play vacation follow-the-leader.  I'm so glad that my coworker shared how much fun they have at the North Shore Drive in Minnesota and how we would enjoy it also.  In the previous post, I shared about our trip to the North Shore Drive and about exploring Two Harbors.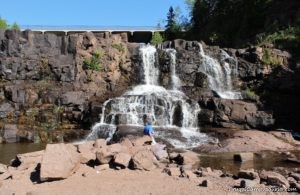 Now I want to share the rest of Monday with you- the Great Minnesota State Parks.  Actually on Monday, we only saw 2 of the 8 state parks along the North Shore, but eventually we did visit all of them.
One of our favorite State Parks was also the 1st one we stopped at:  Gooseberry Falls.  It is great to walk around on the rocks at the base of the waterfalls and hike the trails.
I appreciated the variety of hiking trails and so did the husband's bad knee.  I'm not very sure-footed, so while I stuck more to the path, the rest of my family was climbing and crossing on the rocks.  The paths we choose were not strenuous and had benches for them to rest on while I caught up.  One of the trails we took goes up under the highway bridge.  The designer did a great job weaving it together with the bridge and the scenic views.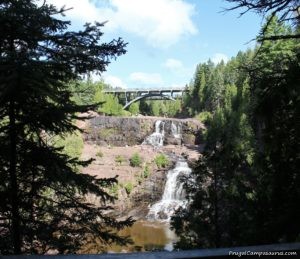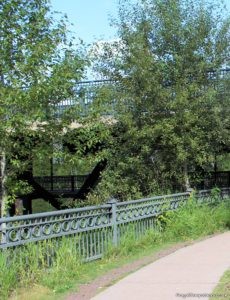 Since we knew the whole vacation would be a lot of walking and hiking, we decided to choose shorter trails and waterfalls that we could easily find without wearing out the husband's knee.  Thankfully, there were plenty of trails, waterfalls and sights to choose from.  Really, there are lots of great waterfalls, someday I would like to go back and hike to other ones, but we had plenty to enjoy.
At the beginning of our vacation, we found a skinny map of the North Shore coastline that showed Highway 61 from Duluth to almost Grand Portage State Park.   The map stretched across 2 pages and showed the state parks, cities and of course roads.  I added any and all scenic overlooks and wayside parking spots that I could find, especially if the info said 'Great place to find Rocks!'  Often, the nearest mile marker was included in the information, making the sites easier to find and my map covered in notes.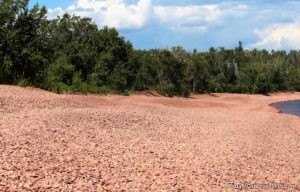 Sometimes, the wayside parks were harder to find, like the Iona's Beach Scientific and Natural Area.
My coworker had talked about the musical, pretty pink rock beach and I am glad we finally found it.  Iona's Beach is in between Gooseberry Falls and Split Rock Lighthouse State Parks.  Parking is at the Twin Points Water Access and it's just a short walk down to the beach.
We weren't sure we were at the right spot, but I'm glad we stopped anyway.  There is a nice informational sign on the trail, and then we knew we were in the right area and not on someone's private land.  It is covered with pretty pink flat pebbles and rocks, as the waves go out you can hear a tinkling sound that really is musical.  I have some pretty pictures from here, but no pretty pink rocks.  It is a Natural Area and rock collecting is prohibited.  That's ok though, I'll just have to stop back and listen the  next time we come to the North Shore.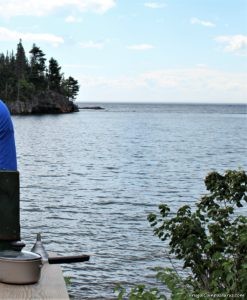 I'm glad there are places to collect rocks on the North Shore: at our next state park, I found a Lake Superior agate.  I was so excited!!  Of course, finding an agate didn't stop me from looking for more rocks.
I did stop looking long enough to enjoy Split Rock Lighthouse State Park though.  We toured the Lighthouse and it was interesting seeing how they lived, I can't imagine living there with no road access and no trees.  They were cooking lunch when we took the tour and the fried potatoes and onions smelled great.   Good thing we were having a picnic lunch soon.
There are some very scenic picnic spots along the lake shore and we had a great view as the husband cooked lunch.  The kiddos enjoyed climbing around the large rocks by the shore while we started the old green cookstove for cheddarwurst and ramen noodles.
Yes, I know it doesn't seem like picnic food, but our little furry beggar didn't seem to care.  A road dog (ground squirrel) kept running nearby and under the table as we had lunch.  He was very cute, but I wasn't fond of him under the table when my feet were also under it.  The youngest wanted to feed him ramen noodles, but I'm not sure it would have been good for him.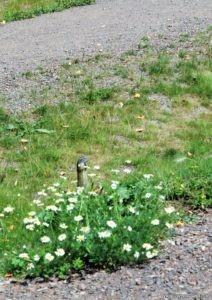 The old green Coleman campstove has seen lots of use.  My in-laws bought it with green stamps, probably before I was born.  They used it going fishing, and we still use it camping.  Hand-me-downs are a great frugal way to get camp equipment.  It is also easy to take on vacations.  It doesn't take up much room and the cute camp oven fits right on it.   The husband keeps a spare pump in the camper, but we have never needed it.
This Coleman stove is very similar, made in the U.S. and I like that it has a dual fuel design-conveniently burning Coleman liquid fuel or unleaded gasoline.  The choice of fuels would be nice, though the campstove doesn't seem to use a lot of liquid fuel.
After lunch, we explored Split Rock Lighthouse State Park beaches (more rock collecting for future projects) and stopped at a nice scenic overlook for pictures of the lighthouse.  I've heard that the hike down from the lighthouse has great views but lots of stairs, maybe next time.
Another thing to do next time is stop at Betty's Pies by Two Harbor.  Such a busy place must have great food, and actually I've heard it does.  It didn't work for us to stop on Monday and it was busy Tuesday when we drove by with the camper.  We didn't want to attempt driving in the parking lot with a long 5th wheel, so we will add it to our must do list for next time.  Rhubarb-strawberry pie sure did sound good though.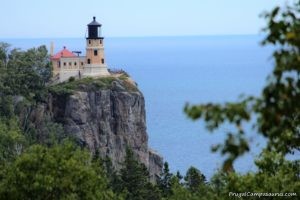 Monday was a fun day:  exploring 2 Minnesota state parks, hiking the trails, seeing the waterfalls, touring the lighthouse, picnicking along Lake Superior, hearing the musical beach and even finding my agate!  We had so much fun that an easy supper and early bedtime was fine with everyone.
That was a good thing, because on Tuesday we moved to the second campground, Lamb's Resort and Campground at Schroeder and explored more state parks.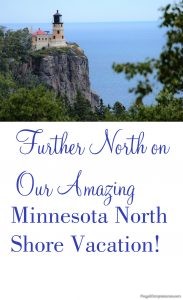 We would find our middle one's favorite waterfall and some quirky fun roadside statues.  I hope you visit again when I share the next part of our North Shore vacation.  If you have visited the North Shore Drive, please share about your favorite park, attraction or maybe even your favorite pie flavor!
 Happy Camping (or listening to musical beaches)
The Frugal Campasaurus