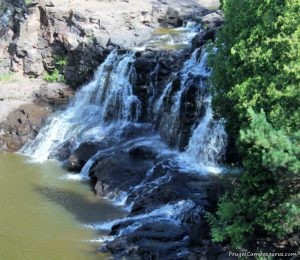 Good morning!  We had so much fun a few years ago on our North Shore Scenic Drive trip along Lake Superior, that I'm excited today to share an easy rock project made with rocks from our trip.  I also am excited to share some fun vacation pictures.
A few weeks ago, I found my collection of North Shore rocks while partially cleaning the sewing room.  I'll never get finished cleaning if I keep finding fun stuff!  Oh well- there sat the lonely, neglected box of rocks from our vacation.
I had good intentions for the box of rocks.  I had made 2 picture holders as soon as we returned home from vacation.  The florist wire I used was a bit thin, but still held a picture.  Next, I tried bending thicker wire around the rock and swirling it to hold a picture.  This worked better, but it was hard to bend smoothly.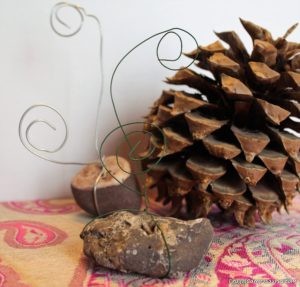 I was happy with the picture holders though, especially since both wires were free leftovers from other projects.  After the 2 picture holders were done, the box sat, unused and lonely, in the sewing room.
When I found it, instead of continuing to clean, I started looking for fun, easy rock projects.  There are so many projects, I am sure I need to go back to the North Shore to find more rocks!  But, I decided on a few projects to do with the rocks I already have.
One project is a rock tower sculpture for the flower bed.  Just like the ones in Grand Marais that we missed.  A co-worker had told me to be sure to visit Artist Point at Grand Marais; somehow we took a wrong turn and missed it.
Next time, we will park at the Coast Guard station and follow the path both ways to enjoy the lighthouse and Artist Point.
This winter, I also almost missed some local rock towers.  Driving past the river, to check on a local, free wood sight, the husband asked 'Did you see them?'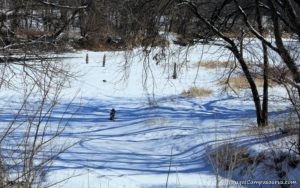 'See what?'
'The rock towers, like at the North Shore,' he answered.
He had to circle back, so I could look out over the river.  They were sooo neat!
5 rock towers standing in the snow, along the river's edge.
We checked on the local, free wood sight for a few months.  The rock tower sculptures continued to stand, until the river finally thawed.  Maybe the rock towers were built on the river, not just next to it, but I'm not sure.
It is amazing that they stayed up for a few months- that's sooo long!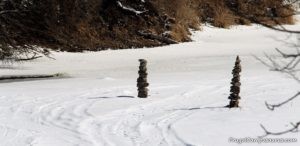 I don't think my North Shore rock towers would stay up so long.  Kids, grandbabies, rabbits and even squirrels would be dangerous to a loose stacked rock sculpture, so I am going to glue them together.  In fact, I had glued 2 rocks together for the start of a 3rd picture holder.  It just was never finished.
Now that the neglected box of rocks is setting out, to help motivate me to do something, the grandbaby has found the 2 glued rocks.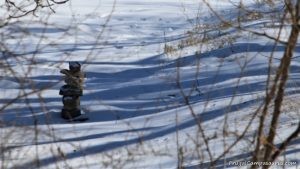 They annoy the grandbaby.
Rocks should stack and then fall over, not stick together.  Even if grandma says 'it's ok.'
I will also glue them, because I don't want to confuse my North Shore rocks with the other river rocks around the house.
Last year, I removed some rocks to place a flower bed around the deck, but I still have river rock around some of the house.  Those rocks came from a dump truck; they were not carefully discovered on the North Shore.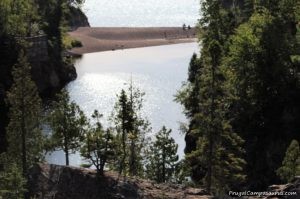 I would hate to confuse the dump truck rocks with ones I searched for while the youngest chased sandals in the waves.
Or confuse them with the ones we spied and snatched from the waves, while walking barefoot in the cold water.
Once I decided on 1 project, not 5 different ones at once, it was easy to chose the rocks.
I set 6 large ones aside for a future project.  I also set aside the small beach glass I found and some flat rocks for a Christmas present.  Hopefully, the present will get done before November!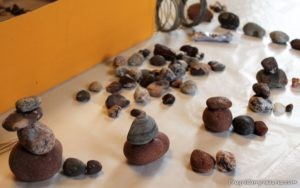 It was fun choosing and balancing different colored and textured rocks to stack  into the tower sculptures.   Well, I tried to balance the rocks.
This would be a fun family project, but I must enjoy rocks more than my family.
It was also a fun alone project.
After I stacked and re-stacked the rocks for a week, I decided to just be done and glue them together.  Pretty sure I would still be rearranging them, if we didn't need the dining room table.
I love the E6000 glue that I used.  It is not a fast drying glue, but it is very strong once it dries.  The glue is also thick, so it was easy to nestle the rocks into place.  And the reviews sound like it should withstand the weather, which is good since I am leaving the rock tower sculptures out in the flower bed.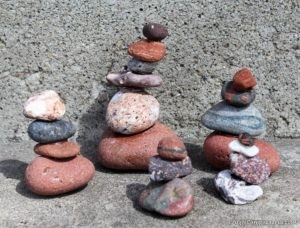 I did learn to be patient and glue just one rock on top at a time.  When I started,  I glued a few rocks on a larger base rock.  Evidently, I did not have them balanced correctly, because when I came back- they had slid off.
So, I laid the rocks in the correct order and glued one on each day.  Of course, I might have changed my mind a few times and tried out different options.  I actually did a good job balancing rocks, only 1 of the towers wants to fall over.
After a few days, my easy rock project was finished!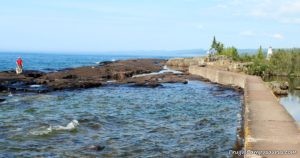 Seeing the rock tower sculptures out in the flower beds will remind me of our family vacation.
It was so fun, using North Shore rocks to make tower sculptures.  It was also fun sharing a few new North Shore vacation pictures, of course I still have more pictures to share!
Hopefully you can find frugal or free souvenirs to remind you of your family vacations!
Happy Camping (or gluing frugal souvenirs!)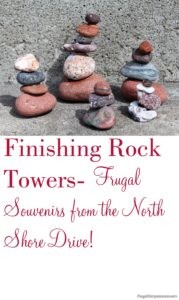 Frugal Campersaurus