Good morning!  We had sooo much fun with our follow-the-leader to the North Shore vacation.  It was such a wonderful week exploring Minnesota's North Shore scenic drive along Lake Superior that I was rather sad knowing it would end on Friday.  I'm even a little sad now, sharing the last 2 days of vacation with you.  I am glad that it is a close enough vacation spot for us to revisit soon and explore the places we didn't get to see.  But we will have to make it a point to vacation here again soon, because we said the same thing about South Dakota's Black Hills and it took us 10 years to visit again!
Thursday morning found us having our 'new normal' breakfast-donuts from the Schroeder Bakery Company.   It is so fun to walk up early in the mornings, when everything is still quiet and get coffee and donuts for breakfast.  Walking 1 block is almost like it being delivered, which we don't have in our small town at home.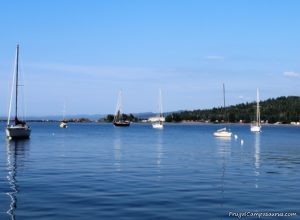 Since Thursday's destination of the Canadian border was about 70 miles away and we wanted to visit 2 state parks, a National Monument and the town of Grand Marais, we left the campground about 8am.  This seems late to me, but I guess vacations should be relaxing for everyone, so we try to not have really early starts very often.  It actually worked fine, we were able to visit every place, not be rushed and still be back at the camper in time for supper.
We had already visited Temperance and Cascade River State Parks and Lutsen Mountain, so we were able to just enjoy the views of Lake Superior and a few wayside parks on our way to Grand Marais.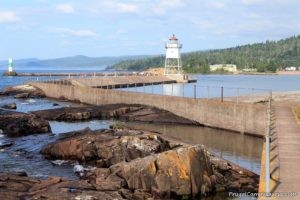 At Grand Marais, we hiked out partway to the lighthouse on the narrow breakwater and on some of the rocks.  I was glad it was not a windy day; otherwise we would not have been comfortable on the narrow path and would have missed out on it.  I do regret missing Artist Point.  I had been told, by my coworker, that we would enjoy the walk and hunting for historic name carvings (some dating to 1892), we might even see rock sculptures.
I thought I understood, but I should have asked more questions. I didn't see any names or any rock sculptures on the way to the lighthouse.   "Hmm, maybe we were in the wrong spot, oh well, there was plenty of other things to see" I thought.  What I didn't realize was: we were there.
We were at Grand Marais.
We were at the harbor.
We were even parked at the Coast Guard Station.
We had just turned the wrong way.  We had turned right and visited the lighthouse, when done, we got in the truck and left.  If we would have also turned left, we would not have missed Artist Point.  Next time, we will still park at the Coast Guard Station, but we will go down both paths and enjoy the breakwater, lighthouse and Artist Point.
At least we were able to find the third roadside attraction that I wanted to see-and more donuts.  The Beaver House sells fishing lures and its building has caught a giant fish.  The fish looks like it is crashing through the building, what fun!  It is only a few blocks off Highway 61, towards Lake Superior, so it is easy to find.  Fortunately, it is across the street from World's Best Donuts.  Mmmmm, second breakfast.
World's Best Donuts was also a recommend stop at Grand Marais.  It is a small busy bakery, but the line moved fast and they were very friendly.  I almost panicked:  the line moved so fast, that I wasn't sure what to order.  But, no worries.  I bet everything is good.  We enjoyed our twists and raised donuts with frosting (Chet's Best).  The donuts were so good; they made me miss our local bakery which closed a few years ago.  The husband thinks it is not practical to drive over 7 hours just to get donuts though.
After exploring a few shops at Grand Marais, we drove through Judge Magney State Park and on to Grand Portage National Monument.
Grand Portage confused me as I did research for our last minute vacation.  It is actually 2 places.  'To portage' is to carry a boat or boat cargo between two bodies of water, so the Grand Portage is an ancient 9 mile trail, that Indians and fur traders used, to bypass the waterfalls on Pigeon River as they headed to Lake Superior.  Grand Portage National Monument is located on Grand Portage Indian Reservation.  There is a Heritage Center that has exhibits about Ojibwe culture and the fur trade.  There is also a historic depot with 3 log buildings, 4 outside areas and historic gardens to explore.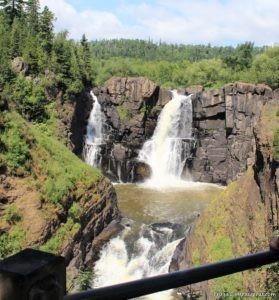 The second Grand Portage that we visited is a state park, 6 miles further along Highway 61.  It is on the west side of the highway, right before the Customs Station at the US/Canada border.  We could even see orange fencing along the road as we turned into the state park.
We enjoyed a quick picnic lunch at the state park picnic area and then walked down to view the High Falls waterfall of the Pigeon River.   Since we didn't have passports and could not cross the border, we liked the nice view of Canada and the shared waterfalls.  The High Falls is the highest waterfall located partially in Minnesota, at 120 feet.
By Thursday, with all the walking and hiking, my knees were getting sore along with the husband's bad knee.  So, we were both happy to see a nice boardwalk and path leading to the High Falls. It is only ½ mile one way to the falls and it is a very easy path.  It was interesting to hear little jingle bells while we were hiking to the falls.  We learned that they were to warn the bears, so hikers didn't surprise them on trails.  They sure sounded pretty.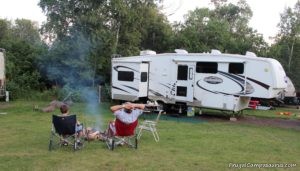 Driving back to the campground, it was not meal time when we passed Sven and Ollie's Pizza in Grand Marais, so we bought 2 frozen ones to try for supper.  They were fine, but the camper oven is touchy and I partially burnt them, I wish we had just eaten an early supper at the restaurant.
After spending some time at the beach rock hunting, we had a fire on our last night at Lamb's Resort in Schroeder.  On vacations, we usually are so busy sightseeing that we don't have campfires.  It was a very relaxing evening, sitting on the beach sorting rocks, listening to the waves and then enjoying the campfire with my family.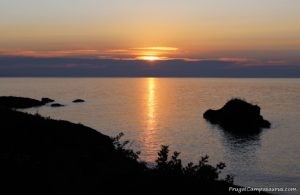 The next day it was time to head for home.  We decided to take back roads all the way and avoid the cities.  This almost doubled our time to get home.  That was ok, I was in no hurry to end our last minute, end of the summer, follow-the-leader vacation.
I was happy to learn that my coworker went to Yellowstone last year and that they are talking about visiting the Grand Canyon soon.  I hope to continue our follow-the-leader game.  Has anyone suggested a vacation destination to you?  Have you followed their suggestion?  Please let us know how it turned out!
Happy Camping (or finding new places to buy donuts)
Frugal Campasaurus