Good morning!   Last time, I started telling you about our relaxing, end of the summer vacation.  We revisited the eastern side of Iowa along the Mississippi River.  A few years ago, we had followed the Great River Road from the northern border of Iowa about halfway down, to the Dubuque area.  This trip, we pretty much stayed near Dubuque, though we did visit a few new places.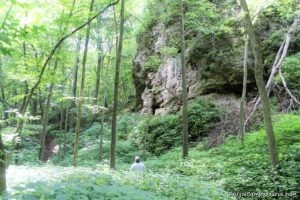 One of the new places was Maquoketa State Park.  On Tuesday morning, we visited the caves north of the road. After a quick lunch of leftovers, the husband and I headed back to see the caves south of the road.
Thankfully, the bracelets we received from the bat lecture were good as long as we left them on.  I was happy to not need another class.    I was also happy to have our walking sticks.  The lower (southern) entrance to Dancehall Cave was as nice as the other entrance with wide steps and a sturdy rail, but the paths to the other caves were rougher.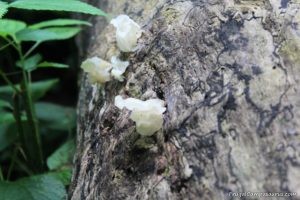 I wonder if it had rained a few days before we got here, the paths were more slippery and there was a bit of mud off the paths.  I'm sure the high humidity did not help the paths dry out; it was almost like a mini rain forest.   With the ferns, fungi, vines and growth, it almost did seem more like a rain forest than Iowa, though the humidity we usually have all summer.
I was rather fascinated by the variety of fungi near the paths; it was fun to walk along and be surprised by yet more fungi.   Then it got to be a game, trying to spy more fungi hiding near the path. What was really amazing were the colors, shapes, and variety when I looked it up at home- did you know they can be purple, pink and orange?  Some online were even like fuzzy cups!  I will definitely keep my eyes open on future hikes.  The ones we saw at Maquoketa were all white or cream, though some were waxy.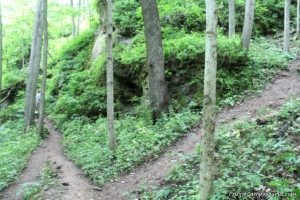 It was a fun afternoon exploring the paths and a few caves.  I am rather ungraceful (you should see me on a snow sled), so I choose the level paths and did not go in the caves that were wet.  The husband is more adventurous, I thought some of his paths were steep, but he was fine.  We both enjoyed the fellow sitting near a cave playing the guitar.  It sounded pretty as we were walking along in the woods.  It reminded me of our trip to South Dakota a few years ago, where we saw a guitar player high on the rocks in the Badlands.  I never did want to think about how he got up there.
Since it was high humidity and near 90 degrees, we headed to the camper after a few hours of hiking and easy cave exploring.  The air conditioning and a shower felt great!  Once in a while, I think camping should be only tents and cooking over the fire, but then I am reminded that I don't really like to sweat even though I like living in Iowa, summer-time included.  I also didn't want to put on mosquito spray after my shower, so we didn't have a fire.  Actually, I was sleeping by 9:00!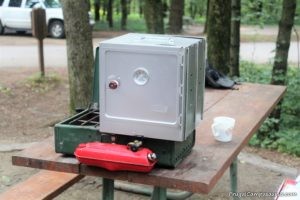 There is one good thing about going to bed sooo early-I can get up early and have a morning fire!  I love campfires and cooking over the campfire, but I can't stay up late much anymore.
Instead, I will often go out early to make a fire. Some days I can catch the sunrise as I build the fire. Depending on how quickly I need it, I'll make my coffee over the fire.  Sometimes I can even be quiet enough to let the husband sleep in, but not very often.  This morning, I was not quiet enough.  The husband was up and able to help me make breakfast.  Unfortunately, he was also able to see my breakfast flop.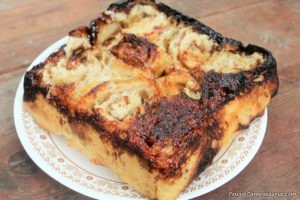 My breakfast flop started out ok.  They were supposed to be cinnamon rolls-two days ago.  I have used the 5-minute bread recipe before and made great cinnamon rolls.  They were quickly devoured by the boys.  These were not.  I guess the yeast did not want two extra days to rise. And I guess I should practice more with the outside oven.  Our outside oven is fun to play with, but hard to control the temperature.  I'm glad we had back-up breakfast for the boys! (cereal and poptarts from the pantry!)
The husband and I didn't need the back-up breakfast.  We already had a snack while making the cinnamon rolls.  I have cooked lots of marshmallows and hotdogs (even an apple or two) on a hot dog fork over the fire, but have never thought to cook little smokies that way.  I don't know why.  For our snack, they were delicious and easy!
We spent the morning packing up and getting ready to go to Bellevue State Park.  When we were finishing up, a gentleman came over to say good-bye.   You can meet some very nice people camping, and quite a variety of people.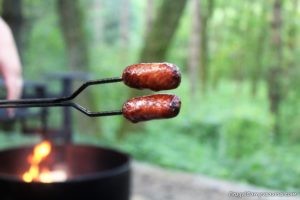 This gentleman had an English accent, lived in Kansas City, had served in the military and knew a lot about truck engines.  We had visited on and off during our stay at Maquoketa.  It was his first trip with his first camper.  He was so nice and friendly and just wanted to say goodbye before he headed out.  We aren't super social people, but it is always nice to smile and say hello.  You never know who you can meet.
At Bellevue State Park, it was a different story.  We did not meet anyone when we first arrived.  We were the only campers at the campground.  A ranger, who was painting posts (it is a very well kept up campground with brand new bathrooms) told us that the hosts were gone for a few days.  It was almost eerie…  But, can you believe it?  With a choice of anywhere in the campground, we picked the same spot as last time!  Creatures of habit, I guess.  No, really, the spot is close to a water hydrant, easy to back into and off towards the end of a row, so a good spot for us.
Next post I will finally get to talk about barges and more hikes as we explore Bellevue and Dubuque.
Happy Camping (and fungi spying)!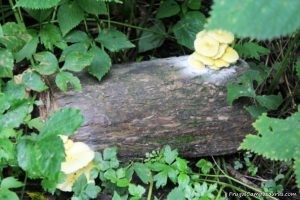 The Frugal Campasaurus