Good morning!  Today, I want to introduce you to the creature that lives in the back corner of my refrigerator-Bucket O'Bread!  I know it doesn't sound like a scary creature name-but Bucket O'Bread lives, grows and sometimes tries to take over the refrigerator.  If I am not careful, he can over take his home (an ice cream bucket, which explains the name!) and invade the refrigerator shelf.
Bucket O 'Bread is a great example of how the husband is always right and why I shouldn't procrastinate.  This great recipe actually hung on my refrigerator for 3 years before I tried it!
3 years of wasted time.
3 years that I could have been enjoying easy bread, pizza crust, brown and serve rolls, breadsticks, fry bread and even cinnamon rolls.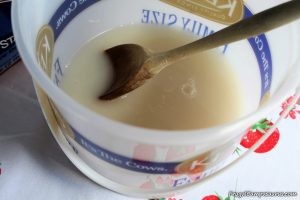 The husband found this recipe in a Mother Earth News magazine, clipped it out and hung it on the refrigerator-'Let's try this.'
'Ok, soon.'  That was my repeated response every time he saw the clipping and asked about the bread.  Thankfully, the recipe stayed on the refrigerator while I procrastinated and waited 3 years to try it.
What a shame!  Someday, I will learn to not procrastinate.  The bread is so easy to make, so frugal and so versatile, I wish I had tried it earlier.  After finally making no knead bread and loving it, I also have enjoyed the books by Jeff Hertzberg and Zoë François:  The New Artisan Bread in Five Minutes a Day and The New Healthy Bread in Five Minutes a Day.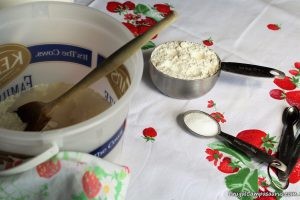 My family loves the 5 minute bread recipe and all the different forms I have made with the white dough.  Unfortunately, they didn't care for the healthy variations.  But that is not a surprise; they only eat white store bought bread. Once in a while, I substitute 1 cup of wheat flour for the white, but that is about as healthy as I dare make it.
This is how I make the easy, no-knead dough.  It is so easy to make and store, that I am hoping to try a few camping recipes with this dough.  It will be very easy to take Bucket O'Bread along in the camper.  It is supposed to be made ahead of time and stored in the refrigerator for up to 10 days.  I don't keep it that long in the refrigerator though, the family doesn't care for the sourdough taste it develops.  I make sure to use it often or make rolls to put in the freezer.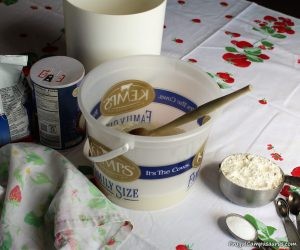 No-Knead Dough
3 cups warm water, not burning hot
1 teaspoon sugar
2 teaspoons or 1 packet active dry yeast
6 ½ cups flour
1 Tablespoon salt
In large bowl or ice cream bucket, stir to dissolve yeast and sugar in water.  Cover with towel or cloth napkin, let it rest until it starts to foam, about 10 minutes.  Stir in flour and salt.  It will be a stiff dough and hard to stir before it rises, but make sure to mix thoroughly.  Let it sit on the counter a few hours, until dough rises to top of bucket.  Put on the lid and store in the refrigerator.
I have placed it in the refrigerator, right after mixing in the flour and salt, if I will be gone or make it right before bed.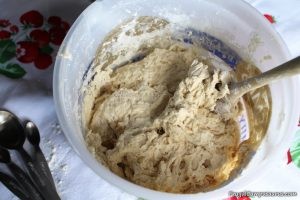 It is a rough dough, and hard to mix.  I usually have 'Muscles' (the middle kiddo) mix the dough for me; he also counts the cups of flour, because I get distracted and forget how many I have added.   I have also used my stand mixer with a dough hook with great success and less elbow aches, when 'Muscles' is not available.
To use:  I sprinkle ¼ cup of flour over the dough before I take out any to use.  It can be rather sticky, and the extra flour helps when scooping out the dough.
There is no 'knead' to knead the dough, just shape it and place on a greased cookie sheet.  I let it rise while the oven preheats, and then bake.
You can make 3-4 loaves of bread, baking at 400 degrees for 30 minutes.  I have heard it is great baked in a cast iron pan, need to try that soon.  Hopefully, I won't wait 3 years to try it.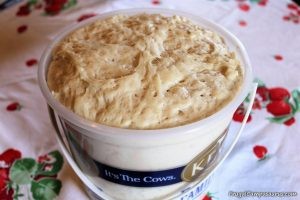 I usually use ½ of the dough to make a cookie sheet full of breadsticks.  They bake for 10 minutes at 400 degrees, though my family likes very light brown, soft breadsticks.
If I want something really quick to go with supper, I will scoop out ½ a cup of dough and flatten it with my floured hands.  Then, I fry it in a dry pan on medium high heat.  It is great warm, covered with butter.  Occasionally, empty the flour out of the pan, so it doesn't burn.
My favorite food flop, was a recipe for overnight cinnamon rolls with Bucket O'Bread.  Unfortunately, frosting can't help everything.  It wasn't Bucket's fault though, we were on vacation and I tried to keep it more than just overnight, maybe a few days more.
I enjoy the 5 Minute a Day Bread cookbooks and the many no-knead dough recipes.  I love that I can keep dough in the refrigerator to use quickly for family meals.  I especially love how frugal it is.  It is so inexpensive, that it is easy to experiment with.  If the recipe doesn't turn out, it is no great loss.   Often,  I make the dough and then finish by following other recipe directions, like rolling it thin for pizza crusts.   I can't wait to take Bucket O'Bread camping and try some new campfire recipes.  I just hope they turn out.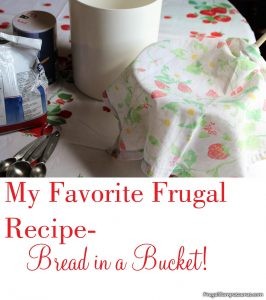 Happy Camping ( or bread stick making)!
Frugal Campasaurus