Good morning!  Last post we discovered some caves, fungi and food flops at Maquoketa State Park, now we are at the second stop of our end-of-the-summer vacation, Bellevue State Park.  We were able to revisit some places and find a few new ones.  There are a few places from last trip that we were unable to revisit, but I would recommend:  Crystal Caves and Fenelon Elevator.
Crystal Caves is a nice tour and I was surprised at the size of the cave. You really need to watch for the entrance off Highway 52.  They have nice big signs, but it is towards the top of a hill, about 5 miles south of Dubuque.
In Dubuque, Fenelon Elevator is just cute!  It is a short, inexpensive, historic tourist attraction.  Adults were $3 and kids were $1.50 in 2014.  It is a steep ride from 4th Street up to a residential area, but it is quick and has a nice view of the Mississippi River.  And you never know who you will meet.  In 2014, as we visited in the residential area, while waiting for the return car, we discovered the ticket lady's brother lived about 10 miles from our home!  What a small world!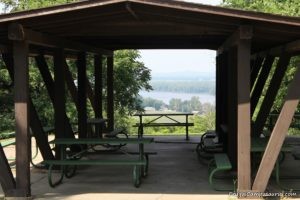 This time, we had Wednesday, Thursday and Friday to enjoy Bellevue, Dubuque and even drive down to Sabula. At Sabula, we crossed into Illinois to check out some campgrounds.
Bellevue State Park, where we stayed, has two separate parts.  Both have nice hilltop views of the Mississippi River, but the campgrounds are in the southern park, the Dyas Unit.  It is a few miles south of town on Highway 52, the Great River Road.   If you are coming from Bellevue, it is an easy turn with only a short amount of gravel.  If you are coming from the south, you need to watch for the sign and turn when it tells you.  You will drive on much more gravel, but the main turn is very sharp, almost a blind turn.
The campground is, quiet and well-kept.  It has 46 camping units (31 with electrical hookups), brand new modern rest rooms, showers and a dumping station, though only the host has a full hookup.  Only 15 of the 46 are first come, first serve sights, but it definitely wasn't an issue for us.  We did arrive on a Wednesday, but even when we left on Friday there were plenty of open spots.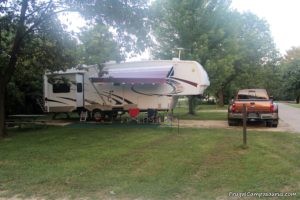 We relaxed after arriving and setting up our camper area.  The humidity was so high, our camera fogged up a bit as I took a picture.  An older gentleman arrived as we finished, so at least we weren't the only ones in the campground.   After driving through town, and stocking up on more buns and pop, we just hung out at the camper.  The boys were sad that they didn't have a cell signal or data, I tried not to jump with joy too much.
It is always a fine line with camping: family time and technology.  I think we should leave all electronics at home.  The husband thinks happy children would be nice.  Actually, they are pretty good and turn stuff off when I ask them.  The devices also help a lot when we are stuck inside because of rain.   But this night there was no signal, hurrah-hurrah, so the youngest learned 500 rummy!  I love playing cards and board games.  I grew up playing Yahtzee in a pop-up camper.  In fact, all my siblings like cards and board games, and 3 out of 4 of our spouses do not.  It is so strange.  So I really enjoy camping, when we can play cards or games.  We had a fun evening playing 500 rummy.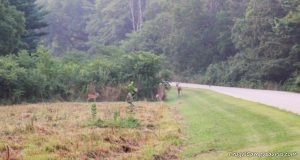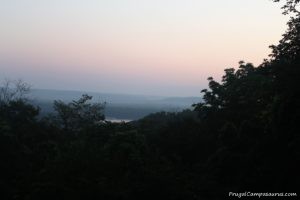 Thursday I was up early, 5:30 to be exact.  I wanted a sunrise picture over the Mississippi River.   I wish I had picked out a spot the night before.  I was definitely thankful for the mosquito spray and tennis shoes by the time I was finished.
The spot I thought would be perfect was a picnic shelter a short walk behind our camper.  It has a great view of the Mississippi River, but not the right angle to catch a sunrise in August.
I quickly told the husband, grabbed truck keys and headed to another overlook still in the park.  It also did not have the right angle, but it did have a trail that headed in the right direction.  Sunrises, sometimes, just don't last long enough.
I caught a few glimpses through the trees, but didn't have enough time to find a spot for a good picture.  I did get a quick hike in before breakfast though, and on the way back to the camper I saw a group of 4 deer by the road.  What a great way to start the day!
After breakfast, we headed to the National River Museum in Dubuque.  We had been there twice  on the last trip, and it was fun exploring it for a few hours again.  Our boys were a bit old for the traveling Dinosaur exhibit, but had really enjoyed the Turtle exhibit a few years ago.
In the aquarium area, this octopus was very active, and we learned it was new to that aquarium so it was still exploring its surroundings.  We really enjoy the aquariums and variety of fish.  I couldn't believe that it seems you can see through the paddlefish.
There are quite a few parts to this museum.  You can learn about life on the river, riverboat history and explore a dredge.  The dredge is my favorite area.  You can walk through most parts of the ship, a few areas are roped off, but you can see engine rooms, the kitchen, dining rooms and much more.  There were even posters about overnight stays for groups.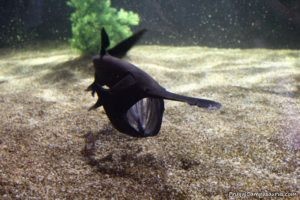 After the museum and for lunch, the family was very accommodating to me.  It was so sweet; of course they were also enjoying the cell phone data they could get in Dubuque.  I wanted to try a different restaurant that I had seen online.  We are not adventurous eaters, especially our kids, so I gave them two restaurant choices for lunch.  They picked the one that had hamburgers.  I really had thought they might try pizza, but it wouldn't be Casey's pizza-their favorite.
We went to Mario's on Main Street.  It was very easy to  drive to get there, and reminded me of local cafes at home.  I was very glad we tried something new.  I enjoyed the pizza bread with red sauce and my panzerotti.  It reminded me of a calzone and was very good and very filling!
Mario's is also close to St. Luke's United Methodist Church; in fact I could just walk down the block.  When researching things to do in Dubuque, this church and its stained glass windows were recommended.  It's not something the family was interested in, but since it was close to the restaurant (and they were still enjoying cell phone data) I went in for a quick self-guided tour.
They already had a lecture going for a bus tour, but the staff was very friendly and even invited me to join the lecture.  Unfortunately, I didn't have the time.  I did listen as I looked at the beautiful stained-glass windows; it was very interesting and historic.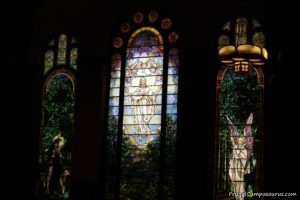 I was surprised that their 1834 log structure was the first church built in Iowa.  The current church, finished in 1896, has Louis Tiffany stained glass windows.  He was the son of the famous jeweler, Charles Tiffany.   The windows and woodwork in the church were beautiful; I wish I had had more time to look, maybe next time.  Then, I could try Mario's pizza too!
The rest of the day was relaxing.  We drove back to the camper for a while, explored some Bellevue shops and antique stores and got the best sweet corn at a self-serve sweet corn stand there.  Our sweet corn was not ready before vacation, it looked beautiful-tall, leafy and dark green.  When we tried it after vacation, I wanted to drive back to Bellevue and buy out the road side stand!
Our corn was horrible!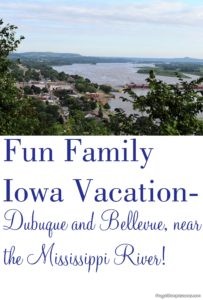 The husband had been worried, because sweet corn does not usually grow 9 feet tall!  Since it is not very frugal to drive 2-3 hours for sweet corn, I tried to call the Chamber of Commerce.  She was so nice, and knows the local farmers that have the stand.  I am hoping to call them soon to ask about the sweet corn variety.
Also soon, I will tell you about our hike near Bellevue and the cool campground we found that hastened a large purchase!
Happy Camping!
The Frugal Campasaurus