Good morning!  Mmmm, reading the end of my last post makes me hungry for fresh sweet corn.  I wish it were summer.  THEN, I could eat sweet corn and go camping!  It is fun though, looking through pictures and camping notes to share our end-of-the summer vacation with you.
Friday was our last day on vacation.  I remember it as a relaxing day, but looking at the notes shows that we were busy!  Since I am always the navigator, never the driver, I have time to record our daily activities and money spent in one of the kid's old notebooks (love being frugal!).  It's almost like a vacation diary, and is so fun to look at later.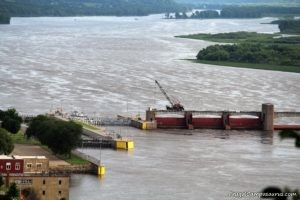 Sometimes, I miss having young children underfoot, all the smiles and running knock-you-over hugs.  There are benefits of having older children though, and not just the quiet half-smiles and rare hugs that I don't have to ask for, once in a while I get to go out to breakfast with the husband all by myself.  It is usually early, while they are still sleepy and not moving much.
This Friday morning, we enjoyed a quick breakfast and watched the barges at lock and dam # 12 in Bellevue.  It is fun watching the barges hook and unhook, because they are so long now, they can't go through the locks at one time.
Last vacation, one of the deckhands visited as he hooked and unhooked the ropes.  He was from Louisiana and was very friendly.  His captain even came out of the wheelhouse and waved as they went by.  This morning, the crew was very busy and we didn't get to watch as long, so no visiting happened.  It is amazing, though, how they can steer and turn such long barges.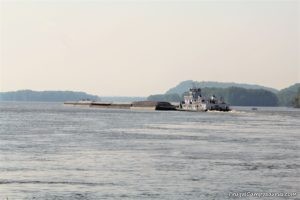 After watching the barges, I wanted to revisit the Outdoor Way of the Cross.  During our last vacation on the Mississippi River, we had stopped at the St Donatus Catholic Church.  St Donatus is part way between Dubuque and Bellevue on The Great River Road, Highway 52.  It is a historic Luxembourger village; some of the buildings were built in the 1850s and it is on the National Register of Historic Places.
Last time, our stop had been spur of the moment.  The lady at Bellevue Chamber of Commerce had recommended a visit and then I had seen the pretty chapel towards the top of the hill, and just had to stop.  I was not prepared at all.   It had rained.  I was wearing shorts with sandals.  I did not take any mosquito spray.  Not prepared at all, but it was still  beautiful.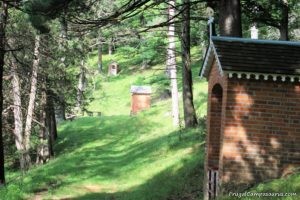 This visit to the Way of the Cross, I was ready.  I had jeans, socks and tennis shoes, a hat, a walking stick.  The husband and I kept the mosquito spray with us the whole time.
Just like last time, the night before our hike, it rained.  This made it a bit slippery and muddy, but the walking sticks helped a lot!  Even the husband, with his bad knee, made it up the trail fine.
The outdoor Way of the Cross is beautiful.  It was completed in 1862.Behind the church, past a historic cemetery, is a winding trail going up a steep hill to a small chapel.  The chapel is gorgeous and was built in 1885.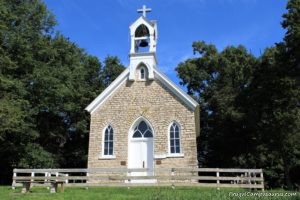 On the way to the chapel are 14 stations: little red brick houses with beautiful lithographs of the Passion of Christ inside.
As a United Methodist, and not Catholic, I was unfamiliar with a Way of the Cross.  Some of the pictures are sad, but very moving and they portray the suffering of Jesus.  It is beautiful, just like the view of the valley when you reach the chapel.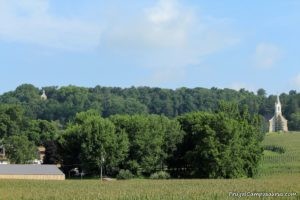 After hiking the Outdoor Way of the Cross, we picked the kids up at the camper and took a quick road trip south to Sabula.  It only took 2 hours to drive over to Illinois and back, which was good.  We like driving and exploring, but the kids can only tolerate it for so long and we were still going to be driving home later in the day.
We followed Highway 52, The Great River Road, south 21 miles to Sabula.  The road is curvy and a bit rough, but we did meet a few large 5th wheels going north.  The road does not stay next to the Mississippi River, but still has some pretty wooded views.
Sabula is Iowa's only island city.  It became an island in 1939, when Lock and Dam #13 flooded the area around town.  A causeway connects Sabula to Iowa and then another causeway and bridge lead to Illinois.  When we were driving across the river, there was construction of a new bridge.   It was interesting to watch the large cranes and workers right next to us, as we were driving on the bridge.  I thought the causeway and the bridge were a bit narrow for the dually, but there is a reason I don't drive.  We were fine, of course.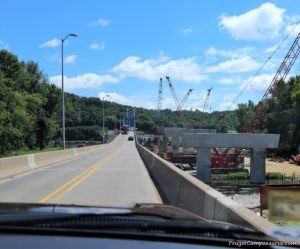 In Illinois, we visited the Mississippi Palisade campground.  It is a large campground, and we were able to walk to a few, pretty viewpoints of the river.  We didn't have much time to explore this park though, and since the bridge would make me nervous with the camper, I'm not sure we will be able to camp there.
We did, however find a small Army Corps campground, south of Bellevue, that we would love to try.  In fact, we picked up a brochure and the Rock Island District of the Army Corps has a nice website, missriver.org.  They have 314 miles on the Mississippi River from Potosi, Wisconsin to Saverton, Missouri with about 13 campgrounds, 14 day use facilities and 22 boat ramps.
The campground we liked is right on the river, in fact last time we were here, it was flooded.   There was just one problem, it does not have electricity.  It has 55 campsights and drinking water, but still no electricity.  I would almost be willing to try camping without electricity, but I'm fairly certain the kids would mutiny.  I guess the husband has a new toy to research and find-a generator.
After our quick drive to Sabula and Illinois, packing up and heading home was uneventful and also quick.  We were even home before dark!
I love that we can travel just a few hours and find such different regions and experiences.  Longer trips, like the Black Hills of South Dakota and someday Yellowstone, are wonderful- but it is nice to have places close to home to explore.
We enjoyed finding new places, like Maquoketa Caves State Park, and revisiting some old ones, like the Outdoor Way of the Cross and barge watching near the Mississippi River.  I am glad this trip was so close to home, and I  look forward to revisiting the area again in a few years- or sooner!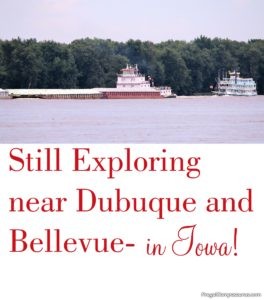 I am also glad to have been able to share it with you; I hope we have encouraged you to visit the Mississippi River area or an area close to your home.  Let me know what areas you enjoy, especially those close to home that you can revisit.
Happy Camping (and heading home!)
The Frugal Campasaurus