Good morning! Early March is not really camping weather in our area and January is definitely not camping weather either.  Frugal ideas are, thankfully, good even in the winter.  Since we can still only dream of camping, I will share some thrift store shopping we did in January when the husband had a few days off work.
We only had a few inches of snow, so driving me around was fine and he was a good sport about it.  We visited two towns, 7 thrift stores and the grocery store in two days!  That really is a lot of time in town for me, unless it is garage sale season, then I can spend all day in town!
I did a good job not spending money, which really is my current goal, but I did a bad job finding treasures.  Besides groceries, I only spent $4.50 at the thrift stores.
$2.50 was spent the first day on a few bunches of artificial flowers for Memorial Day and wooden spools for crafting at one of our local thrift stores.   I try to buy ahead, so I can save money.  It works well for Christmas and birthdays, but I have a harder time with Memorial flowers.  I usually end up using coupons or sales at Hobby Lobby for the flowers, so I was happy to find a few pretty bunches priced at 50 cents and $1.
The second day, we spent driving the backroads like we used to before the boys were born.  I saw only one deer, and had to wait for it to move to decide it wasn't a statue.   It was a lot of fun looking at the different acreages and farms and wondering 'where will this road end up?'
We ended up in a city about 60 miles away for lunch.  Actually, this was where we were headed as we had a gift card to use.  After lunch, we hit a few 'new to me' thrift stores!  I was very excited.   I don't like to drive in bigger cities, so I usually only shop our local stores.  But a thrift store is a thrift store no matter where you go, not every day brings treasures.
I only spent $2 on a wooden train puzzle for the grandbaby's upcoming birthday.  He loves Thomas the train, just like our boys did!  I think he will love the puzzle, though I'm not sure about his parents: it makes a train whistle.
Since I didn't find many treasures, I guess I will be happy with my local thrift stores and not spend my gas money driving to bigger towns just to visit their thrift stores.  Unless, that is, I can sweet talk the husband into exploring the backroads again, and if we are in a larger town anyway,we should definitely stop and look for treasures.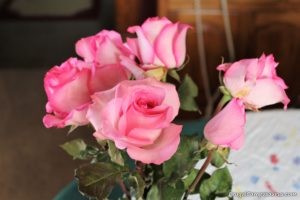 My favorite frugal 'purchase' of the last two days actually was from our local Aldis. It made me smile every time I walked through the dining room.  It was a pretty bouquet of 6 pink roses!
Every once in a while, our Aldis has free flowers.  I love it when I see the bucket of flowers on the bagging counter.  They were past their prime, but with a little love and trimming, they looked very pretty!   And even at $0, they made me smile for probably a week.
Update:  Well, the bouquet of flowers lasted about four days.  Then, I was able to trim one lone survivor to place in a bowl of water.  It still looked pretty and lasted for a few more days.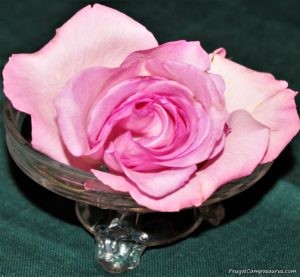 I hope you find things that make you smile this week!
Happy camping (or just dreaming of camping)!
The Frugal Campasaurus!