Good morning!  I enjoy camping stores, I really do, but there are also frugal, creative ways to find camping equipment and accessories, especially if you think outside the box.   ( I wonder if we saw a box or painted turtle on our canoe ride this weekend?)  Looking around at camping stores is fun: there are always new gadgets, games, cooking items and of course, cookbooks.  The cookbooks are very hard to pass up- witnessed by my collection of 13 in the camper, but most of the other camping equipment and accessories, I can look at, think about and since we are trying to get out of debt, I can resist buying.  Often, later, I can find the item or a similar solution elsewhere.
Sometimes I don't even need the item.  Like, for me, the folding dishwasher rack is cute and it would save storage space compared to a traditional dish rack, but it would be a bad idea.  It would let me not dry the dishes right away, of course then they would sit on the counter and not get put away.
The camper is too small to let get cluttered, my sewing room is a different story, but the camper plus clutter bother me.  So I save money and put the dishes not on a rack, but on a towel to drip, dry myself and put right away.  The counter gets cleaned off and I can hang the wet towel easily to dry.  We can save money, and even save space, by not buying additional items.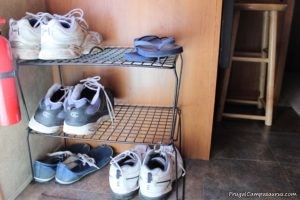 There are other things we have bought for the camper that saved money, work great but are not 'camper' items.  Camping with teenage kids can mean lots of shoes:  shoes for the beach, walking in the creek, hiking, sandals, shower shoes and definitely dry shoes. The shoes by the door have new Aldis folding cupboard racks.  No more piles of shoes (major camper clutter).  They were a perfect fit and only cost $5 each.  I am watching for another matching one, 3 shelves for all those shoes would be nice.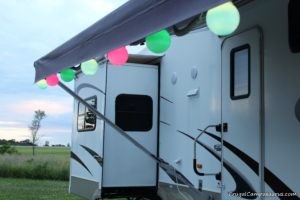 The husband found a string of patio umbrella lights at an end of the season sale.  I loved that they were safe, since they were meant for outside.  I also love that there were 8 light globes on one string, so they stretch the whole length of the awning.  The husband put in colored bulbs and for under $20, we have great outside awning lights.  So far, they are long lasting.  The husband stores them in a large plastic tub in a cubby with other outside items.  They have illuminated our campsite and survived the weather for many years; the husband originally bought extra bulbs and just used the first extra one this year.  It can be really frugal to check end of the season clearance items.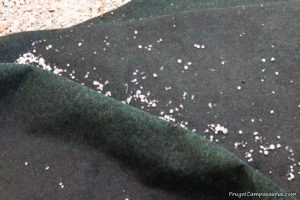 It can also be frugal to check different sections of a store, besides the camping section, for equipment and accessories.  One of my favorite non-camper buys was probably the awning rugs.  Instead of the reversible, pretty designed, pretty priced rugs, we bought 2 cheap patio rugs in the flooring department.  They are similar to indoor/outdoor carpet but have a rubber backing.
I love them.  They were very frugal (maybe $10 each) and have lasted forever.  It really seems like forever, it is even long enough that the husband would like new ones just for a change.  But he power washes them once in a while and they are like brand new again, so he will have to wait to buy new ones.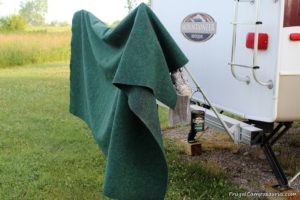 The rugs are also easy to dry.  This weekend, we had a thunderstorm with hail while we were camping.  Thankfully, the only tent in the campground left early.  We could see the rain sheeting across the road, and a neighbor's awning billowing in the wind.  Inside the camper, the rain sounded pretty on the roof; soon we could hear the tinkling sound of baby hail, then it was a deeper tinkling of hail.  Opening the door, we could see it was only pea size.
When it was all finished, we hung the rugs up to dry.  One fits nicely on the clothesline on the back of the camper, while the other drapes over the picnic table.   They were dry and ready to use again early in the morning.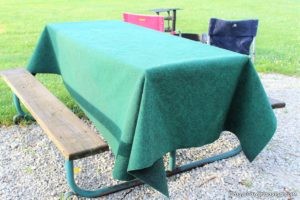 Since we have two of the frugal rugs, it is easy to change the layout.   When the kids were younger, it was nice to set one under a tree so they could play in the shade.  It is also easy to stretch them across the length of the camper or have one across the camper and the other stretch out to a table or fire pit.  I like it when one stretches to the table with the coffee pot, and then I don't need shoes to warm up my coffee.
At the end of a weekend camping, we sweep the rugs clean and roll them around a cardboard carpet tube.  It stores easily in an outside cubby, not taking up much room.  The clothesline even fits inside the carpet tube, saving more space.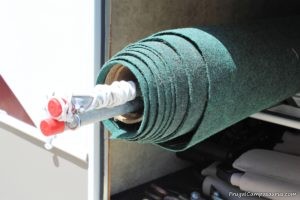 I love camping stores, I love looking at the variety of camping equipment and accessories, and I always find fun things I could buy, like cookbooks. Since we are working on getting out of debt and being frugal, I try thinking outside the box for ideas.  It can be frugal and creative to look for other solutions instead of buying lots of camping equipment and accessories.  Try thinking outside the 'camping' box- different departments, end of the season sales and even creative solutions to frugally accessorize the camper.
Please share your creative 'out of the box' solutions for camping equipment and accessories so we can all be frugal campers.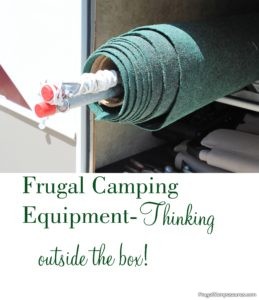 Happy camping (and listening to the hail)!
Frugal Campasaurus