Good morning!  It is a good day!! Our local grocery store has pork loin on sale for $1.69 this whole week!  I am usually happy if it is on sale for $1.99, but once in a while it will be on sale for $1.69. Yoo-hoo!
It is good to get such a low price on pork loin.  It is better when I can prep the pork loin into fast, frugal freezer meals.  It is the best when that meal is something everyone will eat!
Growing up, I and my siblings ate what our mother cooked.  She must have cooked what we liked, or maybe we weren't picky.  I only remember her cooking the kids an alternate meal when the adults were having liver and onions or asparagus.  This is good, because they both smell icky!  I have heard that my grandmother (who raised a large family) also didn't cook separate meals, she just said 'add ketchup' if you didn't like the meal.
So I was shocked, when, after the toddler years, I couldn't just fix one meal and have everyone eat it.  It was more than a shock, it was frustrating.  Sometimes, I would just cook more of a side dish or vegetable that they liked or serve lots of bread and butter.  Once in a while I would let them make peanut butter crackers or hot dogs to go along with the rest of the meal.  Sometimes I would get upset, which did not help.  The husband doesn't understand why it upsets me.  Of course, his mother was more relaxed and would cook him a hamburger whenever he wanted.  Our family doctor (who had grown children) was also more relaxed, he said "They are growing fine and look healthy, so relax."
I am still trying to be more relaxed.   I'm getting better; I make larger amounts of meals that the kids like.   Then, I can cook something different for the husband and me and give the kids the leftovers that they like.  I do still like to cook meals that we all will eat though, which is why I love tenderloin sandwiches!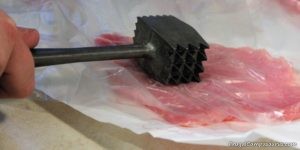 Tenderloins are a breaded, fried sandwich that is probably not healthy, but is very tasty.  When the husband's relatives would visit from Arizona, the first thing they would do after leaving the airport was to stop and get a tenderloin sandwich.  I'm so glad we finally figured out how to make them at home.  Making them takes a little prep  and a little work, but I use the vacuum sealer(read here about how I didn't want this, but now love it) and can make 6 freezer meals at a time.
When I get the pork loin from the grocery store, I have them cut it ½ inch thick and put 6-10 in a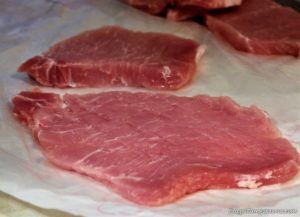 package.  This way, if I don't get the tenderloins made, I can freeze the packages and we can grill them for pork chops.  This pork loin made 36 chops; I would definitely not want them all frozen in one package.  I have cut the chops with the electric knife, but it is much easier to let the butcher do it for you.
When I get ready to make them, I trim the fat off the one side and pound them to about ¼ of an inch.  It should be larger than a hamburger bun, but not so thin it is see through.  I used to use the pointy part of the meat mallet, but it would tear the plastic, splatter and make a mess.   Now, I sandwich the pork between the plastic it came in (or use a cereal bag) and use the smooth side of the mallet.  No more wiping pork off the cupboard when I am done!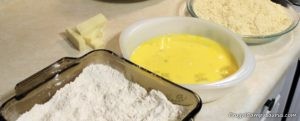 When I'm done pounding all the chops, I get the breading bowls ready.  There are three parts to the breading:  seasoned flour, egg and milk mix and cracker crumbs.  I like to use cake pans or pie plates to control the mess.  I also say dry hand-egg hand to myself repeatedly as I dip the tenderloins in each part.  Sometimes it even helps and my fingers don't end up thick with batter.
I start with about 1 cup of flour with seasoned salt (I use Lawry's) and pepper mixed in, in the first pie plate.
The second pie plate has 3 lightly whisked eggs with about  ¼ cup of milk added.
The third pie plate has crushed saltine cracker crumbs; I use the food processor.  I start with 3-4 sleeves of crackers, but this time I ended up using 6 sleeves.  I often need to add more flour or eggs as I make them also.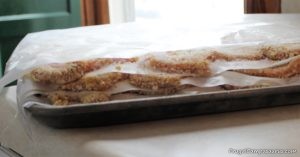 Then it is just a matter of dipping into each bowl and trying to keep my fingers clean-ish.  As I get done breading each tenderloin, I stack them on a cookie sheet with cereal bags (from my stockpile) or waxed paper in between the layers.  I freeze them for a day or two before separating and vacuum sealing in packages of 5 or 6 for us.
When we are ready to eat, though not for every meal like the kids would like, we have thawed the tenderloins for 1 minute each in the microwave.  It is easy to thaw them individually, while another one cooks.  The husband cooks them in ½ inch of oil, in a cast iron skillet,  2-3 minutes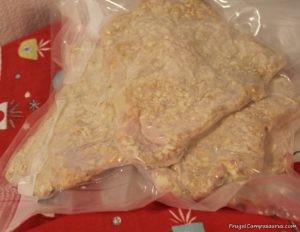 on each side until golden brown.  Our oldest uses the deep fat fryer the same way, 2-3 minutes on each side.  A rack on a cookie sheet, in a low 175 degree oven, will keep the tenderloins crispy and hot until they are all done and everyone is ready to eat.  Since all the prep work is done, they are quick to just thaw and cook for supper.
Once in a while, we will do thick slices of mozzarella cheese the exact same way as the tenderloins.  They only cook 1 minute or less, until lightly golden, or the cheese will start melting out.  The kids love these as a snack, while we make the sandwiches.  My favorite snack as we make tenderloins, is breaded mushrooms.  We just cut them in half, bread and cook them the same way.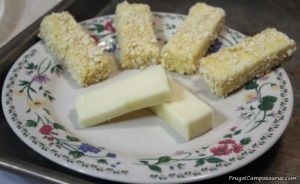 The tenderloins really are a frugal, fast, freezer meal.  This time, I bought the pork loin at $1.69 a pound.  I got 36 sandwiches from the 9.5 pound loin that cost me $16.13.  I also used 6 sleeves of saltine crackers for $1.20 and maybe 4-6 eggs, for 50 cents total.
That is only 49 cents each!   One of our local grocery stores sells them for $2 each.
I love that they are frugal, and that everyone will eat them.   We even gave some as presents to our oldest for Christmas.  I did not wrap them for the freezer, but did put a ribbon around them.   I think they liked them, just don't tell them how easy and cheap they are.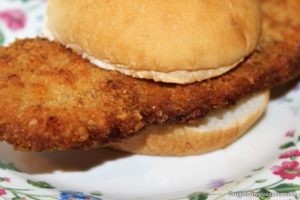 Let us know if you try our frugal tenderloins and if you like them.  Please also share your favorite frugal meal that your whole family will eat.
Happy Camping (or just cooking one meal for everyone)
The Frugal Campasaurus
Pork Tenderloin Sandwich Recipe
1 whole pork loin, about 15 lbs
Bowl 1   Mix        1 cup flour      1Tbs seasoning salt      1 Tbs black pepper
Bowl 2    Beat together   3 eggs   ½ cup milk  (may need more)
Bowl 3   Finely crushed cracker crumbs  (used 6 sleeves)
Oil for frying
Trim fat and cut pork into ½ inch slices, use electric knife or have butcher do this.  Covering loosely with plastic, so it doesn't splatter, pound thin with meat tenderizer.  Should be around ¼ inch thick.   First, dredge it through flour mixture.  Next, dip into egg wash.  Then, press and coat with cracker crumbs.  Tenderloin should be totally covered with cracker crumbs.  To freeze, put one layer on cookie sheet, stack layers, separated by wax paper.  After frozen, break apart and package in meal size portions ( we use a vacuum sealer).  Defrost before cooking.  To cook, fry in ½-1 inch of oil in a pan or use deep fat fryer.  Cook 2-3 minutes , turn and cook two minutes more on second side.     Makes approximately 36 sandwiches,  6 meals for us!
Serve on hamburger bun with your choice of ketchup, mustard, thousand island dressing, onion, pickle, tomato and lettuce.