Good morning!  I love experimenting and cooking over the campfire; after my spaghetti pie iron food flop, I didn't know if my family would try any new recipes again.
Thankfully, they did.  Though it might have been (a little) against their will.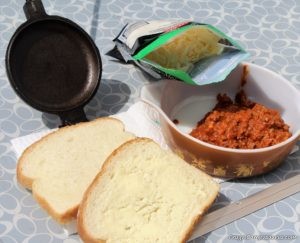 Before camping, I usually go through the refrigerator and put items that might spoil in the freezer.  Last time, I had leftover spaghetti sauce.  I took it camping, hoping I could experiment over the campfire without causing a revolt!
I was so happy I tried the pie irons again, though a bit differently.    Unlike the spaghetti pie irons, the spaghetti sauce pie irons were really good!
Using leftovers makes a great frugal, easy camping meal.  I don't have to prep or cook anything extra before we go camping, so it saves time and energy.  It also saves money, since the leftover spaghetti sauce would just go in the freezer, where it might or might not get eaten.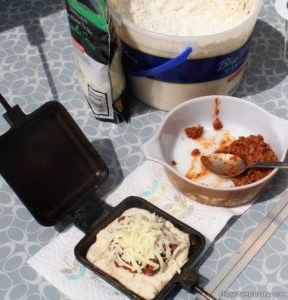 I made 2 variations:  one with sliced bread and one with Bucket O'Bread.  While Bucket is easy, I don't always have it ready to take camping.  It is nice to know that the sliced bread option is good too.  Options are always nice.
The pie iron sandwiches were made like normal- either grease the pan generously for dough or place buttered side of bread facing out (like a grilled cheese).
The filling was very easy; I didn't even warm it up.  I used 2-3 Tablespoons of cold spaghetti sauce and shredded mozzarella cheese.  My spaghetti sauce has hamburger in it and is thick, so it made pie iron sandwiches that we could eat with our hands.  A thinner sauce might make sandwiches that need a plate and fork, but I bet they would still be delicious!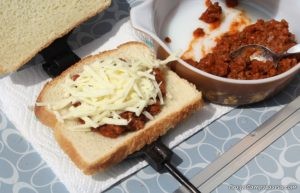 I did make sure to seal the dough when I made the Bucket O'Bread version.  After I placed the top dough over the filling, I pressed the edges together with my fingers, and then I closed the pie iron.  It was all enclosed, none of the dough stuck out, unlike the bread pie irons, where you cut off the crust that is sticking out before cooking.  When the sandwich was cooked and cooled, it was a perfectly sealed pocket, woo-hoo!
Spaghetti Pie Iron Sandwiches
Spaghetti sauce, 2-3 Tablespoons per sandwich
Mozzarella cheese, shredded
Bread slices or Bucket O'Bread dough
Butter or Oil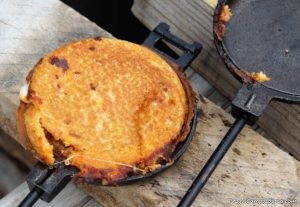 For each pie iron sandwich, butter 2 slices of bread, then place buttered side out in pan. Or oil top and bottom of the pie irons for dough variation.  Pat out walnut size pieces of dough for a top and bottom crust, and place in pan.
Put 2-3 Tablespoons of leftover spaghetti sauce on dough/bread.  Top with shredded mozzarella cheese.  For the dough variation, lay the top crust over the filling, then press edges with your fingers or a fork to seal.  You want the sandwich full, so the bread has good contact with the pie irons and gets golden brown. But not so full that it won't shut easily.  The dough sandwiches will 'rise and grow' some, so they don't have to be as full.
After closing the pie irons, trim the extra bread from the edges of the pie iron, so it doesn't burn.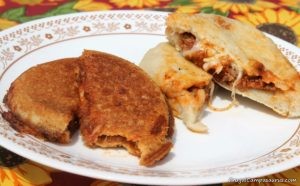 Cook over the fire, on both sides, until golden brown and toasty. Cooking time depends on heat of the fire. Sometimes, I set them over the coals and other times, I will set them right in the flames.
This is why we like cast iron pie irons; I seem to wreck all the Teflon ones with the high heat. The cast iron ones are heavier, but we usually rest them on the fire grate or the edge of the fire ring when cooking.
I check the sandwiches after a few minutes, and then flip and cook the other side when the first side is golden brown.  If the edges stick, a knife or fork can be used to loosen them.   It is very hard to wait to taste them, especially a new recipe, but they are always super-hot so waiting is important!
I'm so glad the family was (mostly) willing to try the changed spaghetti sauce pie irons again.  Since they use leftovers, it is a very frugal camping meal.  I also love that both variations (sliced bread and Bucket O'Bread) were delicious, so I have options.  Using the cold spaghetti sauce even made them easy to make.  I just wish it wasn't so hard to wait for them to cool before eating!  I hope you can find and enjoy some easy frugal camping meals- maybe with leftovers!
Happy Camping (or encouraging the family to retry a recipe!)
Frugal Campasaurus