Fun, Fun, Fun Friday!  Good morning!  I am so excited to share a Fun Friday project with you!  It is not the fun camping project I wanted to share, but it has been too hot and humid outside to finish that project.  I did find a fun inside project, instead.
My Rock Welcome sign was a fun project that reminded me of cooler weather at the North Shore.  My goal is to use all of the rocks we (ok, I) brought home from our family vacation to Minnesota's North Shore Scenic Drive.  Rocks are such a fun souvenir and I enjoyed collecting them.  They should not just sit in a box in my sewing room.  At least some are getting used:  I love my previous Rock sculpture project.  They are just like towers we didn't see at Artists Point, but mine stay stacked with glue.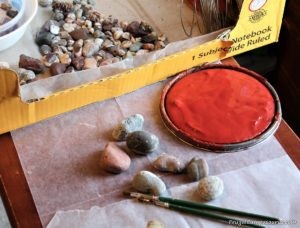 The Welcome sign rock project was easy and fun to do.  It was even quick, probably because I had already picked out which rocks to use.
I picked rocks with a variety of colors and patterns and with flat bottoms.  This will help the glue hold.  I used E6000 glue, the same glue I used on the rock sculptures.  They are outside in the rain and holding up well, (even when I knock them over weeding!)
For a board, I used a trim piece I had saved when we had the house re-shingled.  I love the details and wanted to leave it on the house, but it was missing in places.  At least I saved a few boards.  My sign board is 3 ½ inches wide and 21 inches long.  I was going to make it shorter, but then I decided to add the rock flowers to the bottom of the sign.
I used outside house paint to add the letters to the rocks.  It is our house trim color, and since I already had it- it was free.  I thought about using acrylic paint and a spray on varnish, but I didn't want to change the sheen of the rocks.  I wanted them to be natural.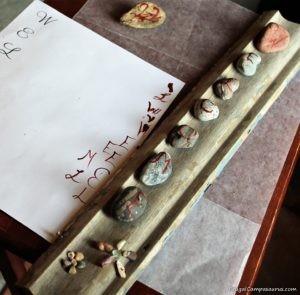 Printing 'WELCOME' in a simple, pretty font really helped.  I didn't use carbon paper, but just practiced and referred to the letters as I hand painted them on the rocks.
I held the rocks as I painted on each letter, not a good idea.  On one, I held it and painted it at a different angle.  When I put it down, the E was on the side.  After that, I painted on the letters while the rocks sat on the table.  They all still turned out nice.  The letters don't pop as much as I wanted.  I may outline them with white house paint, but I will wait a bit first before I change them.
The ends of the board looked bad, so I cut both ends off.  I was so excited to do it myself that I wanted to finish the entire project before the husband got home.
Then, it became Frustrating Friday.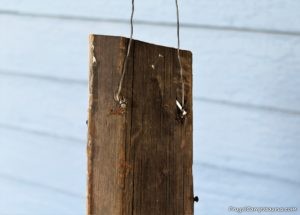 I couldn't find twine or rope to make the hanger, though I have plenty of ribbon and crochet thread.  I decided to make a wire hanger.  While attaching the wire to an existing nail, I broke the nail head off.
Off to the shed I went to get 2 nails.  If it was hot and humid outside, it was an oven in the shed.  I grabbed 2 paneling nails.  Later, I learned that paneling nails don't bend- they usually break off.  Of course, that is what one of mine did.
So, I looked for baby eye-hooks.  I only found large eye-hooks, like the ones we used to secure screen doors when the kids were toddlers.  Then, we caught one of them using a broom handle to unlock the screen door.  We got slider eye-hooks, they worked great!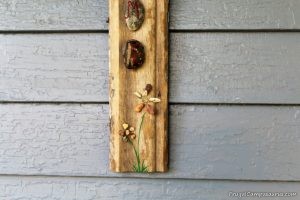 By the time I was done looking, the husband was home.  I 'let' him find a nail that wouldn't break off and then, finish the wire holder for the sign.  He didn't seem to mind- I wonder if the husband is used to finishing my projects.  He did remind me that if I put the nail in at an angle to start with, I wouldn't need to bend it.  Duh!
After the husband finished the hanger, much quicker and neater than I would have, I glued on the North Shore rocks.  The E6000 glue is thick and not runny at all.  It helped to nestle the rocks on the board, since neither were really flat.
I used needle-nose pliers to dip the small rocks into the glue before placing them on the board.  Tweezers might be a good idea for the smallest rocks, they slipped out of the pliers sometimes.

Then, a few green acrylic paint stems for the flowers- and it was finished!
Now comes the hard part- the glue must dry.  Have I told you I'm not very patient?
It seems super strong after it dries, but the glue needs a long time to dry.  A full cure is 24-72 hours.
I took this quick picture after 7 hours, then I laid it flat to dry again.  When I did the rock sculptures, I thought it was a good idea to try prying the rocks after just a few hours.  I re-glued some rocks.
Sooo, I am really going to wait 3 days before I hang the Rock Welcome sign up.  Maybe I should hide it somewhere so it doesn't tempt me.
I'm so glad I finished this fun, easy rock project, maybe I will get all of my North Shore rocks used-eventually.  At least I was able to work on an inside project and think of cooler weather, while it is hot and humid outside.
Happy Camping (while watching the glue dry!)
Frugal Campasaurus