Good morning!  I am so excited to share a sweet campfire recipe today!
While I love the savory campfire recipes, like Dutch oven meatballs and Maidrite Pie Irons, I have a huge sweet tooth!  It is hard to satisfy my sweet tooth when we are camping though.  By the time we finish eating supper, it is usually late, so I don't have room for dessert before bedtime.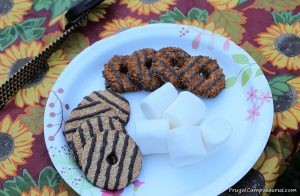 If I have room for a small, sweet treat in the evening over the campfire, I love s'mores.  I like a very traditional s'more with a graham cracker, part of a chocolate bar and a toasted marshmallow (burnt is even better!)
S'mores can be a small, quick sweet treat, but they can get expensive with kids.
The chocolate bars never last long enough; even if I hide them in the house, I have to hope they make it camping.  The kids (and their parents) are very good at finding chocolate bars and eating them before camping, so I thought I'd try a few frugal s'more recipes.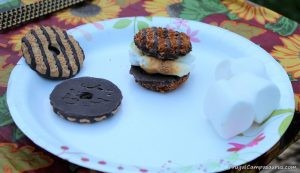 While the different candy variations of s'mores look yummy, I don't think they would be frugal.    Rollo's and Peanut butter cups would be quickly found and eaten, just like the chocolate bars.  Definitely not frugal.
I thought maybe cookie variation of a s'more would be frugal.  We decided to try substituting the graham cracker and chocolate bar with a chocolate striped cookie and with a chocolate covered coconut cookie.
Unfortunately, the more s'more cookie experiments were not very frugal.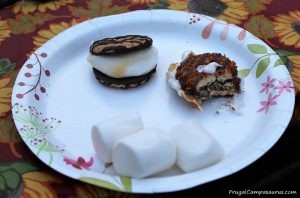 This is the 4th time I have bought these cookies to make s'mores.
We were finally able to take them camping, only because my youngest hid the coconut cookies from me.  Like I said, I have a huge sweet tooth and a new favorite cookie.
We also decided to use chocolate striped cookies for s'mores.  They are a favorite cookie at our house; their grandmother always had them when we visited.  No wonder the kids also have a sweet tooth.  But, it brought back fond memories, so the striped cookies were fun to make s'mores with.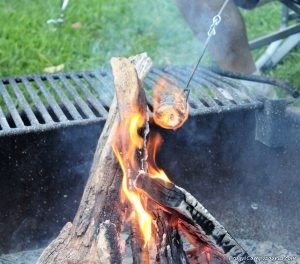 Besides the cookies, marshmallows are the only other ingredient, so it can be a quick, sweet treat.  My family thinks lightly toasted, golden marshmallows are wonderful.  Sometimes, they get so golden and melty in the middle that they fall off the marshmallow fork.  Thankfully, they're cheap.
I think marshmallows should be black. If you can start a bonfire with it, that is even better!  The burnt marshmallows make wonderful s'mores.  I like to start the marshmallow on fire, and then blow it around the marshmallow.  Once it's black all the way around, it's perfect!
Whichever way you enjoy marshmallows, the cookie s'mores are a yummy, frugal option.  Both variations of the cookie s'mores turned out delicous!  And they are frugal, if you can stay away from the cookies before camping, they cost less than half the price of traditional s'mores.
I am looking forward to finding new frugal cookies to make into s'mores.  Of course, any s'mores, traditional or a variation, is a quick, sweet treat for camping nights!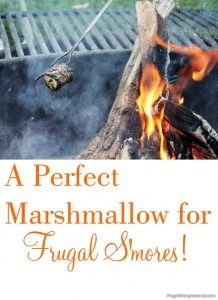 Happy Camping (or trying to save the cookies!)
Frugal Campasaurus