Fun, Fun, Fun Friday!  Good morning, I am so sad this Friday.  The Fun Camping Friday project, that I have waited a few weeks for, was a flop!  Instead of Fun Friday, it should be Flop Friday. 
Actually, this colored flame project is a flop for the second time!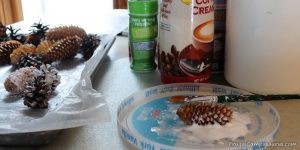 The campfire is one of my favorite parts of camping.  I don't have a fireplace at home (not yet, though I'm working on getting the husband to agree to one), so I love cooking, experimenting and just watching the campfire.  Many years ago, friends gave our kids a jar of magic colored flame crystals– it was amazing! They sprinkled them on the fire to make fun colors.  I love them and we buy them occasionally.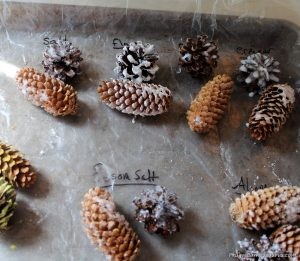 But I wanted to try a DIY, frugal version.  A few years ago, I soaked pinecones in different solutions.  One household ingredient was mixed with water to soak pinecones.  So, I had a lot of pie tins sitting around with pine cones soaking in different solutions.
When they finally dried, and we lit them- nothing happened!
I'm not sure if I didn't mix the solutions strong enough or if my expectations were too high, especially since I love the boughten flame colors.  To be safe, I had only used the everyday household ingredients, like Epsom salt and alum, but they were supposed to make colored flames like the chemicals that I didn't want to buy.
This time, I tried the same everyday household chemicals, but in a new way.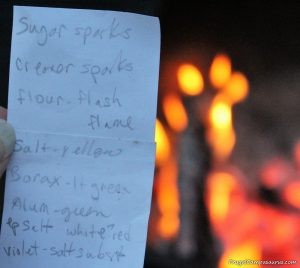 I still only used the everyday household ingredients that I had, like Epsom salt, alum and flour.  I really didn't want to buy anything and the chemicals from the drugstore and a swimming pool company make me nervous.
Instead of soaking the pine cones, this time I glued the dry ingredients onto the pine cones.  I hoped the chemicals would be more concentrated and finally produce colors!
I was wrong!
Even though it was easy to glue to the pine cones, when we finally were able to burn them-again nothing happened!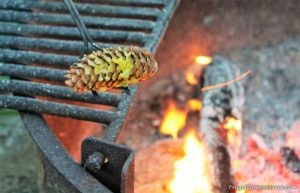 I had glued flour, sugar, salt, creamer, alum, Epsom salt and Borax onto the pine cones.  Some were supposed to make sparkles and some pretty colors.
I also tried jalapeno popcorn salt substitute, because salt substitute was supposed to make violet flames!  It didn't, but at least it made pretty yellow pine cones!
The weather was so hot, that we waited a few weeks to go camping.  It was so hard, since I also had to wait a few weeks to try my new colored flame pine cones!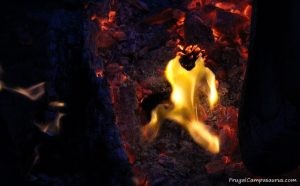 The pine cones burn really well, and made a lot of pretty pictures, but not pretty colors.  It was a lot of fun, burning the pine cones with the family.  We watched the flames together, trying to see the right colors.
There may have been some yellow flames,we couldn't all agree.  So, I may try gluing salt onto pine cones- again.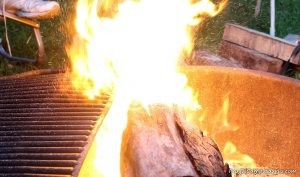 The youngest did have fun with the flames:   I had brought coffee creamer.  Tossing a spoonful into the fire makes fun sparks!  But, be super careful and do not just pour it out of the container over the fire, it can really flame up!
Even though the pine cones did not produce lots of pretty colors, like I wanted, I had a lot of fun around the campfire with the family.  So, in a round about way, it did turn out to be a Fun Friday project.
Happy Camping (and playing with the campfire!)