Good morning! I am working on a post to help my children get ready to camp on their own, and I thought it might help others too.  Hopefully, if you already camp, you can share it with others that you want to encourage to camp.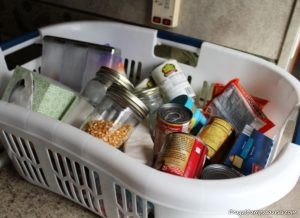 Our kids have been camping all their lives.  We took the oldest in a tent, although I don't know why we thought taking a 1 year old camping on the 4th of July was a good idea!   Especially when the neighbors tried setting their tent up at midnight and I wanted the baby to stay asleep!  It's no wonder we usually don't camp on the 4th of July!
So I was surprised, when they asked what to take camping.  I'm very excited that they want to try camping and may enjoy it like we do.   But I was rather sad that, even though they've been camping all their lives-they don't know what they need!  They have been hauling stuff back and forth between the house and the camper for years for me, but I guess I am the one who packs it all.
We all need lists
I started telling the kids what to take, then I thought- I have a packing list that I (sometimes) follow, even though I've camped for over 30 years.  They might like a list too.
Today, I'm going to share a very bare-bones tent camping list.  Soon, I will share a camper packing list, but when I tried to make one master list -it was huge!
My Bare-Bones Packing List will start where the kids are- with nothing.
Since they are just starting to camp, and they're not sure if they'll continue, I'm keeping it simple.  Very simple.  I'd hate for them to purchase expensive equipment and not use it again.  That would not be frugal, so I want to minimize how much they spend for their first camping trip.  While camping can be expensive; it doesn't need to be, especially the first few trips.
Many camping items can be borrowed, improvised or taken from around the house.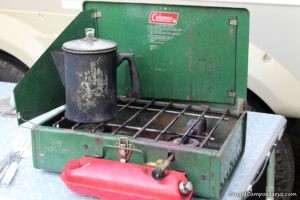 For the 1st few trips, it will be cheaper to just use items they already have around the house.  Using the Bare-Bones Packing List will make it easy to grab items from cupboards and not forget things.  Like spatulas.  On a trip to South Dakota's Black Hills, I forgot spatulas.  I remembered all the food and pans, but it is harder to cook without spatulas.
If they continue to camp, it will be easier to have packed totes.  The totes could be loaded with camping gear and basic kitchen essentials, ready to grab and go.  The items could be hand-me-downs, presents or even found at garage sales.
Borrowing camping equipment is also great for beginners.  Many campers have extra, older equipment they can share.  Since we have the camper, we also have 2 or 3 older tents that we loan out.   If it might rain, or even if there is just heavy dew, make sure to also borrow a tarp.  Fold and lay the tarp under the tent, but not sticking out.  If it is sticking out from under the tent, it can catch the rain;  otherwise it helps prevent the dew or rain from coming in the floor of the tent.
Don't hesitate to ask camping family and friends about borrowing equipment, most love to encourage others to camp and enjoy nature.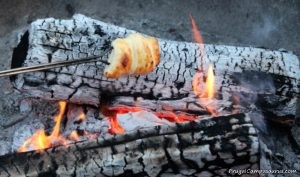 Some items can be improvised or substituted with everyday items.  No sleeping bag? –fold a large, thick blanket in half.  No igloo for drinking water? – use rinsed out milk jugs.  No camp stove? – use a small tabletop grill or cook only over the fire. Though, if only cooking over the fire, make sure to plan food carefully and check the weather before you go camping.  It's very hard to cook over a campfire in the rain; it also could be dangerous in high winds.
Lastly, camping should be fun!  So make sure to include a few games, cards, toys or a Frisbee.  Hiking, watching the stars or the fire is fun, but sidewalk chalk and bubbles are also a great, easy way to entertain kids.
Bare-Bones Camping List, Tent Edition
(Click above for the Printable Download)
There is so much equipment you could use camping, but beginning tent camping can be frugal and simple.  Hopefully My Bare-Bones Camping List, Tent Edition will help my kids and you enjoy beginning camping without all the expense.  I hope it will encourage you to start and continue to camp.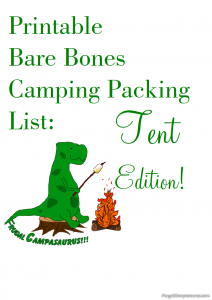 Happy Camping (even tent camping!)
Frugal Campasaurus