Good morning!  I'm so excited to share our frugal anniversary celebration.  Sometimes, expectations can get in the way of a wonderful celebration.  I am glad that even though our celebration was frugal, past expectations did not ruin the day.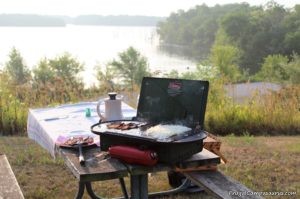 Last year was our 25th wedding anniversary.  The silver anniversary is a great milestone, and many people celebrate it with a party or a large vacation.  Those are wonderful ways to celebrate, but not what we did.
Years ago, I expected that we would take a large family vacation for our 25th wedding anniversary.  It seemed soooo far in the future, that every time we had an activity we waited to do, I'd say" We can do it for our 25th anniversary."
I'm very sure we cannot – ride a paddle boat all the way up the Mississippi River, take the train across Canada, visit Niagara Falls, Yellowstone and the Grand Canyon and cruise to Alaska all on the same day.  It seemed easy to say "on our anniversary" since it was sooo far in the future.  Time can go very quickly.
Our 1st family vacation was for our 10th anniversary.  We took a trip to South Dakota's Black Hills and Badlands.  We had a wonderful time and loved it so much, that we wanted to do it every other year.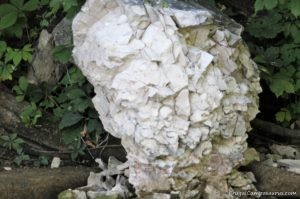 But time can go soo quickly- I became a stay at home mom as we welcomed more children into our family.  Since I really wanted to stay at home with the kids, we worked hard at being frugal and getting out of debt.
Though, between day-to-day living and not planning for a specific vacation date, we did not make it back to South Dakota for another 10 years!  Thankfully, we have been able to go on other vacations also, like the North Shore and Maquekata Caves.
But I always thought that for our 25th, we would take a large family vacation.  It still seemed soo far in the future.
Then, all of a sudden-it was our 24th anniversary!
And then, last year the husband changed jobs.  Our anniversary plans, to visit Yellowstone, were put on hold.  We are happy with the change; less commute time and less stress mean more family time, even if the pay is lower.  With the changes in our lifestyle, I also had to change my expectations of our 25th anniversary celebration.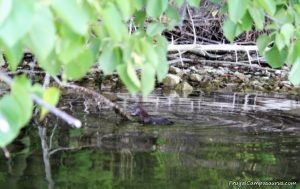 But, our frugal celebration was wonderful!
We did take a vacation.  A day vacation to our favorite state park.  Even though it was not what I expected, or even dreamed of 10-15 years ago, it was wonderful.
For our frugal 25th wedding anniversary celebration, we had a sunrise picnic (with bacon), overlooking the lake, followed by a canoe ride.  Later that night, we spent time with the kids.
It was a quiet and relaxing morning.  We were together, enjoying time together.   It was free, not counting the groceries that we would have eaten anyway.  But being frugal was not the point.   We were able to enjoy the day and not ruin it with expectations, especially old expectations of how I thought we should celebrate.
It was fun, cooking breakfast together near the lake and then later looking for animals, birds and turtles on our canoe ride.  I was even able to get a (fuzzy) picture of a mink(?) running along the shore!  That was interesting- trying to quietly follow him with the canoe while he ran around a point on the lake.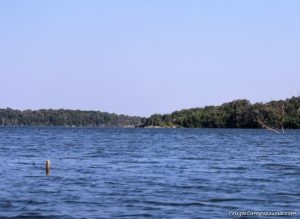 Would a large family vacation have been fun for our anniversary?  Sure.  Was our $5 sunrise breakfast and canoe ride fun on our anniversary- definitely!
Vacations, parties, canoe rides, picnics, hikes- even movie nights at home.  These can all be fun activities or even anniversary celebrations where you can enjoy time with your family.  Just don't let expectations of what you should be doing to celebrate, ruin the fun, together time you could have.
I'm so glad that I was able to change my idea of what we should do, so I could enjoy the day.  In fact, we enjoyed the picnic and canoe ride so much, that the husband suggested we do it again for our next anniversary.
Happy Camping (or enjoying frugal fun!)
Frugal Campasaurus