Fun, Fun, Fun?  Frugal, Frugal, Frugal?  Good morning!  Last summer, I had a 'Finish it Friday Challenge' to help me fight procrastination.  Every Friday, I posted something I had finished during the week.  Now, I'm doing better relaxing and enjoying projects as I finish them.  Not just rushing to get finished, but enjoying the project itself.  This is helping me to finish more projects and not procrastinate (so much).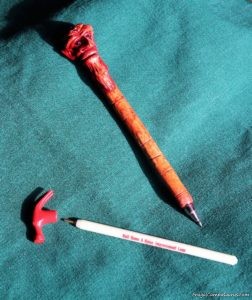 In addition to around-the-house projects, part of last year's challenge was to finish family fun things that I always wanted to do, but never did.  I really enjoyed the fun Friday Challenge projects.  We finished tie dye shirts, sand candles, bleach shirts….things I had bought years ago, but just never did with the kids.
This year's Summer Challenge will be a surprise– some will be more of those Fun Friday projects, while others will be Frugal Fridays!
Frugal Fridays could be a hint I use to save money, garage sale finds, or maybe even a garage sale makeover item.  Maybe they will be a frugal recipe, a way to save on energy use or even a frugal gift I make.  There are so many fun ideas, I'm sure I won't have enough Fridays in the summer-just like last year!
But also like last year, I will post every Friday for this Summer Series Challenge.
This week is Frugal Friday!
This Friday, I was lucky enough to go garage sale-ing with the youngest, so I will share some garage sale finds.  We followed my 3 Garage Sale Habits, though I did surprise the youngest with lunch out.
Wow!  I jinxed myself by writing the preceding sentence before we went garage sale-ing!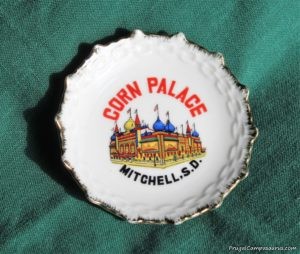 It was definitely a Frugal Friday!  I only spent 50 cents on one garage sale purchase!  It is a cute, little Corn Palace plate for the camper wall.  I'm glad I found it, but neither of us found anything else!
I did look extra long at a box of ribbon, but it was not on my 'to buy' lists.  I also have a lot of ribbon and I can't think of any upcoming projects with ribbon.  It did not come home with me.
Next week, I will find a Fun or Frugal Project to do or hint to share.  I definitely don't want to jinx my garage sale-ing again!
Hopefully, you will join me the rest of the summer, for more Frugal or Fun Fridays!
Happy Camping ( or enjoying an extreme Frugal Friday!)
Frugal Campasaurus