Good morning! The youngest and I had so much fun for last week's Finish it Friday of CD bubbles that I decided to do another family fun project this week! Unlike choosing which practical project I could quickly finish, it was fun deciding which project to enjoy doing; there are sooo many to choose from!
We choose tie dyeing! About 2 years ago when I found this tie dye kit at a garage sale, I knew it could be a great Christmas present. Even though the kids don't wear bright shirts (and I can't just dress them anymore), I thought the process could be fun and we could dye pillowcases.
The tie dye kit with homemade plain pillowcases was a nice frugal Christmas present, but unfortunately, we never got around to doing it. I've done other Christmas kits that we have completed quickly- like baking, bleaching and cookbooks, but the tie dye kit just sat there until the Finish it Friday challenge.
Since I am very messy, we took everything outside to tie dye. We dyed the pillowcases, a few camping t-shirts and the youngest wanted to dye socks. He will be ready if school has a crazy sock day!
He wanted to try a shibori technique, where you roll and scrunch the fabric around a tube, but guess who just recycled that same morning? He did find a pipe, some pvc pipe and a pop bottle to wrap fabric around. They worked fine.
We discovered the more dye, the better. A few of our shirts looked splotchier than traditional tie dyeing, so we redid them with the left over dye. The coloring was a little faded (which the directions warned about), but they still turned out great.
The hardest part was waiting to rinse and open the projects. We finished dying them at lunchtime. The directions said to wait at least 6-8 hours. I think the youngest was not amused when I asked him 'are they ready?' at 1:00 and at 1:30 and at 1:35, and numerous times throughout the afternoon. Oh, well. It was really hard to wait.
Eventually, the afternoon passed and I had to quit teasing the youngest about the time. Rinsing and opening the projects is surprising- you never know how the tie dyeing will turn out. The pillowcases were actually our favorite, though the socks are definitely crazy. I was glad I rinsed and washed them a few times with only towels, the water was black the first time! The later washes were clearer.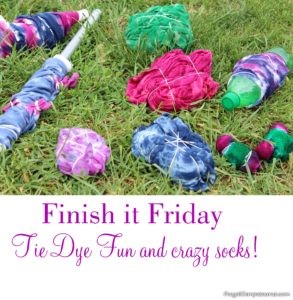 We had such a fun morning!  I'm glad we finally finished the tie dye Christmas project; I wonder what other fun projects are hiding in the sewing room for us to do. 
Of course, I do have some dye packets from the kit leftover.  I wonder when the grandbaby will be old enough to help me make pillowcases and crazy socks?  I hope you have a fun week and are able to finish a few projects with your family- it's amazing what you can do in just one morning!
Happy Camping (or making crazy socks)!
Frugal Campasaurus