Good morning!  I'm excited today to share a way to personalize a camper so it feels more like home, without permanently altering or damaging it.
I like our camper.  I've liked all our campers, from the wood paneled 60's style, to the funky orange 70's with plaid upholstery all the way to the current camper-wood with brown and dark plum upholstery.  Making the camper feel homey can be difficult though.  I can make pillows and curtains and use my homemade blankets, but I can't nail tons of holes in the wall to hang lots of family pictures.  At least that is what the husband says.
I know technically, he is right, like always.  Our third camper was covered in holes.  It had been parked at a lake and never moved,so they probably didn't worry about stuff falling.  I always wondered what they hung on all those hooks.  Did they find the perfect spot for a clock? A little light? A wrench?  The husband has a specific hook for a wrench in an outside cubby.  Or were all the hooks used to hang mementos and family pictures?
Since we have had many campers, and usually trade one to get a different one, it seems a shame to put holes in the walls and maybe lower the value.  It would also be bad to hit wiring or just drive the next owner crazy with curiosity about the holes.
The last camper sales man said the average owner trades for a new camper every 3-4 years.  We are not quite that quick, but I don't want to leave a bunch of holes for the next owner.  So I have found a fun way to personalize the camper, without putting holes in the wall.  It is even frugal and it gives me a good reason to garage sale.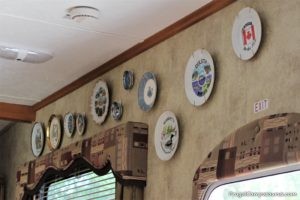 A few years ago, I happened to see a vintage Mt. Rushmore souvenir plate at a thrift store.  Oooh- Mt. Rushmore!  Badlands!  Custer State Park!  Sylvan Lake!  We love the Black Hills of South Dakota.  Our first family vacation was to the Black Hills.  We went for the second time a few years ago and hope to go again soon. Of course, I had to buy the plate, even though I had no idea what to do with it.
Since then, I've watched for and acquired quite a few souvenir plates.  I try not to buy them new on vacations, because I like searching flea markets, thrift stores and garage sales for them.  The 60's and 70's gold-trimmed souvenir plates are so cute and besides, they are much cheaper than a new plate.  Most of the plates were 50 cents to $1, but I did find a Bear Country, South Dakota plate for 25 cents at a flea market once.  It was very dirty, but washed up fine.
When I started collecting the plates, I did not have room to display them.  The travel trailer with bunks did not have a good place to hang them, but thankfully our current camper has the perfect spot.  Next to the door, there is a window, along the stairs as we head up to the bedroom and bathroom; it is a perfect place to display a row of plates.  I am hoping to collect enough to go around and down both sides of the door.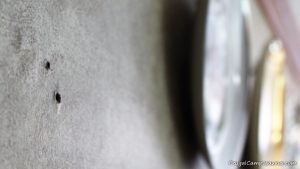 The husband has been very happy that I have not needed to make holes in the wall to hang the plates.  Most are smaller souvenir plates and I use medium size Command hooks to hang the plates, they work great.  I leave the plates up all season and don't need to take them down when hauling the camper.  I don't hang full sized plates any more though.  Larger plates can be heavy,so I probably needed to use hooks for heavier items:  my only full sized plate fell and broke last fall.    Unfortunately, it was also the only plate I was using to hide holes from a previous owner.  I am really hoping to find a new Iowa plate soon.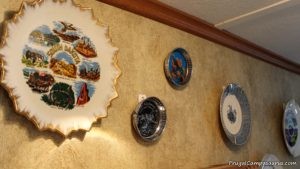 Not all of my plates are actually even plates.  At an estate sale, I found the cutest coasters for 50 cents each.  We were afraid to use them as coasters and ruin them, so I ran wire through the holes and hung them on the wall.  I only bought the two coasters of locations that we had been to, but I sure wanted to buy all of them.
On our first trip to the Mississippi River, we searched antique shops and even a Dubuque flea market for plates.  We didn't find one for the Mississippi River or even Illinois or Wisconsin, but we found a little blue plate with a paddle boat on it.  I was happy to get it, especially since we had taken a paddle boat tour.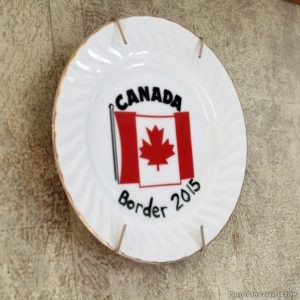 I have the plates in a chronological order of the places we have visited, though I get so tempted by the many South Dakota plates I find at sales.  I had to quit buying South Dakota plates.  We have only been there twice, but I have 5 plates.  I think it's ok to have 2 Mount Rushmore plates, 2 South Dakota plates and a Bear Country plate, especially since they are so cute.
Only one of the plates is new.  On our trip to Minnesota's North Shore Drive, I bought a Canada plate at a border store.  We didn't have passports, so we didn't get to visit Canada, only view it.  At home, I painted  'Border' on the plate to give a more accurate description of our trip, the family thinks I'm silly.  Oh, well.   I also added the year to the Canada plate, the rest of the plates have a note taped on the back to remind me the date of our trips.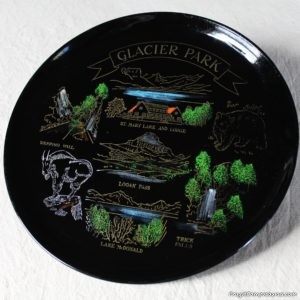 I already have a small stash of plates to use in the future.  I have found a few, very cheap souvenir plates of places we hope to visit.  I am ready and will be able to hang them as soon as we visit Yellowstone, Glacier, Idaho and Grand Tetons National Park.  In the meantime, I can still search for Lake Superior, Mississippi River, Iowa, Devil's Tower and maybe more South Dakota plates.  I don't have plates yet for all of the places we have visited, but I am enjoying the search for more plates.  And maybe if I buy more South Dakota plates, we will have to head out there.
It is nice to have a reminder of our family vacations in the camper.  It makes me smile, to see the plates and think of all the fun we have had together.  Hanging the souvenir plates is a great (and frugal) way to make the camper feel more homey and personalized, without putting nail holes in the wall.
Please share if you have personalized your camper frugally, to make it feel more like home and remind you of all the fun you have had.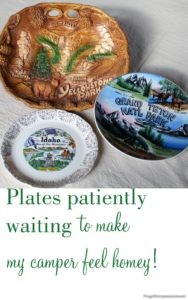 Happy Camping (and camper decorating)!
Frugal Campasaurus