Good morning! We had such a fun adventure at Yellowstone! I knew the geysers, mud pots, waterfalls and other geological features would all be amazing-and they were!
But Yellowstone is also known for wildlife! Even though animals are interesting, they were not a big draw for me, but during our trip I was pleasantly surprised. The variety and number of animals, and how much we enjoyed them, really surprised me.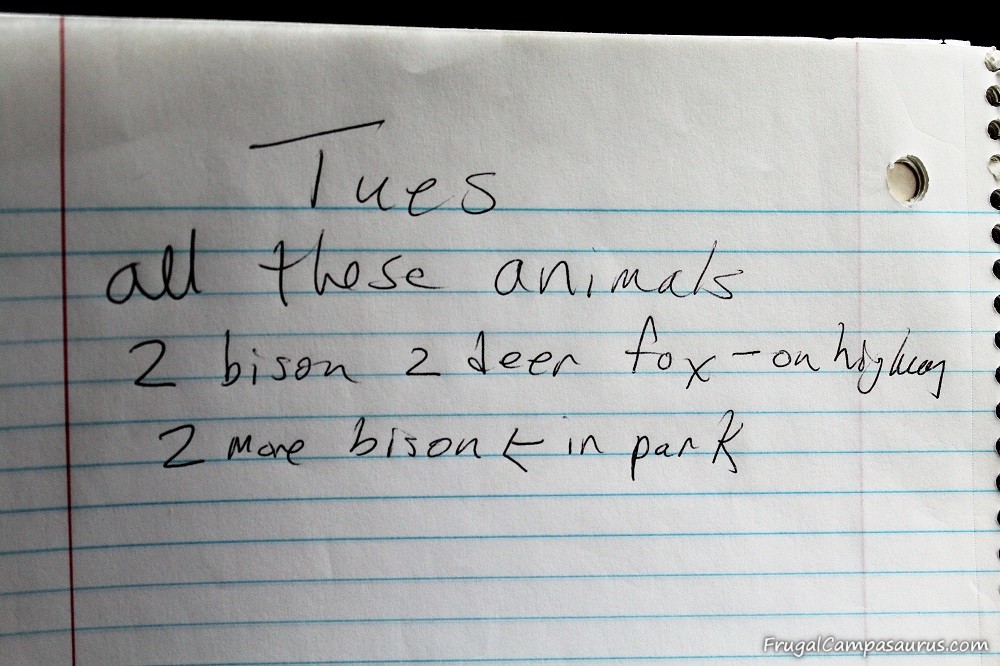 We have seen plenty of animals on other vacations and we enjoy the animals at our local state park, so I didn't think we would be interested in the animals.
On our 1st South Dakota vacation, we saw one bison at the beginning of the Wildlife Loop Road.
We drove and drove and drove without seeing another one, when we were convinced we wouldn't, we drove around a curve- and were in the middle of a large herd of bison! There were even babies!
At Yellowstone, we were not specifically looking for animals, so even though we were up early, we were not up and at places to see some of the animals. We didn't see wolves or moose, but saw many other animals, if fact Tuesday was our Animal Day!
At Rex Hale and Driving to the Park
Animal sightings started early on Tuesday!
At 5:30, the youngest and I saw a bison trotting along in Rex Hale campground! Ed, the host, had told us that early in the season, early in the day, people can see bison go through the campground or on the road. Every morning, we kind of watched as we got ready.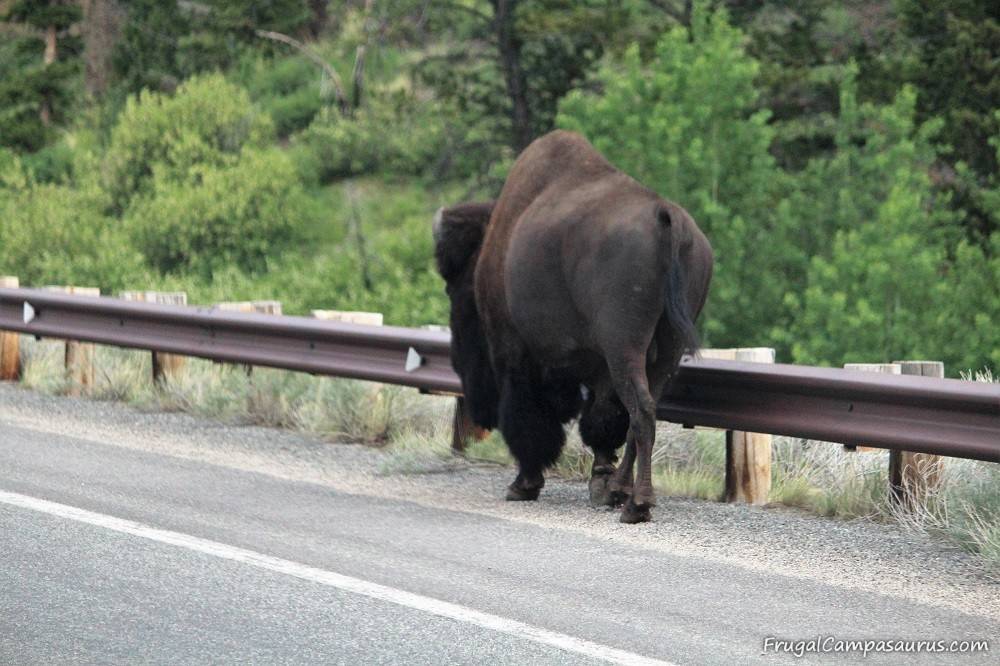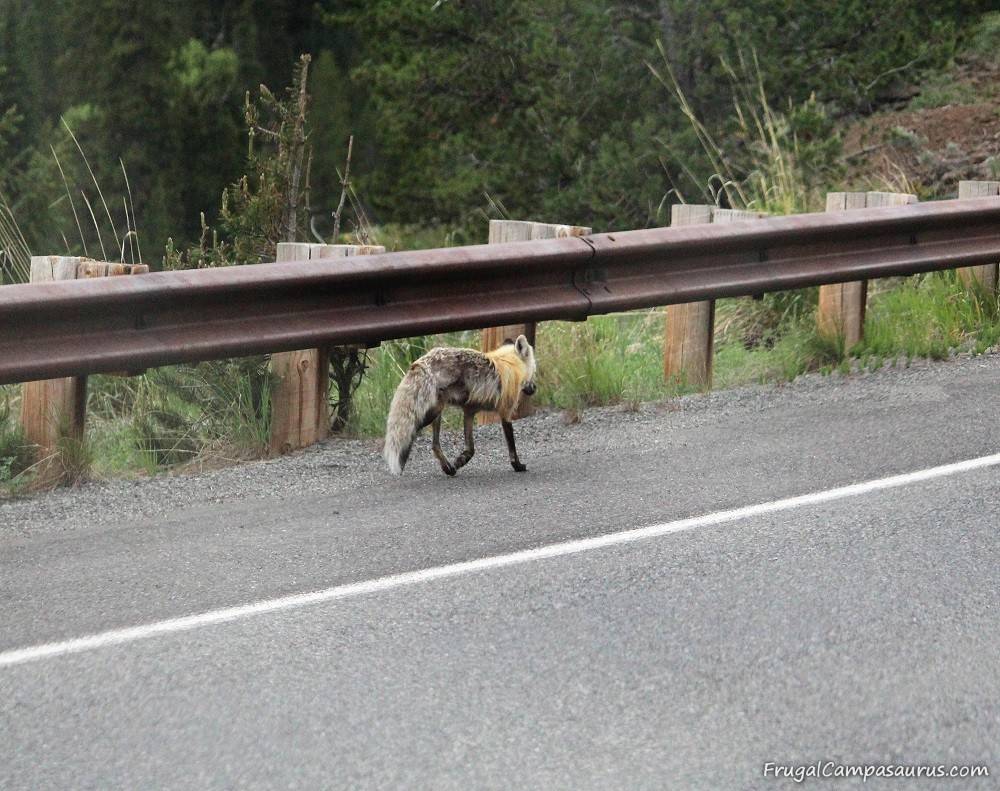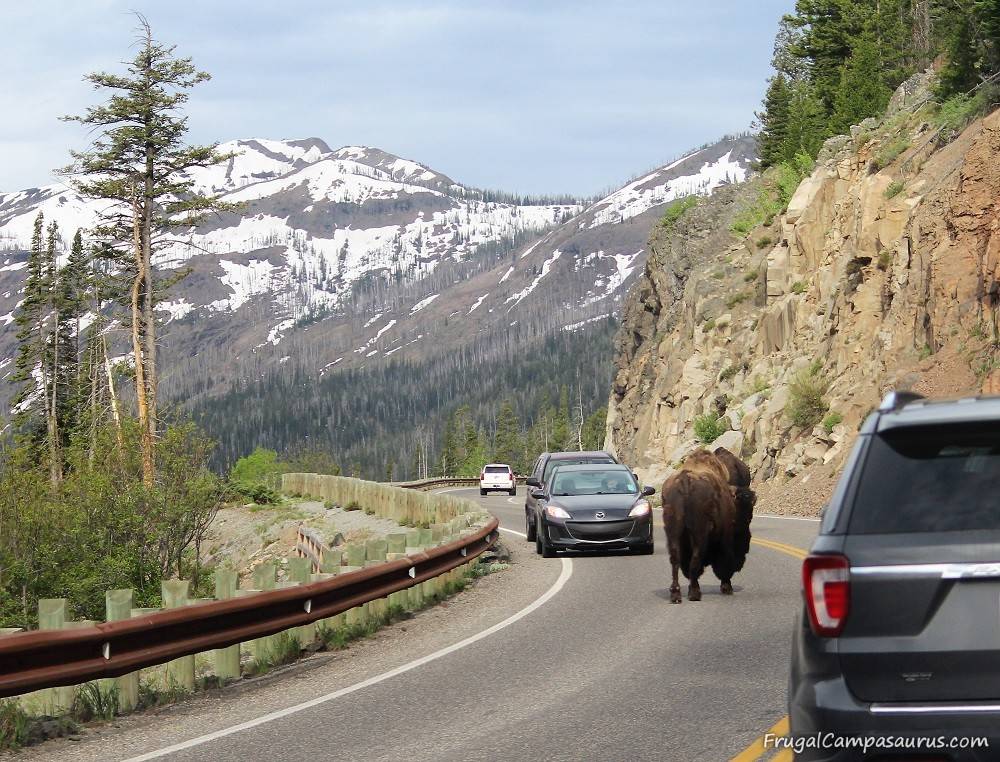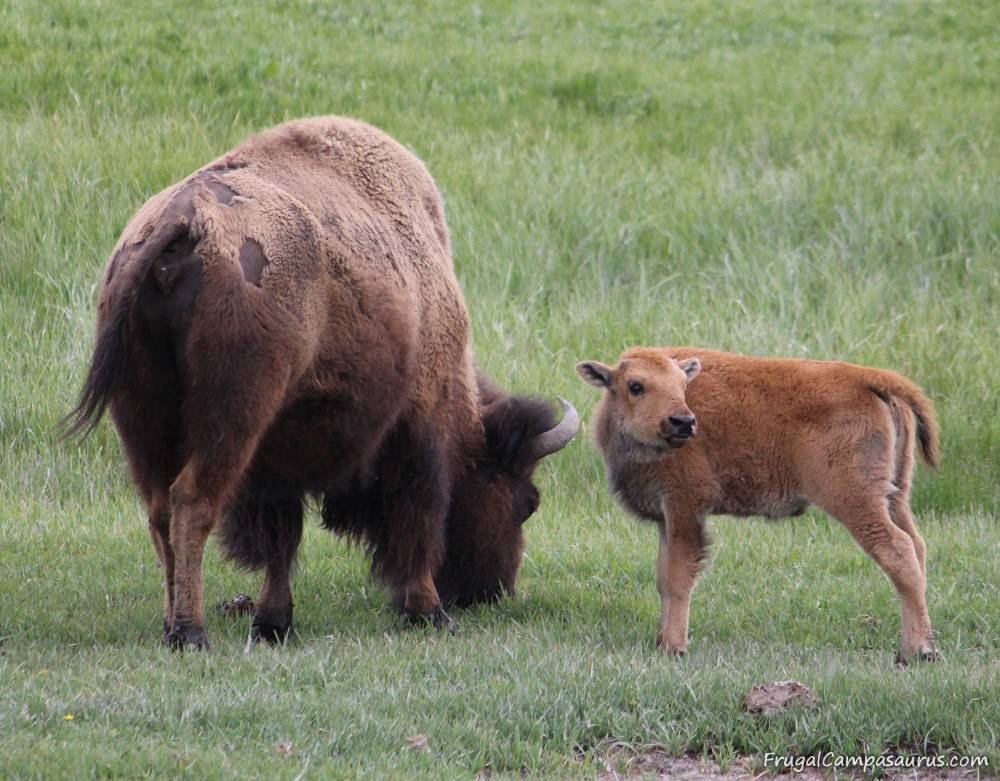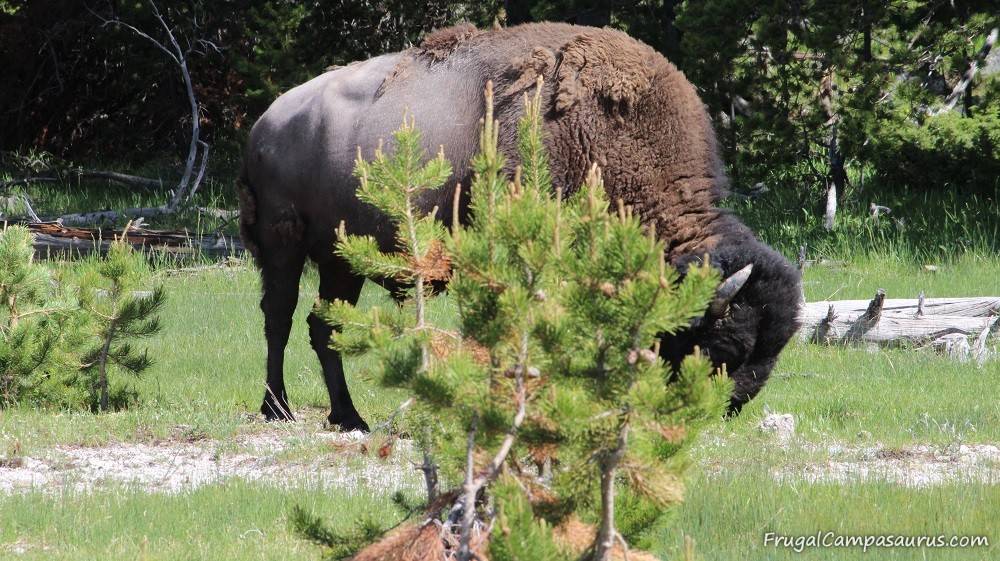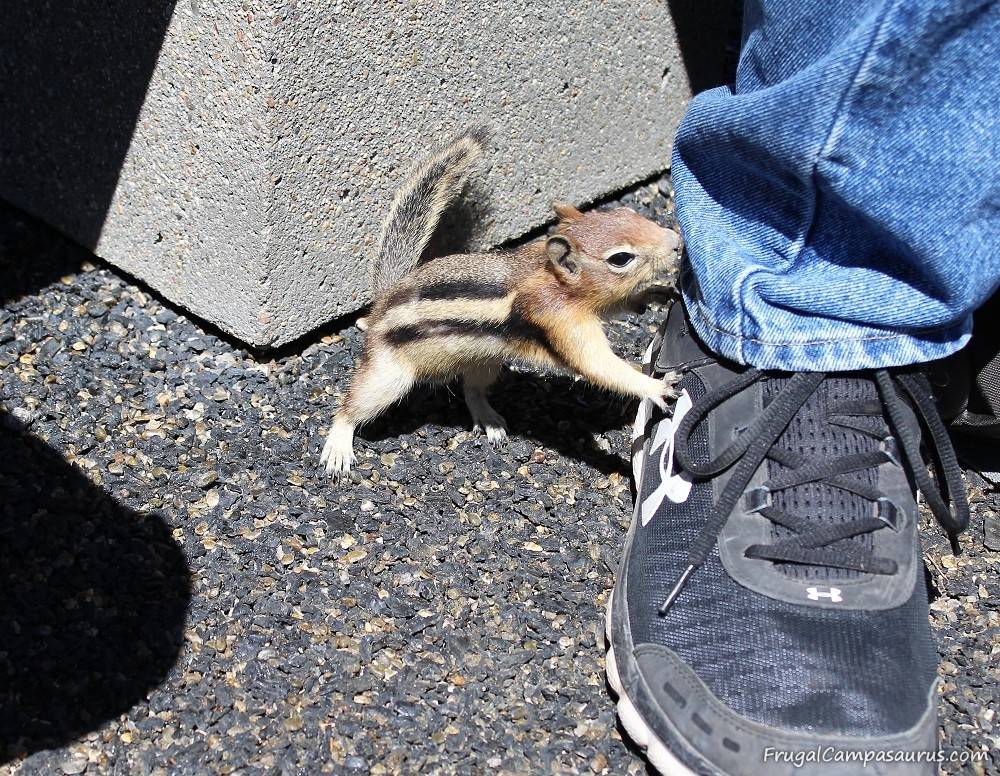 202106080835AMIMG_0347 (2)
202106080902AMIMG_0349 (2)
202106080913AMIMG_0351 (2)
202106081118AMIMG_0418 (2)
202106111258PMIMG_0861 (2)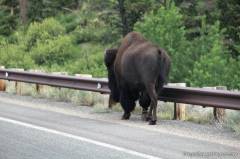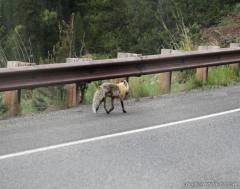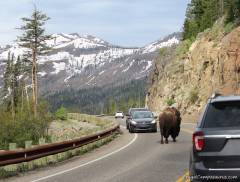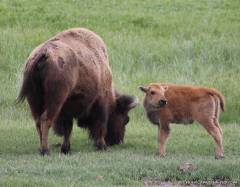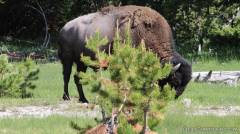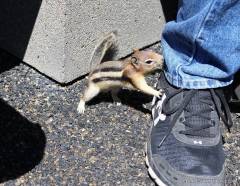 But it was so surprising to glance out the window and see a bison trotting along the campground road right in front of our camper!
I wish the camera had not been packed and ready to go to the park, but we really enjoyed seeing the bison in the campground!
There were animals on our way to the park also!
About 1 hour later, on our 30 minute drive to Yellowstone, we saw a bison walking on the road, 2 dear running along the road, and then- a fox!
The fox was walking right on the highway. Thankfully, my camera was out and ready this time.
I was also glad my camera was ready when the bison was near the boardwalk at Old Faithful and when the chipmunk was extra friendly while the youngest waited for a geyser!
Animal Day in the Park
I remembered the large herds of bison in Custer State Park, SD, so the many single or small groups of bison at Yellowstone always surprised me.
On the way from the East Entrance to Fishing Bridge, we saw 2 more bison. They were right in the middle of the road- on a curve near Sylvan Pass. They were following the road because on 1 side was the mountain and the other was a guard rail with a drop off. Thankfully, we could slowly drive by.
Animal Day continued even before we got to Fishing Bridge!
A line of cars were pulled off the road and along a curve. People were out, looking and pointing.
As we slowly drove by, a ranger told us a mamma bear and cubs were walking along the ridge. Fun!
Traffic Jams- Animal Traffic Jams
When driving in Yellowstone, you need to pay attention.
I thought the pictures I saw with lines of cars and people stopped to see wildlife were probably rare and exaggerated, but I was wrong.
We were not stuck in hours-long traffic jams, but we did have a few ½ hour waits. Most of the time, people will pull off the side of the road and rangers are there for safety and to help keep the traffic slowly going through.
Sometimes, though, single cars will stop suddenly right on the road. This happened more than once, we would look in the direction they were looking and see a lone bison!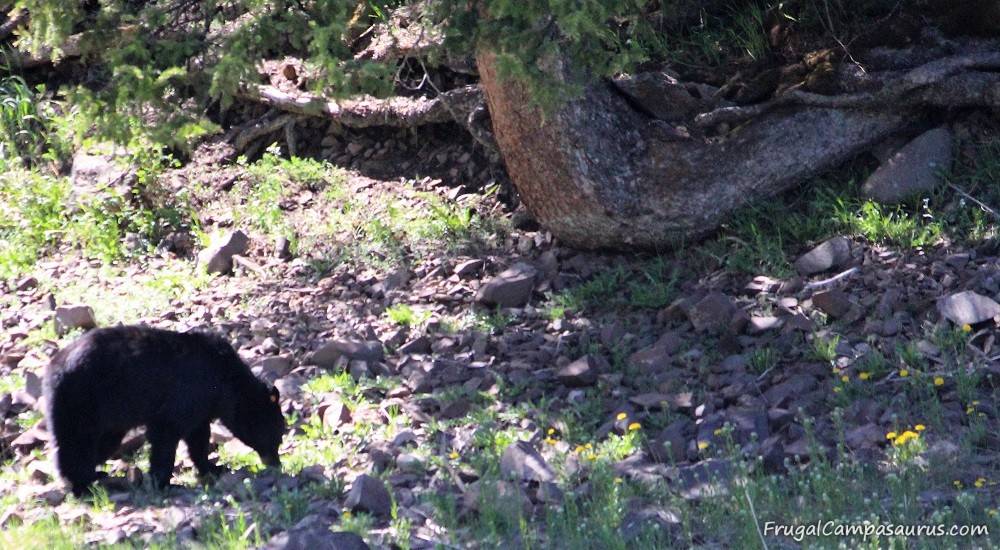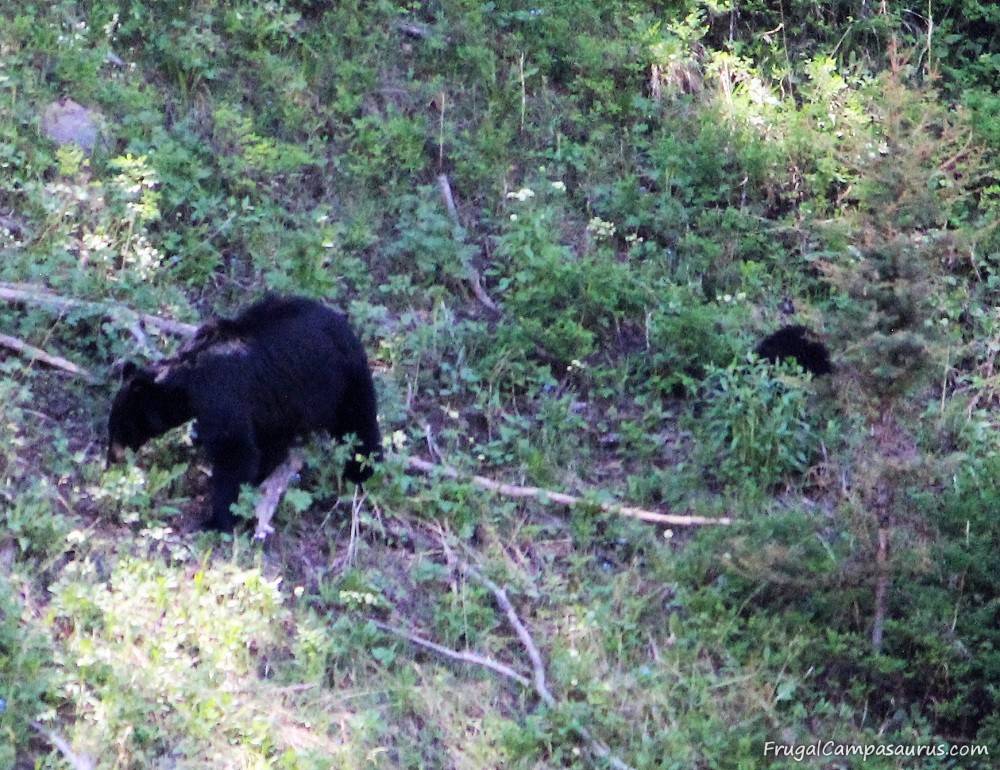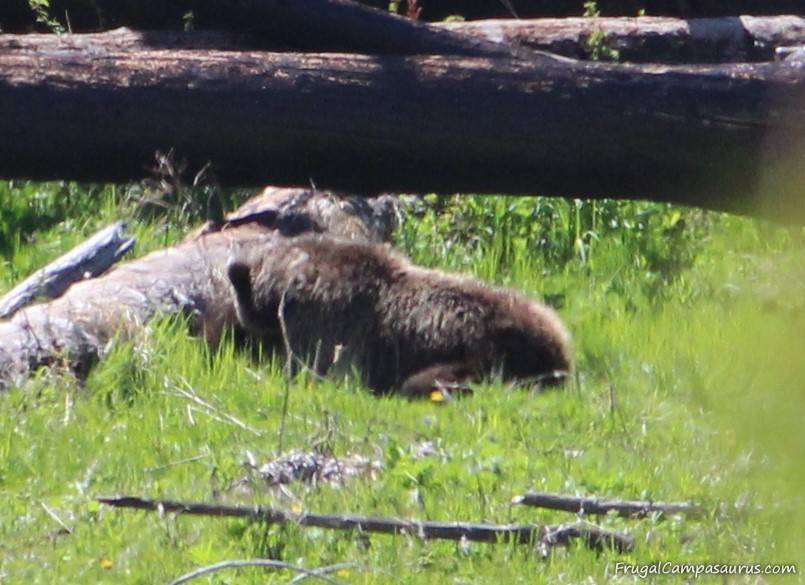 202106101213PMIMG_0603 (2)
202106100238PMIMG_0636 (2)
202106070516PMIMG_0341 (2)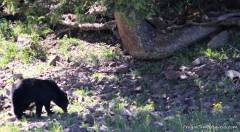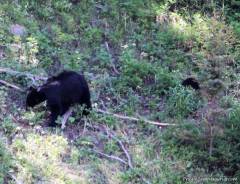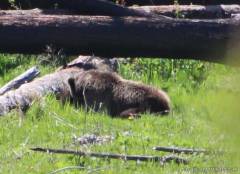 We did pull off the road a few times to see animals. On our 1st day, we saw a mama grizzly bear and cubs!
A different day, we stopped twice near Roosevelt Lodge to see a mama black bear and a cub.

When we stopped, everyone else looking was helpful: sharing what animal is nearby, what direction to look, sometimes even sharing binoculars. It is really sooo sweet.
End of Animal Day
On Animal Day, the last animal was a new one for us!
On our way to Artist's Point, we parked at Uncle Tom's Point, since the parking lot was only about ½ full. Then we walked south, down a short, easy path to the Upper Falls View point. The path curves around and heads toward a few benches with a beautiful view of the Upper Falls.
I was amazed at the lack of people on the short path. I was glad there were some people though, because they were pointing at an animal busy eating grass in the clearing by the curve. It looked like a beaver, but the tail was wrong.
On the way back, we saw two of the animals scampering along the path and going into a culvert or stream under it.
Researching animals of Yellowstone, I think we saw a marmot. They are closely related to prairie dogs and ground squirrels and are found in grassy areas and near rocks.
How fun! We saw an animal that was new to us, one that doesn't live in Iowa.
It was fun seeing all the animals on Animal Day, and on the rest of our days in Yellowstone. We had such a great trip to Yellowstone National Park, and even though I didn't expect it, we enjoyed Yellowstone's wildlife.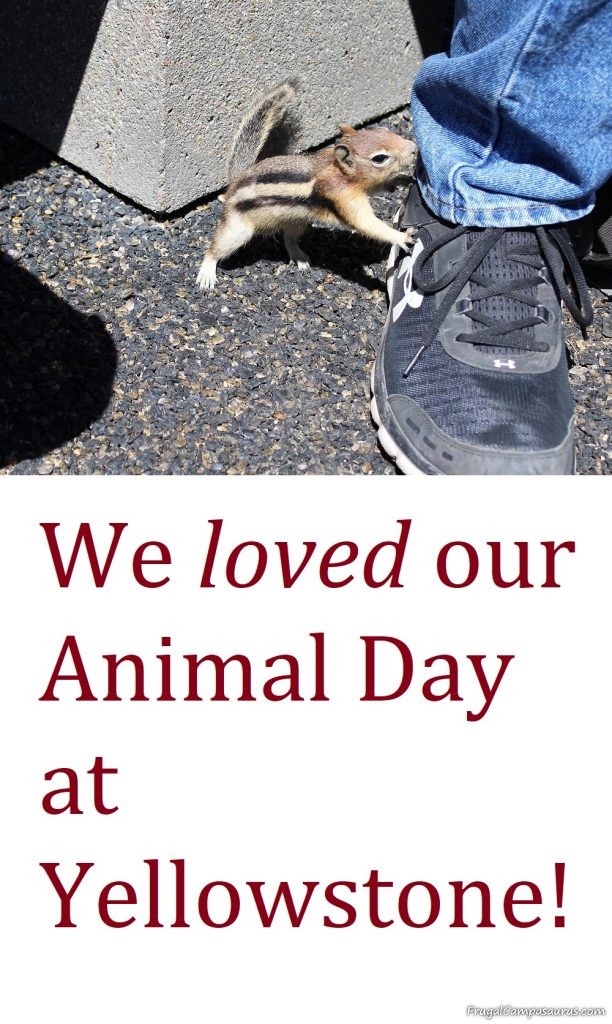 Happy Camping( or enjoying wildlife!)
Frugal Campasaurus