Good morning! Wow! I can't believe it is finally summer for us! With all the snow days, school make-up days and chilly weather- it seemed like summer would never start! But it has, and now I can start a new Summer Challenge!
The Summer Challenges: Finish It Friday and Fun or Frugal Friday encouraged me to fight procrastination and work on a project each week. These last 2 summers, I have gotten sooo much done and even enjoyed it! My goal is not to rush, rush through projects, but to enjoy the process while getting something done. Having the Friday deadline (usually Friday, can't believe this one is on Monday!) really motivates me.
A New Summer Challenge
This year the Summer Challenge is Food or Frugal Friday! I have a few frugal projects to finish, some fun frugal recipes to share and some new recipes/cooking methods that I'm excited to try!
This week's Food or Frugal Friday project is both food and frugal! It is a frugal way to cook pasta!
I enjoy history and old frugal hints and recipes. Years ago, when I was looking up frugal cooking methods, hayboxes really intrigued me. I had never heard of a haybox cooker.
Did they really use hay? (yes)
Since I don't have hay, could I use something else? (yes)
Did people still use them? (yes)
Did a haybox use less electricity? (Yes!)
Hayboxes use less energy by bringing food to a boil and then, packing it in hay to insulate and finish cooking. Versions of hayboxes were used in earlier times, but they were also a common method in England to cook food during WWII rationing and energy shortages.
The long cook time and lower energy use reminded me of a slow cooker- with even less energy use! I wanted to use one so much, but I am nervous about food safety.
A Makeshift Haybox
I did try a makeshift haybox cooker. We used our insulated cooler with towels (or maybe a sleeping bag?) packed tightly around a full pot of food. It worked fine, but an important aspect for hayboxes is not to open them. They need to stay shut until the food is done, all the heat will escape if you open it.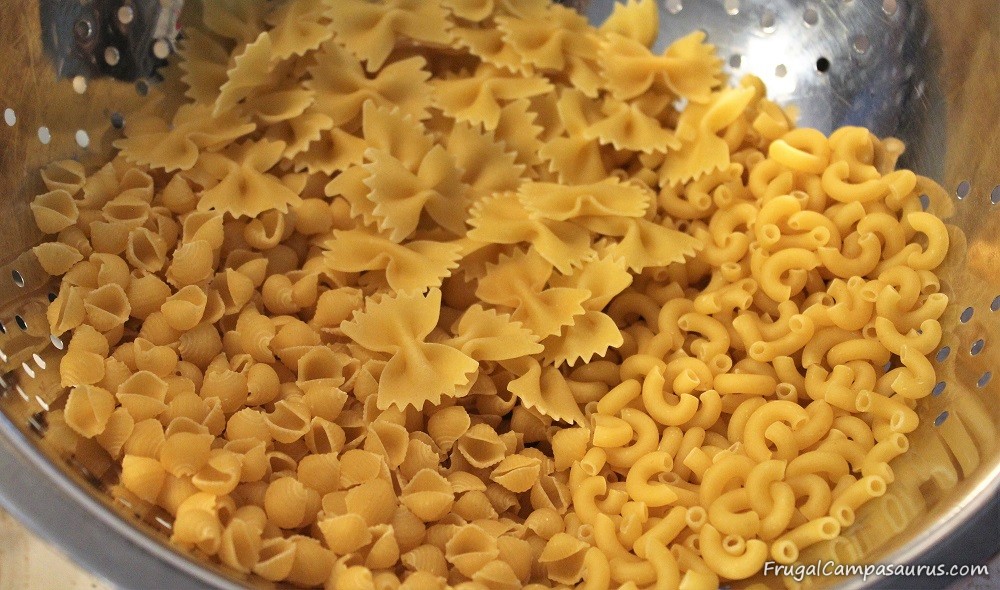 I was worried about the risk of food poisoning if food temperatures go below 140 degrees for more than 1 or 2 hours. I also wasn't sure meat would get cooked thoroughly.
Since I couldn't repeatedly open the haybox (and let the heat escape) to check temperatures, I wouldn't cook any meat dishes. I would only cook pasta, since it cooks quickly.
Using the cooler packed with a sleeping bag worked ok, but it was a lot of work for just pasta. Finally, I decided to try cooking pasta without the hay box. It worked great!
Inspired by a Haybox
So, my frugal pasta method was inspired by a haybox cooker, but doesn't involve dragging out the cooler or sleeping bags.
Cooking pasta with less electricity is sooo simple.
First, I bring a small, covered pot of water to a boil. A large stockpot, like some directions call for, takes longer to bring to a boil since there is more water.
Once the water is boiling, the pasta is dropped in, stirred and the lid is replaced.
Then, the heat is turned off. Stirring the pasta once or twice during the 'cooking' will help it not stick together.
The pasta usually takes 2-4 minutes longer to cook than the directions say, but check to see for doneness before draining it.
Some thicker noodles will take longer. When it's done, I drain and rinse the pasta. Using a smaller pan makes the water starchy, but the noodles are fine after rinsing them.
It is such an easy way to cook pasta, and I'm so excited because it uses less electricity. I only need to bring the water to a boil, not boil the pasta the whole time. I was happily surprised that after we talked about saving energy, a co-worker cooks her pasta this way now!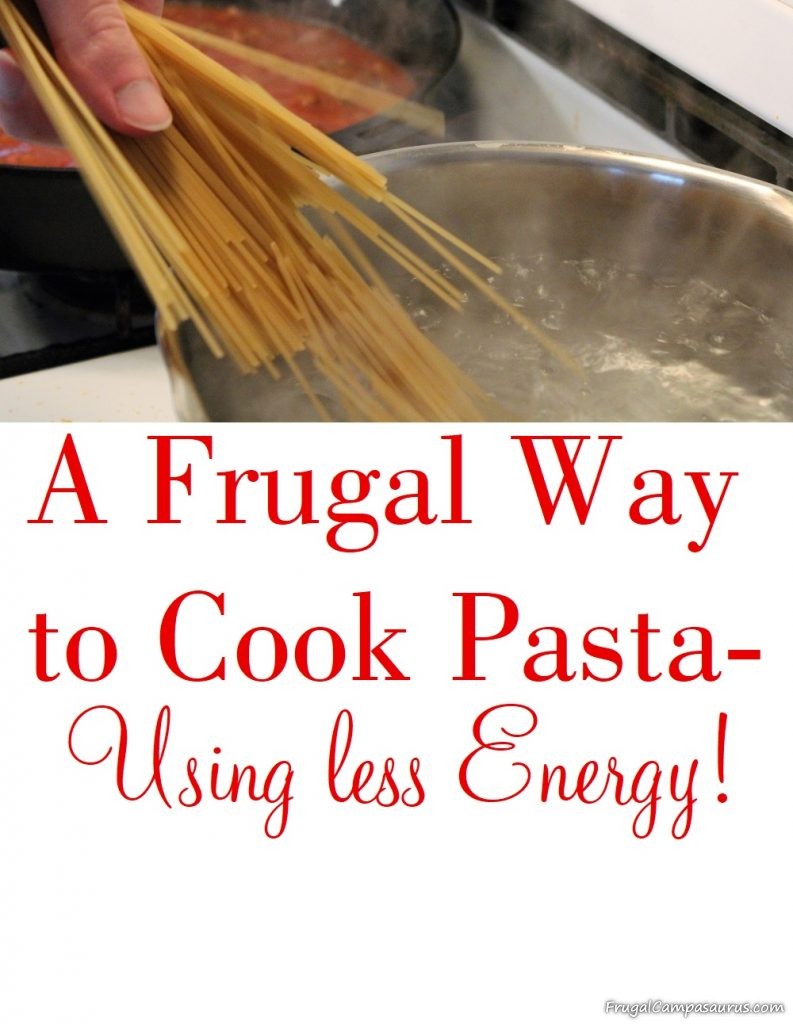 I hope you join me on Fridays, as I share a frugal cooking method (like today's pasta), a frugal recipe, a freezer tip or a frugal project. The sewing room and shed are filled with things for me to finish! Maybe I could also find some frugal garage sale treasures to share!
Happy Camping (or waiting for water to boil!)
Frugal Campasaurus