Happy Anniversary!
Good morning!  I am so excited! Today is the 2nd anniversary of the blog!
2 years ago, today, I started Frugal Campasaurus!
I can't believe how quickly the time had gone, how much technology I have learned or how much fun having a blog has been!
Time moves quickly.  It's just how life is (I keep telling myself).  I can enjoy new parts of life, like the blog, as much as I enjoyed the old, past parts.  Whether its summers going by before we can camp every weekend or the kids going from toddlers to taller than me, we really try to enjoy it all.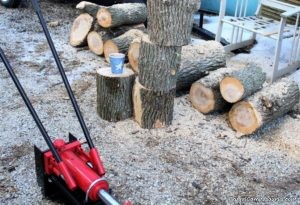 But time has gone by quickly with the blog too.  I intended to make a 1 year anniversary post, but I missed it!  I was busy posting about the Year Round Christmas Challenge and finding firewood and I missed the 1 year anniversary.  I made sure to not miss the second one.
All the technology I have learned in these quick 2 years surprises me- it probably amazes my family!  It's hard to believe that I can upload pictures, change pixel sizes (so I don't use too much storage) and even make links without the help from the kids!
Amazingly, I am also the same person who blogged for over a year before I learned to highlight and drag words to move them.  It is easier than my old highlight, copy, paste, highlight, delete way of moving words!  Just don't tell the kids- they would fall over laughing!
With the technology I learned blogging, I even started an Etsy shop and sold a few items this winter.  Having and enjoying the blog, helped me to be brave and just try (my favorite post) an Etsy shop.  YouTube (of course) was an amazing help to figure out shipping and shop editing.   I love all the things you can learn online, especially the frugal things.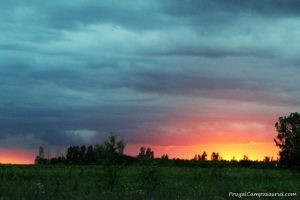 It is fun learning the technology and being able to share our frugal and camping adventures.  All the pictures, recipes, hints and trips have been great fun to share.  I am amazed at how many visitors have enjoyed the blog with me!
I remember the first 2 months, watching as Frugal Campasaurus reached 100 different visitors- it was so exciting! (I was hoping for more than just a few family members)
Then, reaching 200 different visitors was super exciting- I don't think I know that many people.  Now, I am amazed and thankful to have had over 3,200 different people visit (and hopefully enjoy) Frugal Campasaurus!
It's also amazing and fun to see the various posts that are popular!
The top 3 most visited posts are:
Pie Iron Recipes- A Camping Cookbook Review (here)
4 Fun Camping Ways to Use Noodles-Pool Noodles, That is! (here)
A Great Camping Breakfast- Bacon Pie Irons (here)
I understand the cookbook review and Bacon Pie Irons:  I love cooking over the campfire.  And the pool noodles are so frugal and useful, I'm glad it is in the top 3.  But I'm happily amazed at the popularity of Caves and Barges in Iowa? and More Glittery Decorations, a thrift store makeover.  They were in the top 10 visited posts, though I can believe it since Maquoketa/Bellevue is a great place to visit and I always love glitter.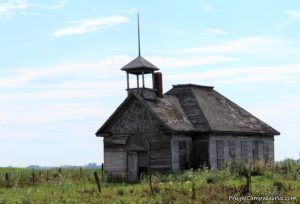 I also love our most seen picture- an abandoned church?schoolhouse in southern Iowa.  We saw it when we took back roads home after watching the solar eclipse.  It is sooo neat looking, I'm glad the husband pulled over so I could get a picture!
These first 2 years of blogging have been so much fun and I have learned so much.  Thank you to everyone who has visited, shared or enjoyed Frugal Campasaurus!  I hope you will join us for more frugal adventures and camping adventures.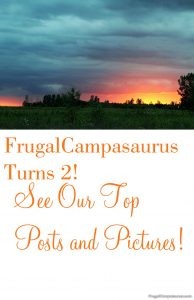 Happy Camping!
Frugal Campasaurus