Good morning!   I love Christmas!   Now that everything is packed away for another year, I'm sad.   The neighborhood houses looked so festive, with lights and decorations.  It was fun making Christmas candies, cookies and presents for family and friends.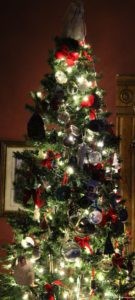 Unfortunately, I always run out of time, because I want to do so much to make Christmas special.  At least, I don't get upset or frantic about running out of time for Christmas projects.  Years ago, I found Unplug the Christmas Machine at a garage sale.
This book really changed my outlook about the holidays.  I reread parts of the book every few years. The questions and insights, in the book, help me discuss Christmas and what is important to us as a family about Christmas.   I even ask the kids about their favorite memories and important parts of Christmas.   It is great to not focus, and spend tons of time, on a part of Christmas that is not important to anyone, even if it does look cute!   I also love the practical hints and suggestions to make the holiday special.
Even though I still want to do too much, I am more relaxed and worry less about making a perfect Christmas for everyone.   It was amazing to find out that they liked putting up the tree together, just not all the other inside decorations.  I really thought they hated all the decorating.
Besides over-decorating,  I also love to bake and make holiday candy.   In November, I start making a huge list of all the candies and cookies I would like to make.   But, I make the favorites first:  fudge, chocolate chip cookies and peanut brittle. Then, if I run out of time to make the rest- it's okay.   I don't have to stay up past midnight just to bake and decorate cookies. We will still have a wonderful Christmas and I will get my 8 hours of sleep.  (sleep is Very, Very important for a happy, non-growly mom around here!)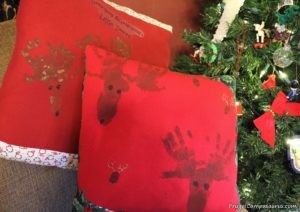 I am more relaxed and less fixated about having a perfect Christmas, but I still have a major problem with Christmas projects.   I think they can't be started until late November -specifically after Thanksgiving.  For some reason even large Christmas presents, like quilts, don't get started until after Thanksgiving.   So, many projects and gifts I'd like to make don't get done.
Last year was a bit different.  I started this blog. Then, I started a Summer Series challenge to finish projects and fight procrastination. Then, I actually used red and green paint together in July.
On Christmas wrapping paper projects.
And it was okay.
Actually, it was great!   When I used the July-made paper and gift tags in December, Christmas was not ruined because they were made early.   In fact-it was fun, remembering our summer projects as I added ribbon to the packages.  I could use the wrapping paper without taking an hour to making it first.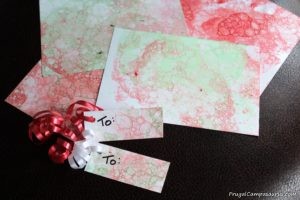 It was so fun, doing the Summer Series challenge and finishing so many projects.  Even Christmas projects were finished in the summer!   So this year, I'm doing a Christmas challenge all year long.
I'm actually going to start small with just one project a month, but that will add up to 11 projects by next Christmas. That is 11 Christmas gifts I can get done.
Or 11 different types of wrapping paper to use.
Or 11 different candies.  Yummmm.   Well, candy wouldn't last that long at my house -the kids would find it.
At least 11 different projects will get done before the holidays.   That will be a huge head start on the holidays!  It will be strange, working with red and green throughout the year, but I'm very excited!  The glitter and sequins can stay out this year!  Woo-Hoo!  I love glitter!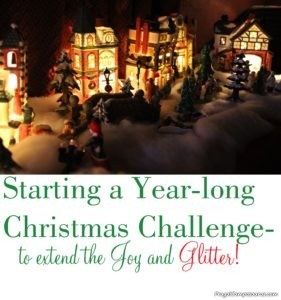 I hope you will join me on the year-long Christmas challenge.   I'm looking forward to finishing gifts, decorations, projects and candy all before Thanksgiving.  Join me on the 25th of every month, as I share my monthly Christmas project.   Feel free to suggest any holiday projects that you have enjoyed.
Happy Camping (and glittering everything in sight!)
Frugal Campasaurus