Good morning!  Christmas is such a busy time, with lots of fun family activities, but I still can't believe I haven't posted for a few weeks.  Hopefully, you're having lots of fun with your family.  For some silly reason, I usually don't do anything Christmas-y until after Thanksgiving.  My outdoor lights don't go up, even if there is beautiful weather before Thanksgiving and blowing, snow predicted for after.  It's very hard to work on homemade Christmas presents before Thanksgiving!  How silly!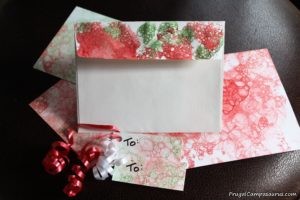 This year though, as part of my Finish it Friday series, I actually brought out the red and green paint in the summer!  It was strange, working on Christmas projects in the 90 degree weather, but I am soooo glad the youngest and I made gift tags and wrapping paper.  Even if you did not work on these projects in the sweltering heat, they are quick, fun projects you still have plenty of time to do. 
Bubble painting and shaving cream prints are both family fun, frugal ways to make wrapping paper or gift tags.  Each project can easily be done in an hour, or you can take a whole evening if the kids are enjoying it.  My middle schooler was happy to do a few, but since we have made them before, he did not want to spend the whole afternoon making gift tags.  That was ok, I had fun afternoons playing with the bubbles and shaving cream, and now I am having fun using the wrapping paper and gift tags.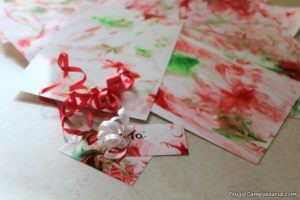 Both Christmas projects use just a few common everyday materials: food coloring or paint, dish soap, shaving cream and paper.  For the paper to print on, you have many options- I have used typing paper, envelopes, plain newsprint or card stock.  This year, I used glossy photo paper because I have a lot extra.  Newsprint, to lay on the work surface, and rags are also important. Working on cookie sheets could help contain some of the mess, especially with the bubble prints.  The projects are fun, but messy!  Of course, that makes them more fun!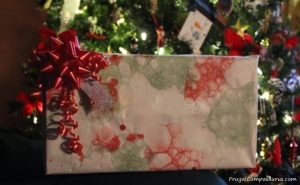 I hope you enjoy these frugal, easy Christmas projects!  Over the years, it has been hard for me to work on Christmas gifts, crafts and decorations when it is not the Christmas season.  But this year, I am glad I made gift tags and wrapping paper in the summer, with the Finish it Friday series.   It was so fun, and I appreciated having them done.  Maybe next year, I will try to do more Christmas projects on the off season, when I have more time.
Happy Camping (or dreaming of camping while I'm wrapping presents)
Frugal Campasaurus