Good morning! I am so excited for the November Christmas Challenge project! Recycled Christmas Trees: An Easy Garland is my second attempt at decorating the porch spindles for Christmas.
Painted Twig Stars was my June attempt to decorate the spindles.  While they were free and fun for the 4th of July, I was not super happy with them.  The red and white stars did not seem to fit with Kindling or my blow mold Santa. 
Thankfully, a friend was getting rid of a big box full of fake Christmas tree parts. I'm sure there was a complete tree somewhere among the various branches, 3 tree tops and single tree trunk!
There was definitely enough for the recycled garland. The box is still ½ full-even after I made the garland, a mini corner tree, kitchen light garland and a second outside project (that I will share soon!).
I think I have plenty for lots of other projects, the husband thinks I should be done!
I was happy there were so many pieces as I worked on the garland.
After sorting the branches by size, I chose 2 medium ones for each arch of the garland.
My arches are about 30 inches long. It is a nice length and drape for my porch, but every porch is different.
Since the main wire for each branch is a thick metal rod, I was happy the youngest had a vise I could use for bending the branches. I made 8 separate arches for the garland. Even though they look like a continuous strand, they don't connect and are easier to put up and to store.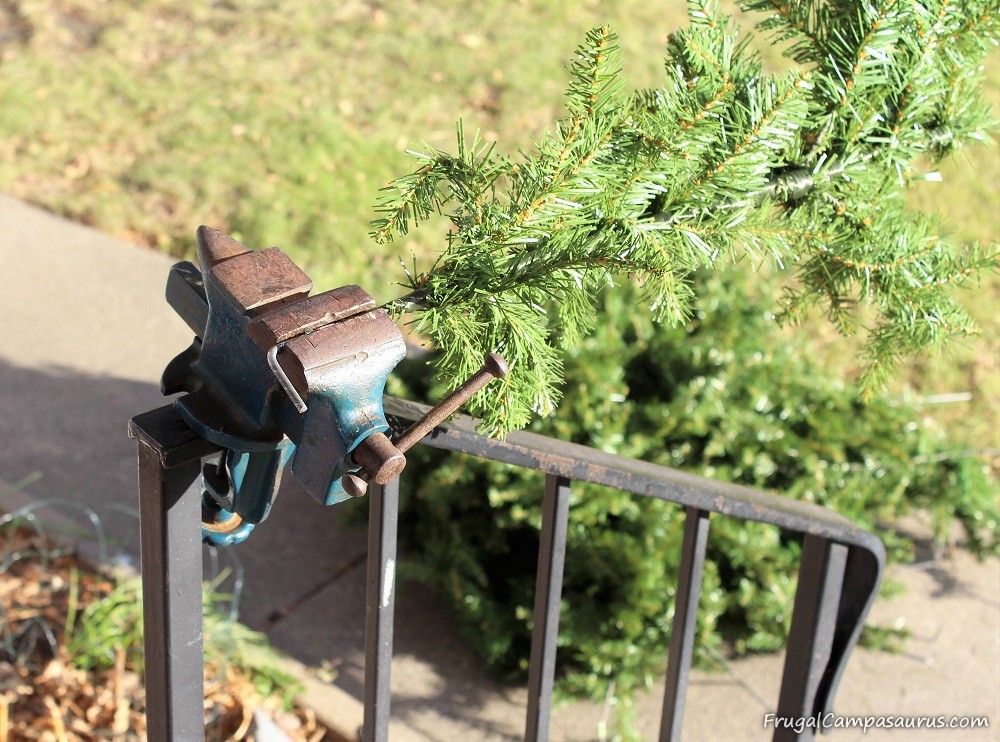 For each separate arch, a U at each end hooks over the 2by2 spindle board to attach it to the porch. Since each branch already had one right angle bend where it attached to the tree trunk, it was easy to use the clamp and make another bend. This gave me the U shape to hook over the 2by2 board.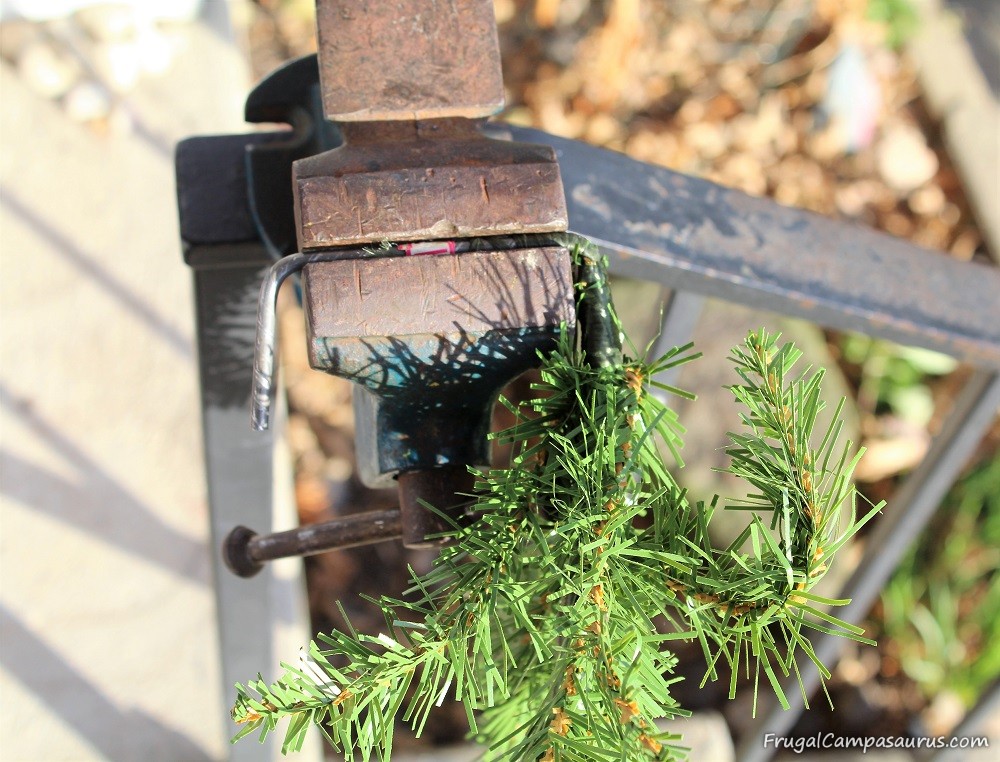 To complete each arch, I then overlapped 2 branches so it was 30 inches long and there was a U at each end. In the middle of each arch, I twisted the smaller green branches together in 4 places. The smaller green branches had heavy wire, so I'm hoping the arches survive the winter wind and snow. I can always add more wire to connect them together later, if I have to.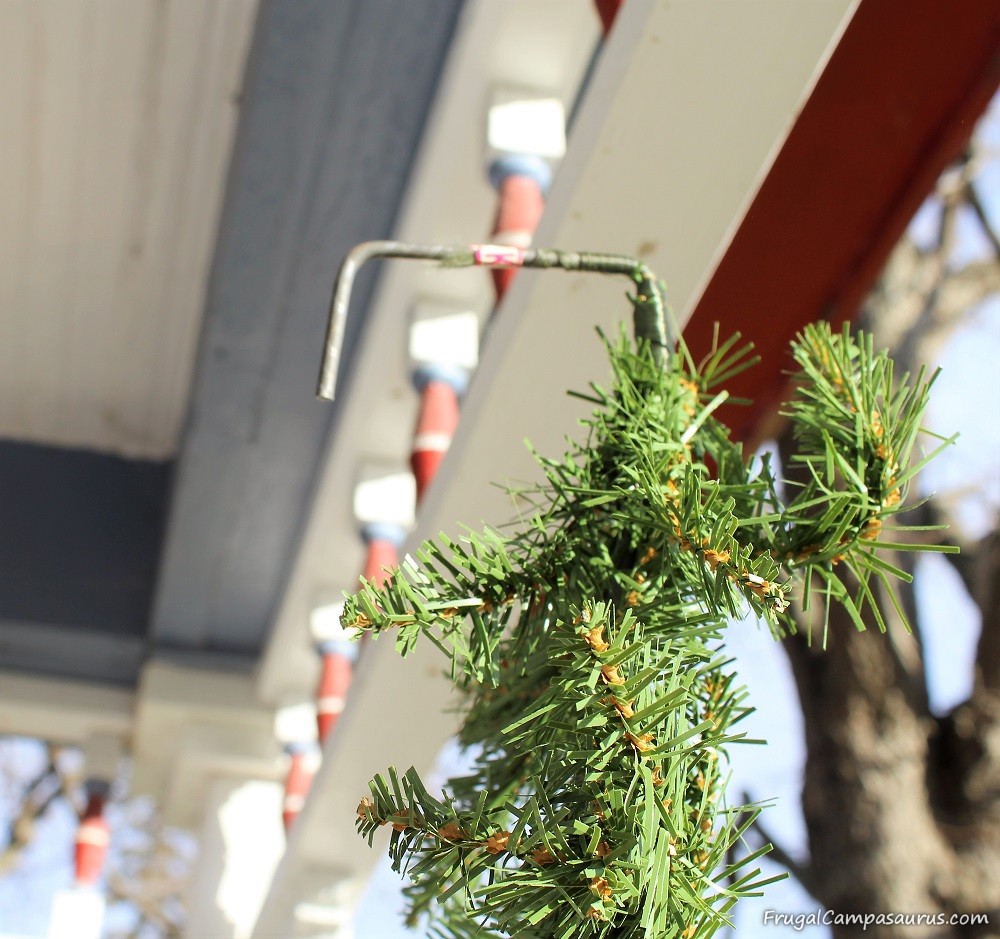 After each arch was complete, I bent them into the arch shape. Bending them with the vise or on my leg didn't work- it made random, inconsistent angles. But bending them around the nearby maple tree made nice consistent arches. Maybe a larger circumference or form worked better?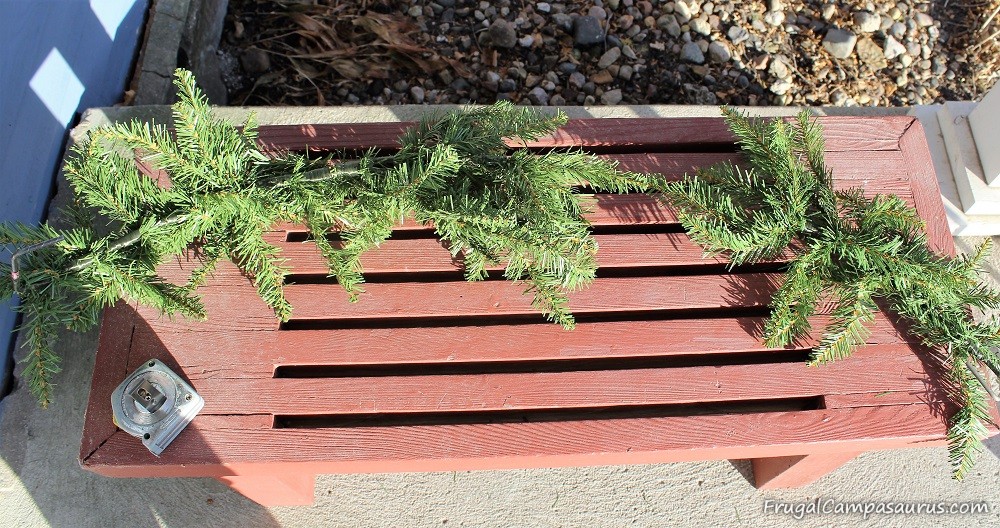 After completing the first 2 arches, the other 6 were quick! I fluffed and bent the greenery as I finished each arch to hide the U and make it look like one continuous garland. I was so excited to be able to easily hook each arch on the porch as I finished them!
My original idea was to use glittery pinecones between each arch, but the husband found large ornaments at the dollar store- so for $5 the recycled Christmas tree garland was complete!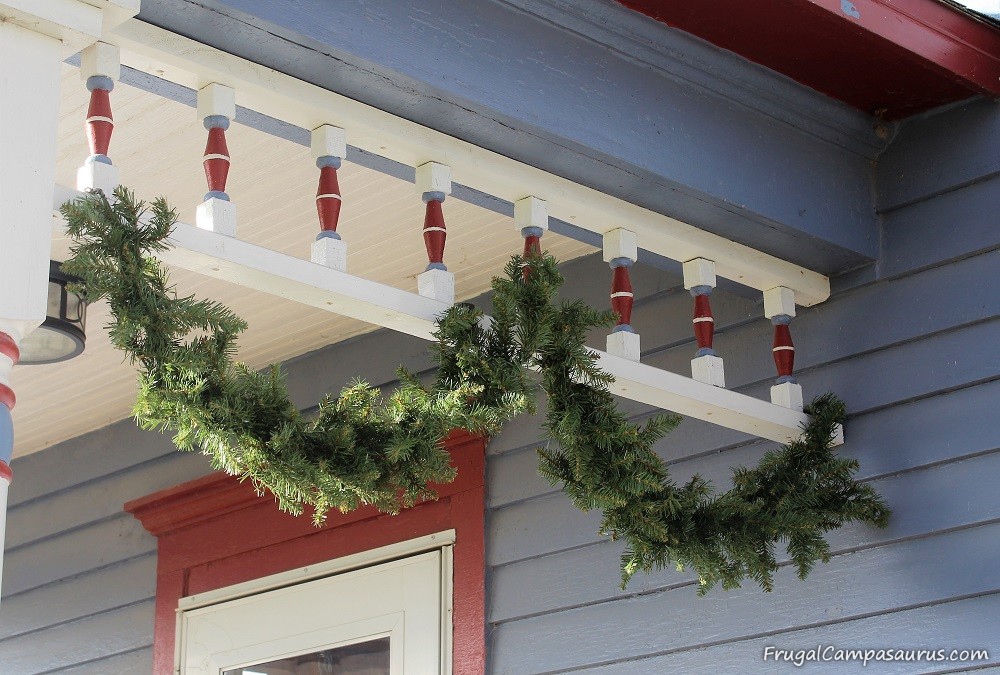 Some year I might add red berries, glittery pinecones or beads, but right now I like the simple green arches and large ornaments. Lights would also look pretty, but with Santa and the nearby Nativity, I already have lots of things plugged in by the porch.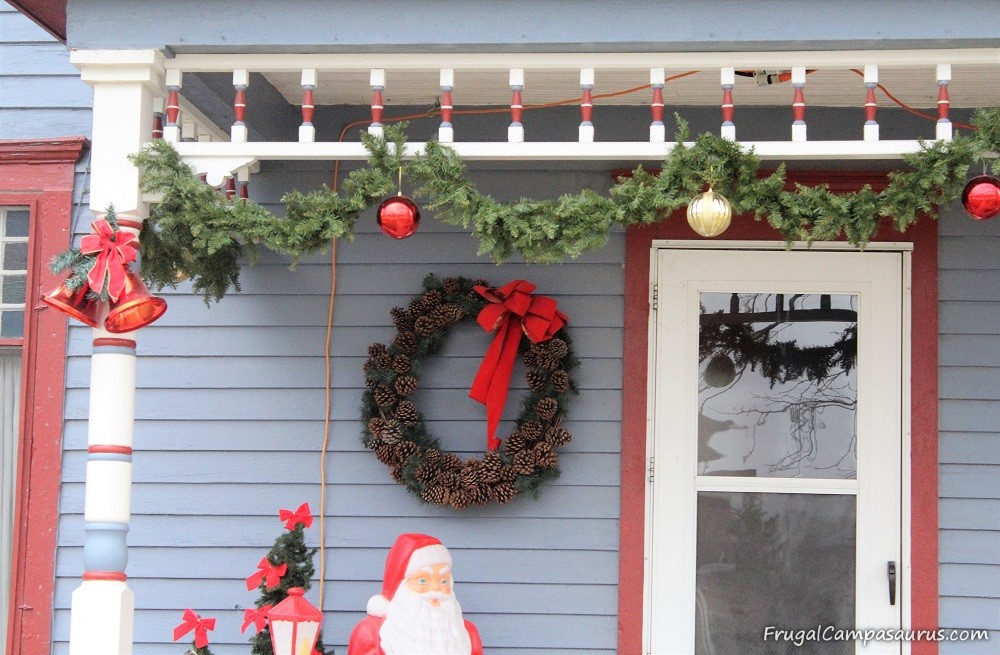 Thankfully, the new Recycled Christmas Tree Garland was very easy to put up and decorate the porch with. A winter storm is predicted for Thanksgiving weekend, so for the 1st time ever we put up outside decorations early in the week of Thanksgiving. Even without the other Christmas lights on, the new porch garland looks very festive!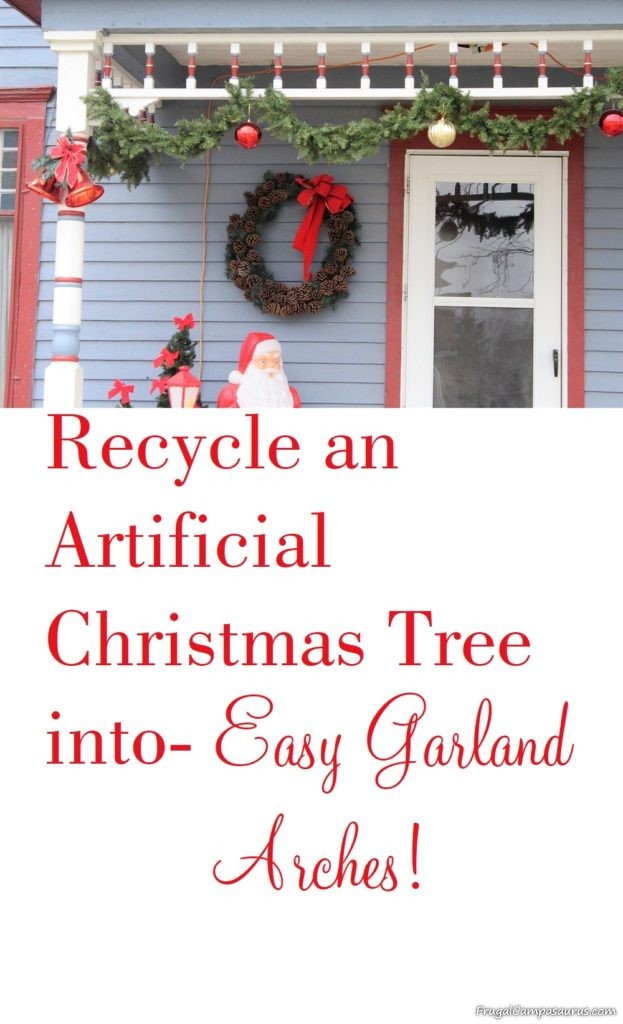 I'm so happy with my second attempt at decorating the porch spindles. The Recycled Christmas Tree Garland was frugal, fun to make and easy to put up! I can't wait to use it every Christmas!
Happy Camping (or surprising the husband with a huge box of Christmas tree parts!!)
Frugal Campasaurus