Good morning!   I'm so excited this morning!  It's a brisk 25 degrees outside and we still have snow on the ground, so it's not camping time-but I'm excited because it is maple syrup time!
I love spring and I get impatient to start camping.  But if we camp too early in the season, the water lines could freeze.  The husband does not want to run new waterlines or replace a cracked toilet, again.
Thankfully, maple syrup-ing is almost as fun as camping!  I love being outside and playing with the fire all day as the sap boils down to make syrup.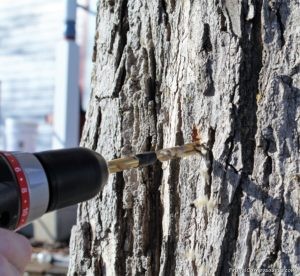 Deciding when to tap
This year, I think we missed an earlier sap run.  We had a week of 40 degree days in January, but we weren't ready to tap.  It is hard to decide when to tap.  The nights still need to be cold-in the 20's or below freezing, but the days should be in the 40's.  Tapping too early is not good; I have read the holes will start closing up after 6 weeks or so.  But, if we wait too long, the trees will start to bud, slowing the sap flow and giving it an off-flavor.  Sometimes, I think about not wanting an early spring,so the sap season is longer.
Last year, we tapped for 4 weeks- from February 10 until March 11.  The year before, we only tapped for 8 days- from March 5 until March 13.   Of course, that was our first year.   Even though we had been researching how to make maple syrup, it was still a last minute decision to tap and we really didn't know when to do it.  We will see how it goes this year; we drilled on Monday, February 26 and boiled for the first time on Saturday, March 3.
Frugal Supplies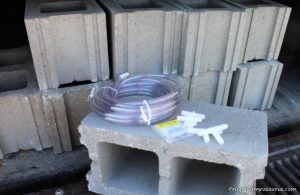 We are frugal when buying supplies for making maple syrup, especially since we only tap the 2 maple trees in our yard.  We have 2 taps for each tree, so our production of syrup is definitely small-scale, personal use only.  Making maple syrup is a fun activity and I love that we can make it ourselves, but pancakes are not a major food group in our house so, it is really just an excuse to play with the fire.  We try to be frugal and not spend a lot of money on our fun hobby.
This year, we spent $30 on supplies.  Every year, we use new food grade tubing and plastic hose barbs, to tap into the trees. This is roughly $10.  For me, it is better than washing the tubing and wondering if it is dry enough or starting to mold.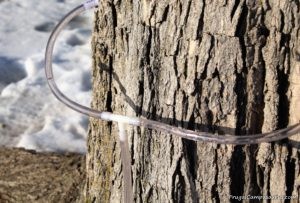 This year, we also bought 2 T's as an experiment.  More research is needed though.  The sap didn't flow down, like I thought it would.  Maybe there is an air lock created with the 2 tubes, or problems when sap collects in the bends of the tubes.  Either way- experimenting while the sap is dripping down the tree isn't the best idea.  So, we just ran our normal lines to buckets that sit on the ground.
I love our collecting buckets.  They are not the super cute silver ones, but they were free!  We collect the sap in 2 food grade 5 gallon buckets and free frosting buckets from local grocery stores.  Sometimes, the doughnut shop has them.  The buckets are food grade and have lids, which the husband drilled holes into for the tubing.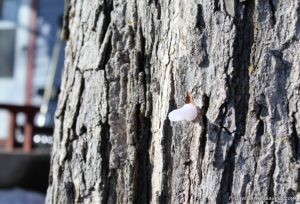 Our other major purchase for maple syrup time is concrete blocks.  We use a wood fire, not propane, to boil and condense the sap outside.  The wood is free, which is much cheaper than propane, and I love that we can use logs we have split ourselves.  Unfortunately, the concrete blocks crack with the heat of the fire.  We usually need to buy at least some blocks every year, this year we needed 10.  I hate buying the concrete blocks every year, hopefully we can either find a barrel or build a permanent fire pit this summer.
Collecting Sap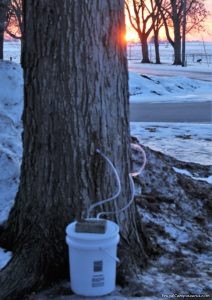 We save the sap in rinsed out milk jugs until we have time to boil.  Or until we have to boil!  This year, I have plenty of milk jugs to store the sap in.  Our first year, we had milk jugs, a frosting bucket and Kool-Aid pitchers, all filled with sap, crammed into the refrigerator.
We check the sap buckets in the morning and a few times during the day, depending on the weather.  Sap is perishable, like milk, so we keep it cold and only store it for a week.  It works great to place buckets in a shady area, in a snow bank to stay cold.  We have also placed milk jugs of sap in the freezer, when we run out of room in the refrigerator and it is too warm outside to store the sap.
For our first boil this year, we had 9 gallons of sap in the refrigerator.  When we checked the 5 gallon buckets on Friday evening, they were less than half full.  Since cold temperatures were predicted for the overnight, and I seem to think the sap doesn't flow at night, we did not empty the buckets.  Saturday, after lunch, one bucket was almost overflowing!  It was within an inch of the top-so exciting!  Thankfully, we were already boiling.
Starting to Boil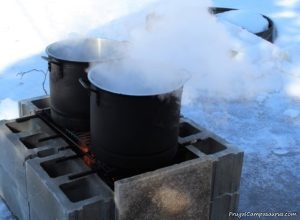 Every year, we rebuild the fire pit to boil down the sap.  We lay thicker re-bar across the top of concrete blocks, the re-bar holds up a grill grate for two stock pots.  We use the stock pots to boil down the sap outside.  The first year, I did not want to buy anything.  I used my canning pots to boil down the sap.  They were big enough, and worked fine, except for the soot.  Wow!  I eventually got the soot off- but wow!  It took forever!
Now, we boil with two stock pots that are only used for maple syrup-ing.  They don't even come into the house.   I wash them outside with the hose and pitchers of warm sudsy water.  Eventually, the husband would like to buy rectangle steamer pans.   The larger surface area would help to condense the sap faster, but I'm afraid they will boil over easier.  Of course, if I did not keep overfilling the pans, they would probably not boil over.  But then I would have to quit stirring and playing with them, which would be no fun!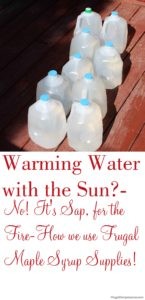 It is fun, that there are so many options for supplies when getting ready to make maple syrup.  Thankfully, many of the options are very frugal.  I was glad for the frugal options, especially when we tried maple syrup-ing for the first time.  I didn't know if we would get any sap or any syrup at all, I was sooo surprised!  Our two trees produced 44 gallons of sap the first year and 70 gallons of sap last year!
So far this year, we have boiled 17 1/2 gallons of sap and I am looking forward to boiling again tomorrow!  I am also looking forward to sharing the process of boiling, finishing and storing our maple syrup in the next post.  Now that all the frugal supplies have been gathered and set up, I hope you will join me as we use them to make frugal maple syrup- and play with the fire!
Happy Camping (or frugally tapping the maple trees!)
Frugal Campasaurus