Good morning!  I am so excited to share the August Year Round Challenge project:  A Painted Santa Clothespin Ornament!  Life has been hectic, so this post is later than I intended, but I also have a fun announcement that I will share at the end of the post!
Even though I resist red and green projects before November, I love Christmas ornaments.  Since the kids were born, we have given them a Christmas tree ornament every year.  We like to give ornaments from family vacations or to mark special occasions that happen during the year.  Sometimes, they are bought, but I like to make ornaments, too.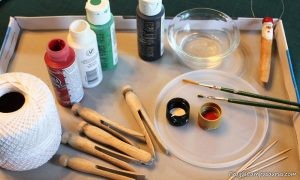 Ornaments can also be a way to remember favorite things, like the Scooby-Doo ornaments from their early childhood.  One of my favorite ornaments was made from clam shells the kids found while camping.  I glued on a pictures of the different fish, which they caught that year.
These hand painted Santa ornaments were given to our kids a few years ago, after their grandmother passed away.  The ornaments were made with clothespins that my mother-in-law used.  She was frugal and we can remember her hanging up laundry on the line.  She also enjoyed grandchildren.  Dropping the clothespins into a milk jug with her, and then shaking it, was lots of fun for the young grandkids.
The ornaments are frugal and easy to make, but they still turn out sooo cute!
The supplies needed to make the ornament are few and frugal: non-spring clothespins, acrylic paint (red, white, black and green), paint brushes and either thin wire or crochet thread for a hanger.  I do finish the ornaments with a coat of spray sealer when done, for durability.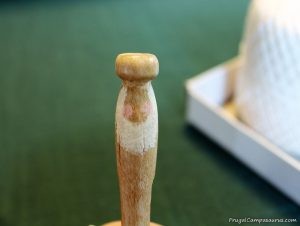 First, I use white paint and dab on the beard.  I try to dab it with an older paintbrush to give the beard some texture, sometimes, it gets two coats of paint for the beard.  I also paint the pink cheeks, before the rest of the face.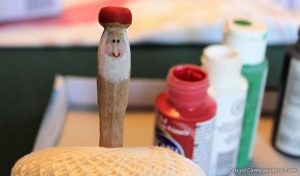 Then, I paint Santa's hat and smile with the red acrylic paint.  Usually, I use a plastic ice cream lid for a paint palette, but I didn't need to with the small amounts used for the ornament.
A toothpick works great for the dotted eyes, and for the holly berries on the hat brim.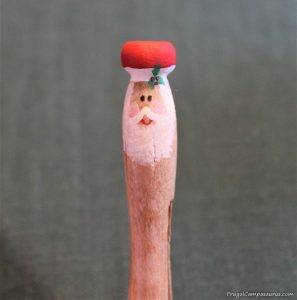 I paint the mustache and hat brim on next, with white paint.  The mustache usually covers part of Santa's cheeks and sometimes part of his smile.
The green holly leaves and red holly berries are the final details to paint on.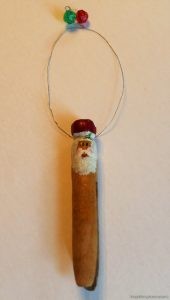 After a few coats of spray-on sealer, I add a hanger so the ornament can get hung on the Christmas tree.  I have used very thin wire, with a few beads, or crochet thread.  Either is attached where the clothespin gets narrow, right under the red painted hat.  I just twist on the wire or tie on the thread.
These ornaments are fun and frugal to make, they would even be a fun project with the kids.
I  had so much fun making these, and other Christmas ornaments for my family.  In fact, even though I still need help from our oldest, tech-y child, I have also had a lot of fun sharing projects, camping and recipes with this blog.  So this year, I decided I was also brave enough to open an Etsy shop!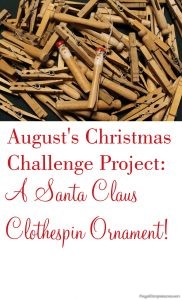 What a fun announcement!!  I have been so excited as I work on projects for sale and the shop!   Right now, my Etsy shop, Frugal Campasaurus, has these Santa ornaments and a few other ornaments that I make, for sale.  I hope you will visit my Etsy shop, as I add more fun items, and let me know what you think.
Happy Camping (or painting Santa smiles!)
Frugal Campasaurus