Good morning! I'm so excited for this year's Year Round Christmas Challenge! The last few years of doing a monthly challenge has helped me to not be sad when it's time to put away Christmas decorations. It has also helped me finish a few projects before Thanksgiving, so I can relax and enjoy Christmas more! Though this year, I hope to find a few candy recipes that actually work for me.
Unlike previous January projects, this one does not involve glitter. It is, though, a very yummy and frugal way to use clearance Christmas candy: Valentine Sundaes and Sweet Shamrocks!
For years, I did not buy clearance Christmas candy. After the excess at Christmas, I did not need more sweet temptations.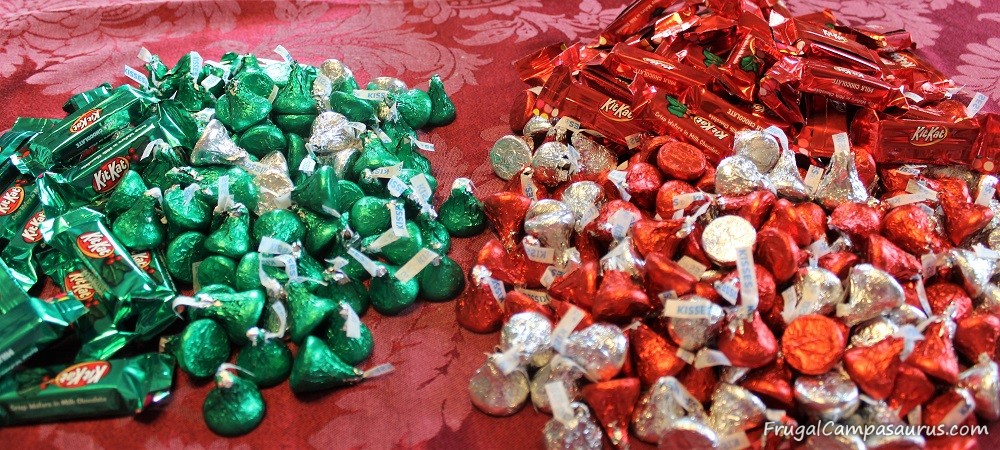 But, if I can hide the clearance candy, it is a fun frugal treat for Valentine's Day and St Patrick's Day!
I try to buy specifically red and green Christmas candy and then sort it by color before hiding it.
Usually, I hide the candy in the freezer behind the rice and beans (no one will look there!). Using cool whip storage containers is not a good idea for me-my kids like frozen cool whip. Now, I hide it in a grocery bag.
After Christmas, I wait a few days, or more, to buy clearance candy; I want an extremely good deal. Since I am not picky about what red/green candy I get or if I don't get any– I can wait for a good deal. This year, I got 73 and 43 cent bags of candy at Aldis! Woo-hoo!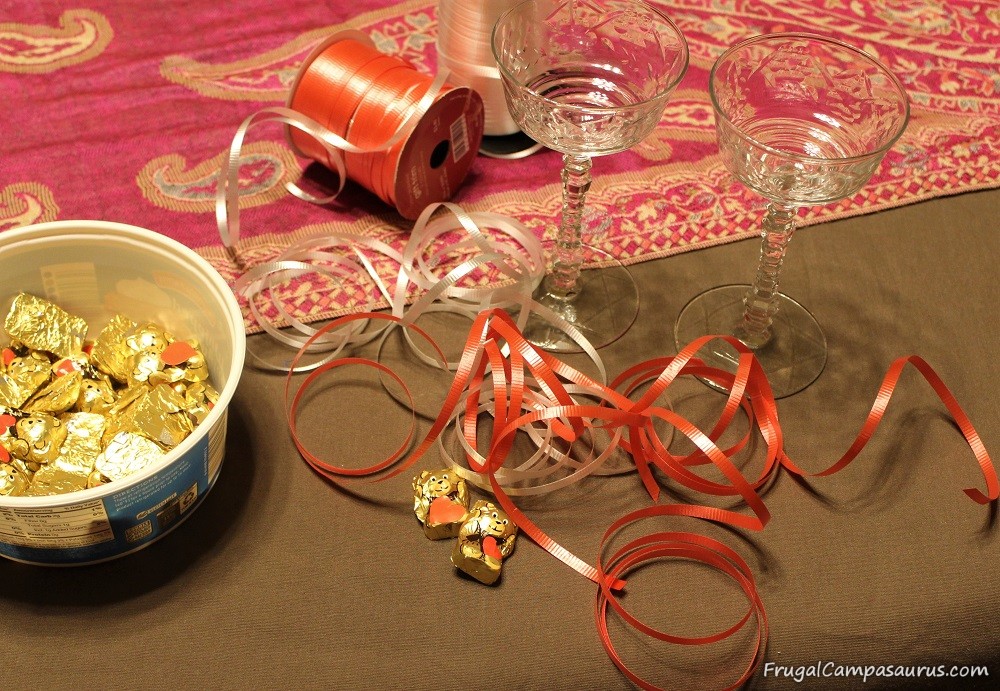 Now, it is sorted and waiting in the freezer for Valentine's Day.
To help transform the Christmas candy, I watch for small stickers at garage sales and other holiday clearance sales. 
Last year, red heart stickers (from old Valentine's Day cards) helped transform chocolate Christmas teddy bears.
This year, the same hearts and some Valentine bird stickers will cover the holly leaves on the red Christmas Kit Kats.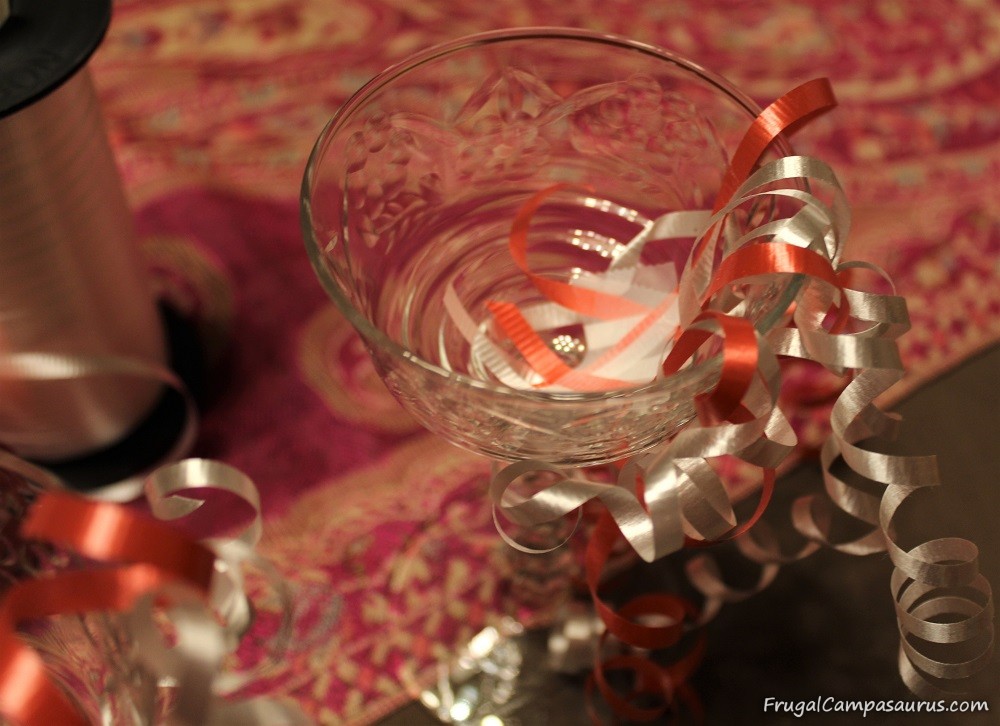 The sorted and transformed Christmas clearance candy makes a fun, festive Valentine 'sundae' with ribbon, fancy glasses and a straw.  Since I have older kids (I'm almost extinct, remember?) I don't worry about breaking the pretty, crystal glasses, but even decorated plastic cups or mugs would look cute.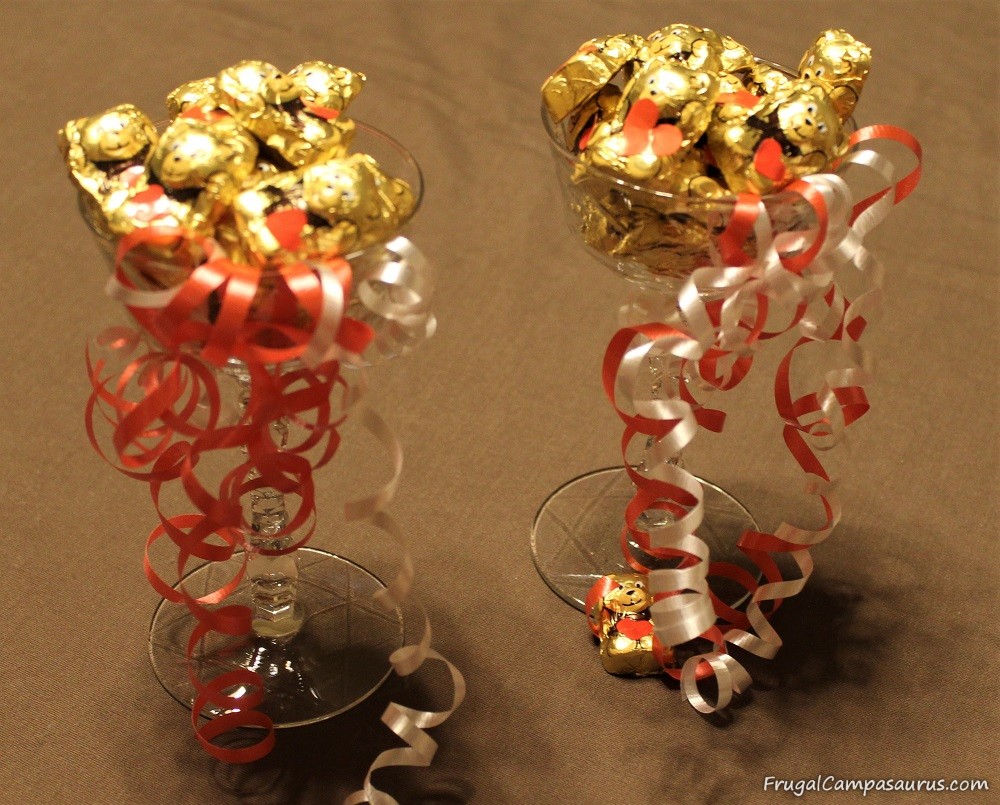 The Sweet Shamrocks for St. Patrick's Day are also super easy and frugal. A lucky 4 leaf clover can be cut from construction paper, colored junk mail, or white paper that you color green.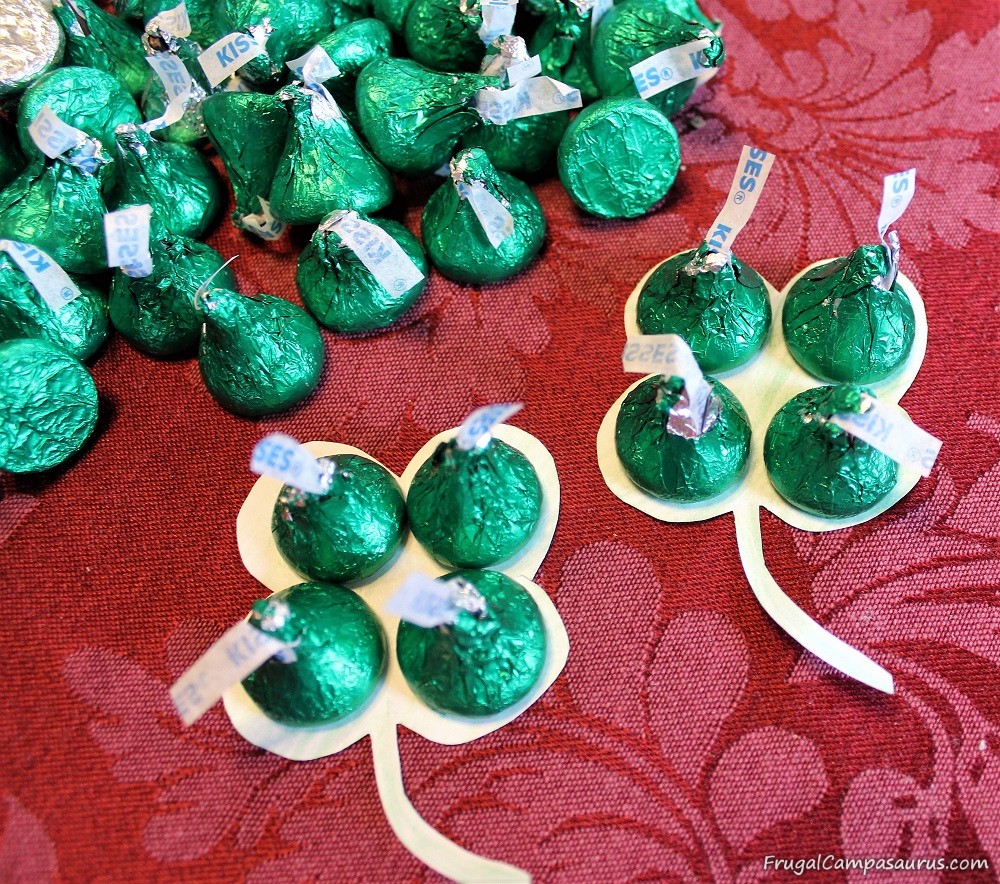 One green candy on each leaf makes a cute holiday treat.  A bunch of these could be left around the house for kids to find throughout the day. 
I often hide just a single shamrock on each dining room chair.
Not every holiday celebration needs to be big and expensive. Sometimes, just a small, sweet treat is enough to say 'I love you' and 'I remember you' – enough to make the day special.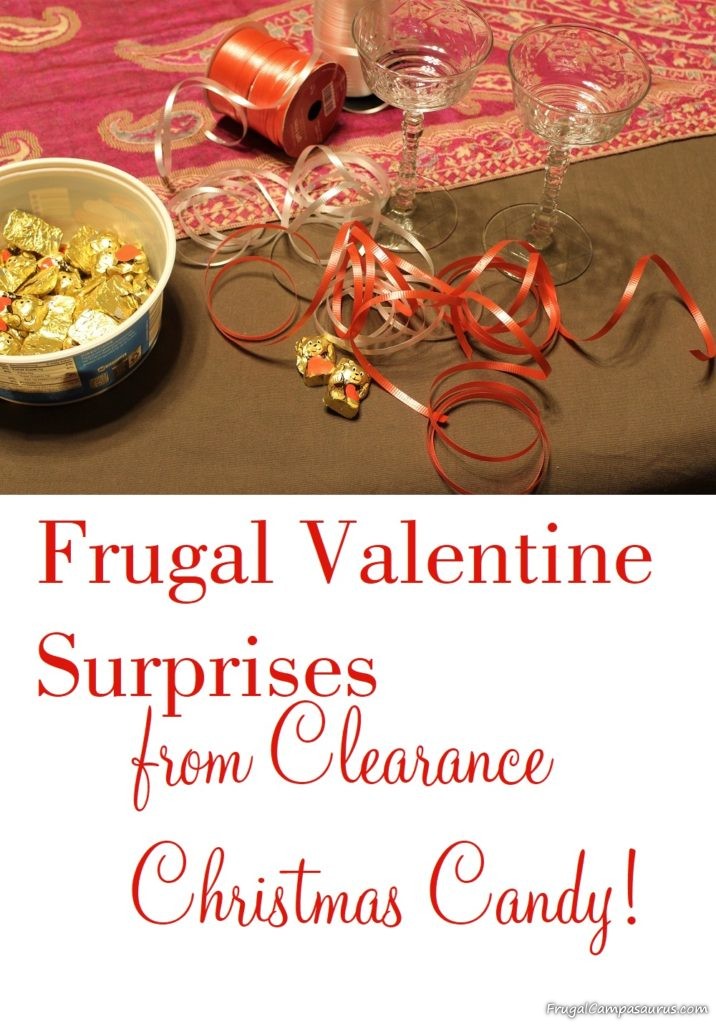 If you can successfully hide clearance Christmas for use later, with a little transforming, it can make other holidays special, too. Hopefully, you are able to enjoy Valentine Sundaes and Sweet Shamrocks this year!
Happy Camping (or re-hiding candy, since the kids saw the huge pile!)
Frugal Campasaurus