Good morning!  I am so glad I started the Year Round Christmas Challenge!  I definitely need help staying motivated, especially since I missed the March 25th project and April is late!
Every year, I think I will finish Christmas items early.  Then, every year it is too hard to work on red and green projects before Thanksgiving.  It just seems wrong.  But there are so many fun projects, presents, crafts and recipes that I would like to make. There are not enough days to finish everything in the holiday season.
Since I read the book, Unplug the Christmas Machine, I don't make myself (or the family) frantic trying to do too much, but sometimes I wish I could do more.  So this year, I started a Year round Christmas Challenge.
January was fun-it involved glitter!  It was also close enough to Christmas that I was still motivated and excited to work on red and green sparkly projects.  February was also fun, more glitter, and I had left the wreath out on purpose, to motivate me.
March was different.  No glitter projects and no nice weather to try messy wrapping paper projects outside.   New candy recipes didn't even sound good, since I am losing weight.
OOOH!  Really, as I was writing this in my notebook, trying to think of a Christmas project to do- I realized that other holidays were coming up!  Holidays when the whole family could eat a new candy recipe, not just me!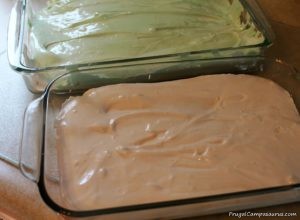 OOOOH- I love this challenge!
If I try new Christmas candy recipes now, for Easter or Mother's Day, I can share them with the family and have a new recipe all tested out and ready to go for Christmas!  I have more time now, in the spring, and it would be less hectic than trying out new recipes during the holidays.
Wasn't that a great idea?  At least it would have been, if I had picked out 2 recipes that actually worked and that we liked.
I tried to make butterscotch hard candy and marshmallows.
Years ago, I tried making homemade marshmallows with a different brand mixer.  I burned it up.
Even though my Kitchen-aide mixer worked fine, the husband was not amused that I tried making marshmallows again.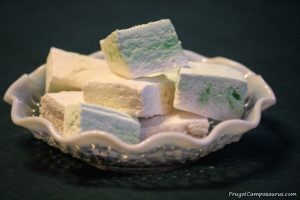 In my mind, the light green, mint flavored marshmallows swirled with white marshmallows would be such a pretty Christmas candy.  Especially, if I partially dipped them in chocolate.
They did look very pretty-green and white swirled marshmallow.  But, I should not pick recipes by how 'pretty' they are.
Unfortunately, they had a very powdery, grainy texture, not fluffy or light at all.  I mentioned trying the recipe again, but the kids wondered why?  They don't really like marshmallows.   Even if they are pretty.
At least they were interested in the butterscotch hard candy, until I finished making it.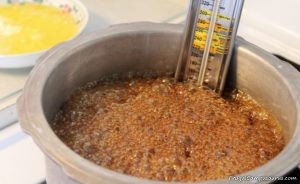 I enjoy making candy.  Toffee and caramels are fun; they smell sooo good while cooking.  The butterscotch candy had vinegar in it, not a good smell!
The recipe also called for no stirring.  That was very hard to do.
While I waited for the mixture to reach the correct temperature before I added the melted butter, it got suspiciously dark.
Even after I added the butter, it smelled bitter.  Unlike the marshmallows though, it had a nice texture and hardened up to make hard candy.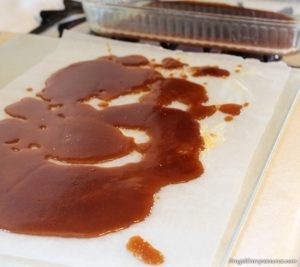 The first taste was nice and buttery- then came the hit of bitter, burnt candy!  My butterscotch candies did not turn out either!
I am glad I didn't try both of these new recipes in December!
I would like to find a few new Christmas candy recipes, so I hope to try making butterscotch hard candies again, but with a new recipe!  Unlike the marshmallows, the family would try them again, especially if they don't smell burnt.
Finding new Christmas candies, that I could make and store early, without using the freezer,  would be great.  Maybe, I can make Father's Day candy or 4th of July candy (or  Labor Day candy?)to try new different recipes and the family can help me eat it!
Hopefully you will join me on this Year Round Christmas Challenge as I finish presents and projects and try new recipes!
Happy Camping (or hopefully not ruining new recipes!)
Frugal Campasaurus