Good morning!  I am so excited today to share this new campfire pie iron dessert with you!  It was a surprise addition to our weekend camping menu a few weeks ago.  I was able to try it because I was flexible with my shopping list.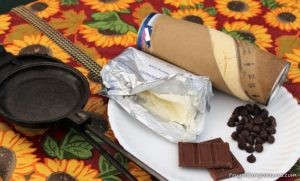 Frugal wisdom usually says to strictly follow a shopping list.  I do make a shopping list.  I compare grocery ads for a few stores, and then make a list –keeping my price book in mind.  But even though I follow my shopping list, I also allow room to be flexible.  Sometimes, I will find a clearance item or a reduced price item or an item that for some reason is marked-down in price.  Then, when I check my price book and know it is a good deal, I can change my shopping list to take advantage of the sale-and buy it!  Or many of them! That is how I bought refrigerator crescent roll dough for the new campfire recipe!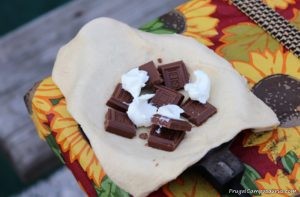 A few weeks ago, at the grocery store, there was a reduced box in the dairy department.  Peering inside, I saw tubes of crescent rolls.  I usually make the Bucket of Bread dough or biscuits at home, instead of buying tubes of crescent rolls- but for 25 cents a tube, I couldn't pass it up and bought 3!  (I should have bought more!)
The family was happy for the nice surprise with supper.   We were going camping that weekend, so I saved one tube for a new campfire recipe experiment.  I am glad they let me keep experimenting after the pie iron spaghetti sandwiches!
This recipe experiment was fun and easy and included chocolate!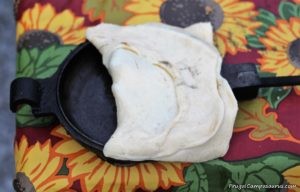 We decided to compare 2 chocolate dessert pie irons, to see which one we liked the best.  They both used the tube of crescent rolls as a base; sometime I will try Bucket Of Bread for the base.   It would be cheaper normally, but I can't beat the 25 cent crescent rolls.
After oiling the pie irons generously, I folded and stretched the crescent roll dough to make a rectangle.  I laid the dough on the pie iron to fill it.  Some of them were thin, but they cooked up nicely, even if they didn't always completely fill out the pie iron.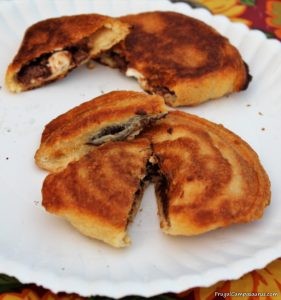 Our first version was chocolate bars with cream cheese.  We also tried chocolate chips as a filling.  Both fillings melted and were gooey, when the crescent roll dough was golden and done cooking.
The chocolate bar crescent sandwiches tasted good, but we didn't like the cream cheese with them. We broke the chocolate bar into small pieces, putting about half of a candy bar into each pie iron.  We also put dabs of the cream cheese in with the chocolate bar.  The few gooey chocolate-y bites we had without the cream cheese, were very good.
The chocolate chips by themselves, were a bit bitter.  I wish we would have also tried the chocolate chips with either cream cheese or marshmallows.  They are a frugal-er choice than the chocolate bars, and I would love to find a version with chocolate chips that we like.  Especially since I can never keep chocolate bars in the house, the kids (or their mother) always find and eat them!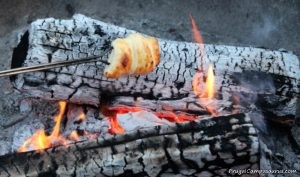 The youngest also had fun with food over the fire.  After we were done with the chocolate dessert pie irons, there were some crescent rolls left.  The youngest thought it would be fun to toast them with a marshmallow stick over the fire.
They took a while to cook, so he would toast just one layer.  Then, when it looked done, he would peal off the outside layer and eat it.  And then back into the fire it would go!
We have a lot of fun experimenting and cooking over the fire.  It is even more fun with frugal ingredients.  Since I have not spent a lot of money, I don't mind if some of the recipes are food flops.  It is great when they are successful recipes, but if they aren't – its ok too.  I hope you can find some frugal ingredients or clearance items to experiment with over the fire!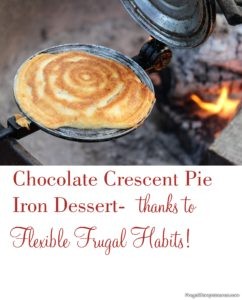 Happy Camping (or frugally experimenting over the fire!)
Frugal Campasaurus