Good morning!  Since I was so excited for this week's Finish it Friday:  Solar Eclipse T-Shirts and then posted it early, today I am going to share our frugal day trip and why I am sad to retire Bag of Fun.
The day trip to Missouri to view the solar eclipse was fun and frugal!    We only spent $75 on diesel and $6 on snacks!  I was happy and surprised that one tank of diesel was enough for a round trip.  We only purchased snacks when we stopped to stretch our legs and use the restroom.  In the morning, driving on the interstate, we could stop and stretch at rest areas and visitor centers for free.  I even avoided the coffee machine, because I took a thermos of coffee (and 2 insulated cups) with us.
The Missouri visitor center was packed-lots of people were watching the radar and getting maps.  It was fun seeing all the vehicles packed with chairs, coolers and grills.  It was also fun seeing the kids running around in pajamas.  I remember leaving home in the middle of the night to visit relatives, all bundled up in blankets and pajamas.  How fun to see that again!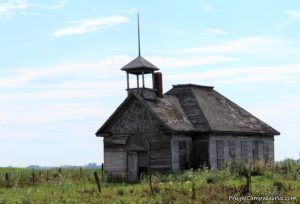 On the way home, we took highways and blacktops, so we stopped at gas stations when we needed to stretch.  We followed the GPS home.  It does very good when the 'RV' feature is on-staying off gravel roads and avoiding low overpasses and narrow bridges.  Since we didn't have the 'RV' feature on, we drove on some interesting, narrow, hilly roads.  We did discover a neat abandoned church on one of the narrow roads.  I was able to get pictures while we switched seats.
We definitely did not need to buy much food, just like when we go camping, I had packed way too much.  Half of the sandwiches, garden green beans and cucumbers made it back home.   Somehow, the no bake cookies did not.   Unfortunately, the Bag of Fun made it home, entirely unopened.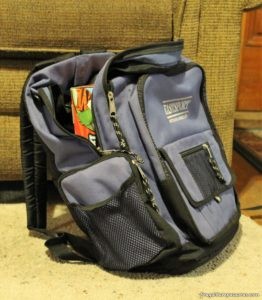 Bag of Fun is a backpack full of books, car games, papers, and surprises that we took in the car with us for many years.  We enjoyed Bag of Fun on many trips:  short day trips, quick trips to visit family and long vacations.  Now, I am sad to finally admit, it is time to retire Bag of Fun.  The kids are getting older and no longer need the extra distraction and entertainment.  I will sure miss it though: I have enjoyed car games and activities as long as I can remember.
My father has a large family and we would travel to various states to visit aunts and uncles, great aunts and great uncles and many cousins.  Since I'm close, but not quite an extinct campasaurus, it was way before electronic, handheld anything!  We would amuse ourselves with car songs, pack of fun activity books, coloring book and the license plate game.  We would even draw smiley faces to show other cars driving by the windows.  I sometimes wonder if our parents traveled at night for a reason.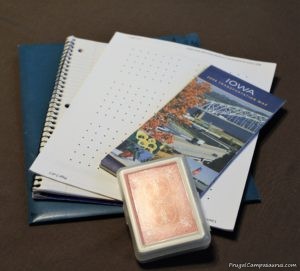 The year we went to California to see relatives, we each had our own bench in the van, our own cubbies full of 'stuff' and we were supposed to stay on our own side– there probably was a very good reason for that rule.  We were around 8-10 years old.
I enjoyed car games and Pack of Fun so much, that we have a Bag of Fun when we travel.  Of course, it has Pack of Fun activity books in it, but also many other kid-friendly, car-friendly things to do.
I have loved changing and packing the Bag of Fun over the years, and I am sad to see it retire.  Hopefully, some of you-maybe families with young children, or grandparents packing a surprise bag for grandkids– will get some good ideas for your own Bag of Fun.
Bag of Fun can be a very frugal way to pass the time on car trips.  I know there are many commercial car games and activities, but since I try to be frugal, I have either made things for the bag or bought items at garage sales.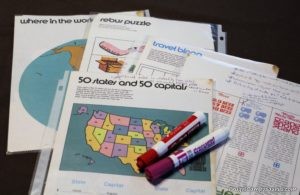 Books are a great Bag of Fun item.  Dot to dots, coloring books, crossword puzzles and activity books are just the beginning.  I also like paperback comic strip books, age appropriate books and even small, easy craft books, like cats-in-the-cradle string books.  How to draw books with colored pencils and scrap paper can keep older kids very busy.
Papers are another fun favorite.  I have made my own dot games, word finds and hangman games on scrap paper.  Printable battleship, dot games, mad libs and travel bingo are easy to find online.  An old school folder or clip board can make it easier to write on the papers and to keep them contained.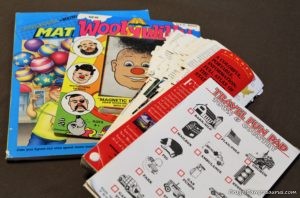 Writing on the papers can be tricky.  Pens and markers can be permanent, so I don't use them.  Colored pencils are a good choice, though maybe too sharp for little ones.  Crayons are fun, but I always keep them in a plastic school box.  Years ago, Bag of Fun lived permanently in the van, even trips to the grocery store could be long, and after one hot summer week, we opened the school box to find one huge mass of melted crayons.  Thankfully, they were in a plastic school box.
As the kids got older, we enjoyed dry erase markers.  I found a fun, older car-game book at a garage sale and took it apart.  Each page got its own plastic page protector to use with the dry erase markers.  Now, we could write, erase our work and save paper.  Word scrambles aren't as fun to repeat, but perpetual dot games are great!
A map and a deck of cards are great for older kids, even for adults- I sometimes play 10-20-30 in the truck.  We like the cards from games also, like Trivial Pursuit or Outburst, so the whole family can answer while traveling, just be sure to put them back in the game so they don't get lost.
Occasionally, I will change the items in Bag of Fun to keep it interesting.  One of my favorite things to do was surprise bags for long trips, like to Minnesota's Scenic North Shore.  I would put brown lunch bags with surprise items in Bag of Fun.  These surprise bags would be taped shut and have directions on the outside.
'Open at 1st rest area'                                                 'Open at _________(time)'
'Open after crossing the state border'                    'Open ______ miles from home'
'Open at _____(name of city, make sure to have a map so they can track when to open bag)
'Winner of _____ game gets to open this bag'   my favorite, since I usually picked the game
These have all been directions on different surprise bags.  It is so fun, when the kids open the Bag of Fun looking for the regular games and find the surprise bags.   I try to include things to share in the bags– like multiple small candy bars, a few 'new' books, or a 'new' travel game.  My favorite surprise items were pipe cleaners and a partial roll of aluminum foil.  The kids had a blast making hats, sculpting animals and making aliens.  It kept them busy and happy for what seemed like forever.
Even though it is time to retire Bag of Fun at our house, it has been fun sharing the ideas.  When we had Bag of Fun all packed and ready to go with books, papers, activities and even surprise bags; it made getting ready to go on trips easier.   Keeping the kids happy, occupied and even distracted can help make short and long car trips more enjoyable.   Hopefully, having a Bag of Fun can help you in your travels with the family.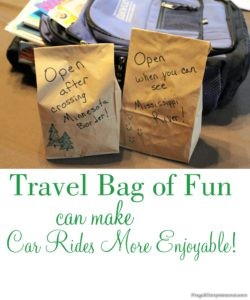 Happy Camping ( or playing the dot game)!
Frugal Campasaurus