Good morning!  Rockers through the ages.  No, I'm not talking about how I like Chuck Berry and the Beatles, or even how my kids like the Beatles, AC/DC and Fleetwood Mac.  My favorite rockers are rocking chairs.
Rocking chairs and camping can be quite a challenge.  It is easy to find a rocker to use on the front porch or a rocking bench for the patio, but to find a rocking chair that doesn't mind the gravel is a different story.
My 1st Rocking Lawn Chair
Growing up, I didn't know rocking lawn chairs existed, but I was too busy catching fireflies or riding bikes around the campground to really care.  I was very tickled, when years later, my sister-in-law passed down some older aluminum lawn chairs and one was a rocking chair!  How fun!
I love sitting by the campfire, rocking away.  It works very nice to put babies and toddlers asleep when camping. They can cuddle in my lap, rocking and watching the fire, until they fall asleep.  A light blanket (or even a sleeping bag in early spring or late fall) protects them from mosquitoes.
My 1st rocking lawn chair was that older aluminum one with the webbing and it did put my babies and toddlers to sleep while we enjoyed the fire.  The chair was tricky though.  If the grass was uneven or we were on gravel, the husband had to 'settle' it in the spot, leveling out the ground so it could rock.  Sometimes it was noisy rocking on the gravel.  Other times, I could only partially rock, because the gravel was in the way.
My 2nd Rocking Lawn Chair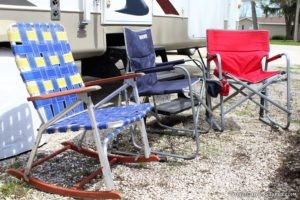 I'm very sentimental about my 2nd rocker.  It was my great-aunt's lawn chair and we bought it at her estate sale.  It has wider wooden runners, so it is much easier to rock on the gravel.  I loved and used it so much, that we even had to re-web it.
Unfortunately it is also easier to crack.  After a few years, I quit using it because it developed a crack in one of the wooden runners.  I didn't want to ruin it and hope to ask a woodworking friend to fix it for me.
Soon after my great aunt's rocker developed the crack, the husband gave me a wonderful Christmas present-my 3rd rocking lawn chair!
My Favorite Rocking Lawn Chair
While it is still a camping rocker chair, it is so different from my first two chairs.  It is flat across the bottom of the chair and it rocks with spring struts.  I can set the rocking chair in the gravel, rocks or grass and not have any trouble rocking.  No more partial rocking or having to 'settle' the gravel to rock.  It rocks smooth and quiet.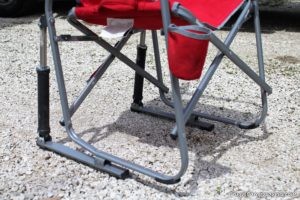 We bought a second one for the husband because he enjoys it also.  Many times, I have to kick the kids out of my rocker and remind them it is my chair for around the campfire.   I am glad they enjoy it though.
The husband was surprised last fall by a lady stopping by our campsite.  She had seen our rocking chairs and wanted a closer look.  They visited a few minutes and he offered to let her try it out.  She tried it and enjoyed rocking in it.  I hope she finds one; I really enjoy my camping rocking chair.
We have a variety of chairs in the camper.  A couple of the chairs are light weight folding patio chairs, a couple are zero gravity reclining chairs and also our rocking chairs.  I need to find the toddler bag chair for the grandbaby, unfortunately I think it's in the sewing room.
When the kids were younger, we had a pair of folding lounge chairs.  They loved to recline the back and race the hot wheel cars down the chairs.
While the rocking chairs don't collapse like a bag chair, they do easily fold flat for storage or carrying with the handle.   They also have a drink holder attached for your favorite beverage.
While I didn't intend for this post to seem like a product review, I love my latest camping rocking chair and would highly recommend it.  Of course, the words and opinions are my own and you may have a different opinion.  We did purchase our chairs previously for our own use (well, the husband purchased it as a present, so I guess there is no "we"), this is not a sponsored post, but we have included affiliate links if you are interested.
This camping rocking chair really is different from the first two rocking chairs I had owned.  If you enjoy rocking around the campfire, maybe putting the babies or grandbabies to sleep or even just watching the stars, I would recommend this rocking chair.  It rocks smoothly and quietly, even in the gravel or grass.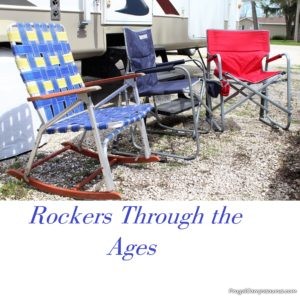 Happy Camping (and rocking!)
Frugal Campasaurus